From prototype to final product, technology can go through a lot of changes. It's rare, however, that we as consumers get to see that evolution.
With Android Wear, we're getting an up-close look at the contrast between how the products looked three months ago, while still under development, and how they look now. Remember, Google actually announced Android Wear back in March. The company even gave us an official teaser video showing off some of the platform's planned features, and LG followed with a video of its own focusing specifically on its G Watch device.
Comparing the prototypes shown off in those clips to the products we're holding today, it's clear that the Wear user interface got a bit of fine-tuning since that initial introduction. Beyond aesthetics, though, several key features shown off in the videos are nowhere to be found in the current Wear products.
For instance:
1. A voice-activated "Reply" command for incoming messages
The original Android Wear promo video shows people receiving texts on their watches and then simply saying "Reply" to initiate a voice-input response. Google also provided a clear view of that card in its original media materials: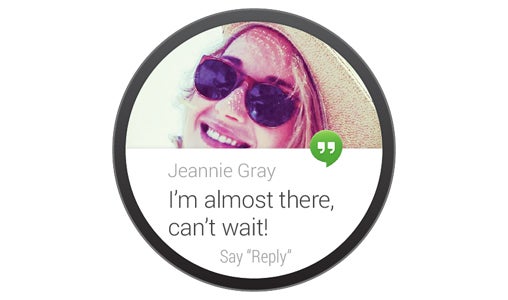 You can shout at the LG G Watch or Samsung Gear Live all day when a text or Hangouts message comes in, but the only way you're going to get anything accomplished is if you swipe over once with your finger and tap the "Reply" icon that appears on the screen.
2. Calorie burning counts after exercise
In Google's early Wear promo, we see a woman running through an airport and then glancing down at her watch. The display instantly tells her how many calories she burned from the activity. That same card was also released as one of Google's early promotional graphics:
I did my share of airport-running this past weekend. The Wear watch I had on proved to be quite helpful with flight information and on-the-go texting, but it definitely didn't provide me with any calorie-burning info or congratulate me on my awe-inducing feats of strength.
3. Automatic exercise time estimates
In LG's video, a woman finishes exercising and then looks down at her watch to find a fitness tracking card that automatically appears and tells her how long she was running.
That may be something that's tied to an upcoming third-party app, but for the moment, at least, no such functionality is anywhere to be found on either Android Wear watch.
4. Automatic dance detection
Sounds weird, I know, but the original Wear promo video shows a person dancing and her watch detecting that activity and then offering to tell her what song she's getting down to.
I'm not afraid to admit that I cranked some tunes and boogied around my office trying to get such a card to appear (and no, I won't be sharing any video of that) -- but alas, no such luck.
In fact, even issuing a direct voice command of "What song is this?" -- a command that works from Android phones -- returns nothing but Web results when done on an Android Wear watch.
5. Garage door support
Now, obviously this one was going to require some sort of supplementary hardware element, but Google initially showed us a very impressive moment where someone opened her garage door simply by saying "Okay, Google, open garage" into her watch.
Android Wear has no such command available -- in fact, it doesn't appear that a third-party app could even create a base-level voice command like that if it wanted to -- and there's been no mention of any hardware partners that might offer such functionality anytime in the near future.
Google was presumably working on all of these features in some capacity -- or at least thinking about their potential -- but there's no telling why they didn't make it into the first versions of the final products.
For a closer look at what Wear can do, check out my hands-on impressions of the software and the first two Wear watches -- and stay tuned for more Wear coverage as I continue to live with the devices in the real world.
UPDATE:
• Android Wear deep-dive review: A smart start to smartwatch software
• Samsung Gear Live vs. LG G Watch review: A real-world evaluation