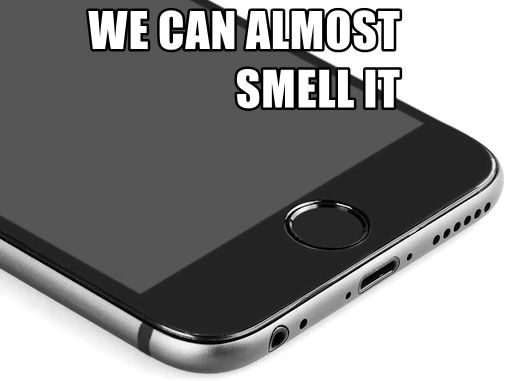 More images leak: It's almost as if Apple wants it to be seen ;-)
Apple (NASDAQ:AAPL) is expected to start making two new smartphone models next month. The iPhone 6 release date looks like being in September -- not just for the 4.7-inch version, but also for the 5.5-inch phablet. [Updated with additional rumoration around OIS and NFC]
Whatever happened to Apple's one-handed-operation mantra?
In IT Blogwatch, bloggers start stretching their fingers in preparation.
Your humble blogwatcher curated these bloggy bits for your entertainment.
Tim "mea" Culpan and Peter "digger" Burrows read the rumor runes:
Suppliers in China will begin mass production of its largest iPhones ever next month, according to people familiar with the plans...who asked not to be identified because the plans are private.

…

Apple is getting ready for its annual unveiling of new iPhones [as] consumers have been gravitating toward larger-screen devices. ... Tim Cook is under pressure to reignite Apple's sales growth. ... A spokeswoman for Cupertino, California-based Apple, declined to comment.  MORE
Brad Reed braved the slings and arrows of Reddit to bring you the best pictures yet:
By now we're all very familiar with the assorted dummies and mockups. ... However, Redditor A_Hard_Goodbye points us to some new photos...that really do give us our clearest and best look yet.

…

The devices feature rounder edges than the iPhone 5s and feature a power button that's been moved from the top of the device to the side. ... We expect this version of the iPhone 6 to have a 4.7-inch display [at] 1334 x 750 pixels and an A8 chipset [at] 2.6GHz. ... The device will measure in at 67 millimeters wide, 138 millimeters long and 6 millimeters thick, which will make it both the largest and the thinnest iPhone ever.  MORE
But all is not rosy in iPhone-manufacturing land, says Joseph Tsai:
Catcher Technology's 4.7-inch iPhone 6 chassis has reportedly been rejected by Apple due to defects...forcing Apple to place short-term orders with its existing suppliers Jabil and Foxconn.

…

The issue was [reportedly] caused by the Catcher's anodizing process and may take 2-3 months to fix.  MORE
Huh? Richard Padilla 'splains:
In April, it was reported that Catcher Technology would be supplying Apple with metal casings for the iPhone 6. Now...Apple has rejected Catcher's iPhone 6 chassis.

…

Apple reportedly had issues with defects found in the connecting areas between the plastic and metal parts within the casings. ... In addition to a larger screen, the iPhone 6 is expected to include a thinner design, a faster A8 processor, an improved camera, and more.  MORE
So FAQ'ing John Gruber asks:
Is one of these phones a higher-end model than the other, like the iPhone 5S and 5C? Or are they two different sizes of the same-spec'd device, like the iPads Air and Mini?

…

If the logic for Apple making a big iPhone is that lots of people are buying big-screened Android phones, doesn't it also hold that they should keep making 4-inch iPhones?

…

Most people keep presenting this as a "bigger is better" situation, and that Apple has thus been caught flat-footed and behind, and now with the introduction of bigger-display iPhones they're catching up...finally. ... [But] an array of screen sizes to choose from is better than one-size-fits-all. Why not keep the 4-inch size and add a bigger iPhone (or two?)  MORE
Meanwhile, peppaz is not a fan:
If LG can make a phone with almost no bezels, so can Apple. Those bezels are huge.  MORE
Update: John Vinh and Kevin Chen are secure in their predictions:
Following our Asia trip, we are more confident that...the larger-screen iPhone 6 will support optical image stabilization. ... In our analysis, we believe Apple chose to only include OIS camera technology in the larger iPhone 6 given that there is still a significant cost premium ($4 to $5) over standard auto focus solutions and that it provides a point of differentiation. ... It remains unclear to us whether this OIS functionality will leverage a separate camera module gyro or the main phone gyro.

…

We are increasingly confident that the iPhone 6 will support near field communications (NFC) radios...without the secure element.  MORE
Computerworld Blogs Newsletter
Subscribe now to the Blogs Newsletter for a daily summary of the most recent and relevant blog posts at Computerworld.