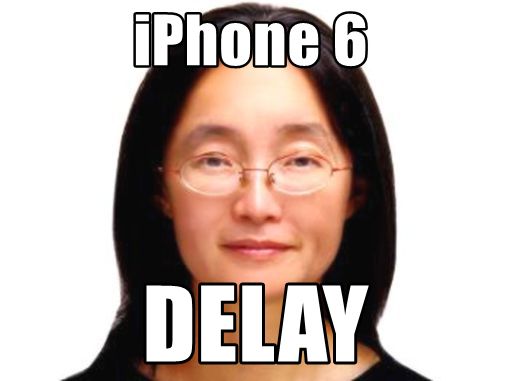 KGI's Ming Chi Kuo dares to utter the D-word (again).
Apple (NASDAQ:AAPL) is said to be having trouble making the iPhone 6 phablet. As a result, we're told, the release date for the bigger, 5.5-inch version will be delayed until at least mid-November (perhaps later).
If the Apple rumors are turning to delays, it must be July. [Factcheck: Wrong picture? -Ed.]
In IT Blogwatch, bloggers break out the popcorn.
Your humble blogwatcher curated these bloggy bits for your entertainment.
Andy Patrizio worries Apple is about to "screw up a product launch":
One of the best ways...is to introduce too much change at once. ... Apple may have made [that] mistake. I emphasize "may have."

…

The problem is related to the new technology for the device's in-cell touch panel as well as color unevenness on the...casing. Those problems are said to be even worse with the larger 5.5-inch model. ... This is strange, because the in-cell touch panel technology...was introduced previously with the iPhone 5. ... So you'd think they would have the bugs worked out, but apparently that's the risk of a screen stretch.  MORE
Neil Hughes broke the story, sourced from, errr, "one industry insider":
KGI Securities analyst Ming-Chi Kuo, who has a respectable track record in revealing Apple's future product plans, [said] that while Apple's 4.7-inch "iPhone 6" is still expected to debut this fall, the larger 5.5-inch model could be introduced at a later date.

…

He said the new in-cell touch panels may have issues related to touch sensitivity on the edges of the panel as displays become larger. ... In addition, Kuo said he doesn't expect that a new scratch-resistant 5.5-inch sapphire front panel will "easily pass the drop test near term."

…

[He] did hold out some hope that [it] could launch in 2014. But even if that happens, he said it's likely to [be] after mid-November.  MORE
Speaking of sapphire glass, here's Al Sacco, with a slightly cynical viewpoint:
The use of sapphire crystal in electronics, watches and other jewelry isn't new. Apple also reportedly used sapphire in the iPhone 5s to cover both the home button and the rear-facing camera lens. ... The common belief is that sapphire crystal is more scratch resistant than Gorilla Glass. ... However, it is unclear just how much more drop-proof or shatter resistant sapphire is on a phone.

…

Another important question: Does it really make sense for Apple to make iPhone displays as indestructible as [rumored?] Apple makes a ton of money from iPhone screen repairs...it's a serious chunk of change for Apple. ... It might not make a whole lot of sense for Apple to use sapphire if it really is as durable as some folks would have you believe.  MORE
But is the rumor true? Well, Kevin C. Tofel ain't surprised:
When the next iPhone launches, don't expect two new choices. That's the thought from the often accurate KGI Securities analyst. ... I've seen fewer parts, casings and mock-ups of the reported 5.5-inch model. That suggests that Kuo could be right.

…

The launch of two new phones never really sat well with me anyway. [Apple] has never launched a pair of new handsets at the same time. ... It's also not something the company may even need to do.  MORE
Computerworld Blogs Newsletter
Subscribe now to the Blogs Newsletter for a daily summary of the most recent and relevant blog posts at Computerworld.