The WWDC keynote is over but I thought it may be worthwhile to offer up my first impressions of what has been announced, summarized in two thoughts: new programming language, Swift, sets Apple up for the next decade; and it's not about 'Made in Cupertino' any more: the new Apple is all about PARTNERSHIP.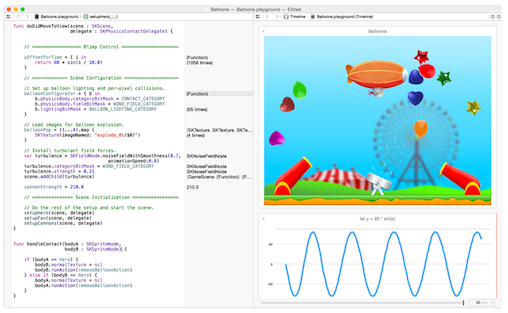 Partnership
Looking at the second suggestion first, here's a few ways in which today's Apple today conceded it doesn't want to control every aspect of your experience -- it just wants to ensure it secures the environment to make sure it's platforms are platforms you can use:
CarPlay 
Third party app support in iCloud Drive
Massively improved integration between iOS and OS X
Support for third party Widgets for Notification Center (download these from the App Store)
Support for non-Apple apps in iCloud much improved
DuckDuckGo support in Safari (OK, that just accentuates how much more secure Apple is than its troublesome mobile foe)
Third-party keyboard support
Health app, which works with third party devices
Support for third party devices for the smart home (HomeKit)
All of these moves are explicit moves that mean Apple is answering critics who call it "too controlling" by permitting users a hitherto unprecedented environment in which they can work with the devices they choose. It's also a shot in the arm for developers, who can now work to develop their own solutions and have these underpinned by the secure power of Apple's ecosystem.
More on Widgets
I'm hunting around for traces of how wearable devices (not mentioned in today's keynote) may fit into Apple's new matrix. I suspect the best hint is seen in what the company revealed concerning widgets support, and the ability for third party apps to call in services from other third party apps without leaving a user's data exposed (because the intra-app communication is enabled by the OS). I anticipate this will prove extremely important within the model Apple eventually adopts for its wearable devices, as it suggests the company is focused on ensuring its systems have the power to enable apps -- and by extension, products, to speak together securely. I need to ponder this a little more, and would welcome additional thoughts on that claim.
Swift
Put simply the introduction of Swift (which I don't recall being predicted by any of the consumer-focused Apple watching Websites) is almost as significant as the move to OS X. Swift seems set to pose new challenges for developers and in doing so will make development on Apple's platforms far more interesting again.
This also promises a new renaissance of app development, and opens up all kinds of opportunities for new apps, services and devices from within the Apple ecosystem.
Developers at WWDC are incredibly excited by the news, and Apple is providing them with in-depth sessions looking at the new features it is offering in the system.
I'm looking as closely as I'm able at Swift in the next few weeks, would welcome any input from developers, but in my opinion this is far more significant than any hardware product, as it will become the tools that underpin all future Apple product development. And that's a huge deal.
Download the Swift programming guide here.
Hardware
No hardware in the WWDC keynote today, but it doesn't matter. You see, what developers at the developer event saw today gave them a road map for future product development they can follow for the next ten years. Apple is investing in the long game, and I don't believe you get that kind of commitment from any of its competitors, with the possible exception of Microsoft.
One more thing: Android is toast.
Google+? If you use social media and happen to be a Google+ user, why not join AppleHolic's Kool Aid Corner community and join the conversation as we pursue the spirit of the New Model Apple?
Got a story? Drop me a line via Twitter or in comments below and let me know. I'd like it if you chose to follow me on Twitter so I can let you know when fresh items are published here first on Computerworld.