Apple's work to develop next-generation sensors capable of accurately monitoring your health will empower whole new sets of mHealth technologies -- here's just three solutions the company should take a look at.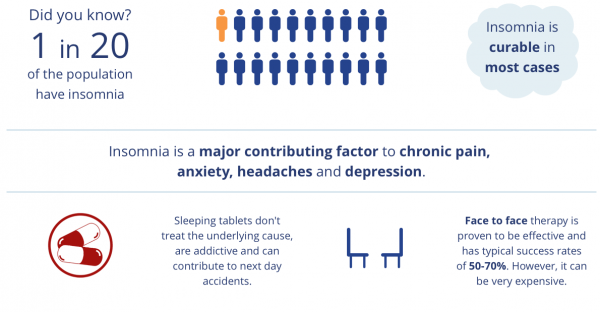 Sleepstation
Developed by sleep expert Dr. Kirstie Anderson, Sleepstation will help millions of insomniacs get a better night's sleep. It's a fantastic example of next-generation mHealth apps; most current apps already monitor what you do, but better sensors will enable apps designed to help you manage conditions.
How Sleepstation works: There's more patients with sleep problems than there are specialists to look after them. Sleepstation combines Cognitive Behavioral Therapy (CBT) with expert health advice to help insomniacs. "It works at least as well as sleeping tablets, but without any of the side effects, and lasts for longer," said Dr. Anderson. "Up to 80 percent of patients who receive the treatment see improved sleep following the program," she said, citing published tests. That's a big deal, because 10 million people in the UK use sleeping drugs, with their associated side effects.
Sleepstation is personalized for each user, and includes medical support, screening, a sleep diary and more. "There are a lot of digital health apps out there, but a lot of them aren't very good," Anderson adds. "For an app to be effective, it's got to be responsive, interactive and it needs to support and screen the people using it." App development was supported by Teesside University's DigitalCity scheme.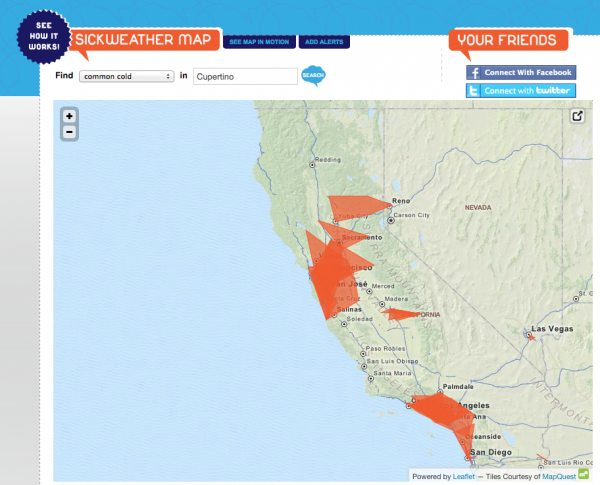 [ABOVE: There's a nasty cold blowing on the West Coast today.]
Sickweather
Sickweather is a new startup supported by the Sprint Accelerator Program. It's a great example of how connected digital intelligence can enable whole communities to take positive action. Sickweather scans social media networks for indicators of illness, enabling users to check their local area's health conditions as easily as they can track the weather; for example, the solution today is warning me that a cold virus is circulating across the UK. Now, I happen to know this is true -- but if I had known this earlier, I would have been able to change my travel habits to avoid crowds and infection. That's a cold, but imagine how technologies like these will help warn communities and health authorities of outbreaks of serious disease. While Sickweather isn't yet available as an iOS or an Android app [UPDATE: Sickweather got in touch to let me know they do, indeed, have an app which you can download for free right here.], it's another great enabling technology Apple's sensors can empower. It begs the question: Will Apple license its sensor technologies to others, or will competitors be forced to "benchmark" them?
MOBIGUIDE
The EU-funded MOBIGUIDE project is developing intelligent mobile systems to help patients with chronic diseases live better lives. At present, it is being developed to help cardiac patients and women with complications during pregnancy, but its aim is to boost care for a range of conditions. Patients wear sensors that monitor things like blood pressure and heart rate. The information is sent to the smartphone and then to a central computer, where data is analyzed and recommendations made. Recommendations can be lifestyle advice for the patient or requests for help to care providers in the event a problem is identified. It's an intelligent mobile solution that enables patients to live independently while receiving constant monitoring and care.
These are just three examples of the kind of sophisticated solutions that will be enabled by Apple's sensor technologies advances as they are introduced. Oh, and one more thing -- these solutions will be good for your pets, not just you.
Google+? If you use social media and happen to be a Google+ user, why not join AppleHolic's Kool Aid Corner community and join the conversation as we pursue the spirit of the New Model Apple?
Got a story? Drop me a line via Twitter or in comments below and let me know. I'd like it if you chose to follow me on Twitter so I can let you know when fresh items are published here first on Computerworld.