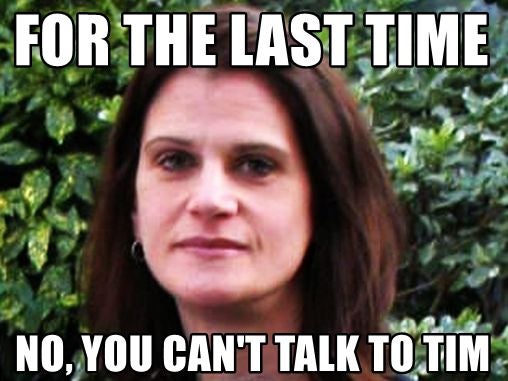 Ob. blurry photo of un-public public-relations exec (family cropped, with whom she's gone to spend more time).
Apple (NASDAQ:AAPL) is losing its PR honcho. Katie Cotton, VP of worldwide corporate communications, has gone to spend more time with her family (not pictured).
Cotton was, without doubt, a polarizing figure in the world's newsrooms and blogger-bedrooms.
In IT Blogwatch, bloggers and journos line up to praise and/or bury her.
Your humble blogwatcher curated these bloggy bits for your entertainment.
John Paczkowski pokes fun:
Big news out of Apple today. Katie Cotton, who...has helped steward the announcement of some of tech's most transformative products, is retiring. [She] guided the media narrative around pretty much everything from the iMac to the iPad...and played a key role in shaping the mystique and exclusivity surrounding the Apple brand.

…

"This is hard for me," she said. "Apple is a part of my heart and soul."  MORE
But Kevin Roose questions Paczkowski's motive:
"Impresario," "powerful," "transformative": words tech reporters use to flatter PR gatekeepers.  MORE
So Christopher Breen's been thinking about what it means: [You're fired -Ed.]
Cotton shaped Apple's communications strategy—one that stayed unwaveringly on message but often frustrated journalists. ... She was also widely viewed as the gatekeeper who controlled...the image of the late Steve Jobs.

…

Cotton and Apple have largely turned public relations on its head. ... Apple presents products and announcements as special events—which [we] then clamor to learn more about. ... Under Tim Cook, Apple has adopted a more approachable mien. ... While it's unlikely that Apple will entirely abandon [the] communications strategy...it's possible that it may leaven that strategy to give it a softer edge.  MORE
And John Gruber digs PR crisis management:
Back in July 2010, I was witness to one of Apple's few true PR crises in recent history: iPhone 4 "Antennagate". [It] was spinning out of control [and] needed to be refuted. Nipping this thing in the bud was important enough that Steve Jobs flew back early from a vacation in Hawaii. ... It was a "this thing can't wait until Monday" situation.

…

Most big corporations employ outside PR agencies. Not Apple. Apple's internal public relations team is itself a world-class agency. That team was built entirely under Cotton's leadership. ... She was among the very handful of most influential executives at the company.

…

The times, they are a-changin'.  MORE
Meanwhile, Zac Hall remembers other recent exec departures:
Katie Cotton, Greg Christie, Scott Forstall, John Browett, Ron Johnson, Bertrand Serlet, Tony Fadell, & Gray Powell should start a company.  MORE
Computerworld Blogs Newsletter
Subscribe now to the Blogs Newsletter for a daily summary of the most recent and relevant blog posts at Computerworld.