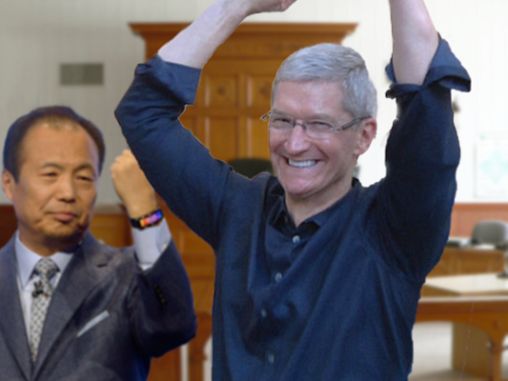 Apple v. Samsung: Patently absurd.
Yesterday, a jury awarded Apple (NASDAQ:AAPL) $120 million in damages in its latest patent infringement lawsuit against Korean phone manufacturer Samsung. Bloggers have pointed out Samsung was also awarded a whopping $158,400 due to alleged patent infringement by Apple. So after the musty legal book dust settles, does this mean the Apple-Samsung patent war is finally over?
Not by a long shot. Both companies are likely to appeal, and there are many other courtrooms around the globe to carry on the needless good fight. Although both companies scored victories, there is one sure-fire loser in this patent case: The Eastern District of Texas. This is one trollish patent lawsuit it had absolutely nothing to do with.
In IT Blogwatch, bloggers lawyer up and settle out of court.
Filling in for our humble blogwatcher Richi Jennings, is a humbler Stephen Glasskeys.
Martyn Williams deliberates for three days:
Apple was dealt a blow in its second major patent-infringement lawsuit against Samsung when a Silicon Valley jury awarded...damages of just $119.65 million...infringement of...smartphone patents.

...

Apple had requested $2.2 billion in damages for what it alleged was massive infringement of five of its patents by nine models of Samsung smartphones and a single model of tablet computer.  MORE
Mikey Campbell likes everything, especially the verdict:
"We are grateful to the jury and the court for their service," Apple said in statement. "Today's ruling reinforces what courts around the world have already found: That Samsung willfully stole our ideas and copied our products."   MORE
Bryan Chaffin asks for more and less, more or less:
Every aspect of this verdict is subject to appeal. Apple is likely to appeal its infringement claim, and...will most likely ask for a higher damage award. Apple could also appeal the two patents that weren't found to be infringed.

...

For its part, Samsung is likely to appeal its convictions and ask for the damages awarded to Apple to be decreased. The company could ask for its own damage award to be increased.  MORE
But Ina Fried doesn't feel like dancing:
They will be dancing in the streets of Cupertino if you award $100 million, [Samsung attorney John Quinn] told the eight-member panel, making the case for a lower damages amount.

...

Fast forward a few days and the jury awarded Apple $119 million in damages. But, despite what Quinn told the jury, there's no dancing going on at 1 Infinite Loop.  MORE
Leaving a mess gets Rachel King's goat:
[Samsung] further drummed on that Apple is really just using the Korean tech giant as a scapegoat in its battle against Android's maker, Google.

...

Things became even more interesting (if not messy)...when it was revealed Google is actually handling some of Samsung's legal fees in this case. .  MORE
None of this matters to Jeff John Roberts:
Ironically...the verdict is unlikely to make a difference in the market since the pace of patent litigation trails the pace at which smartphones evolve -- meaning the decisions ultimately concern outdated technology.

...

The overall case has raised the question of the efficiency of the endless patent litigation over smartphones, which has led the companies to spend hundreds of millions on legal bills, and on high-priced expert witnesses.  MORE
Meanwhile, Iain Thomson wants a permanent end to the lawsuits:
This is not the end of the process however -- both sides are likely to appeal the verdict, and we'll be treated to the same lawyerly imbroglio once more.

...

Kill me now.  MORE
Computerworld Blogs Newsletter
Subscribe now to the Blogs Newsletter for a daily summary of the most recent and relevant blog posts at Computerworld.