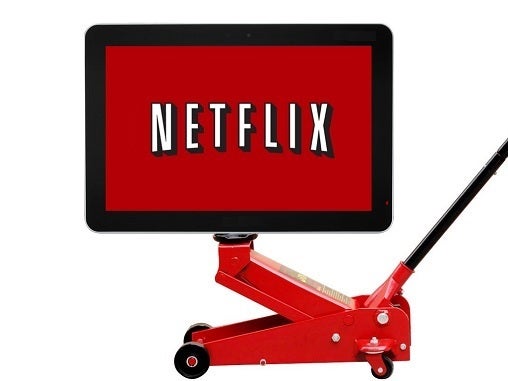 Will Netflix become jacked up?
Like a Swiss-made utility knife, video streaming service Netflix (NASDAQ:NFLX), has a tool for every job. Need to keep shareholders happy? Add 4 million customers. Need money to pay for content and custom programming? Increase prices. Need a screed on the sorry condition of American DSL and network neutrality? Write angst-ridden comments in a quarterly shareholder letter.
In IT Blogwatch, bloggers take in everything at once.
Filling in for our humble blogwatcher Richi Jennings, is a humbler Stephen Glasskeys.
Susie Ochs hikes up the coast:
Netflix announced its financial results for the first quarter of 2014 on Monday, adding 4 million...subscribers.

...

But to keep those revenue numbers up...and pay for original programming, some of you may have to pay a little more for your streaming fix, to the tune of an extra buck or two per month.  MORE
But Shaun Nichols moves in an opposing direction:
[Netflix] has officially come out in opposition of a potential merger between Comcast and Time Warner.

...

The objection...comes alongside an announcement that [Netflix] will be raising [prices] for new customers by one to two dollars per month, depending on country.  MORE
Straight from the horse's mouth:
We ended Q1 with over 48 million global members, and topped $1 billion in quarterly streaming revenue. We had higher domestic net additions than in Q1 2013...and a big hit with Season 2 of House of Cards.

...

[Customer] comments on AT&T's anti-Netflix blog post indicate that AT&T customers expect a good quality Netflix experience given how much they pay AT&T for their Internet service. It is free and easy for AT&T to interconnect directly with Netflix and quickly improve their customers' experience, should AT&T so desire.  MORE
A strong customer, Richard Lawler pushes big questions:
The big question for Netflix? Now at 48 million customers strong...can it push through a price hike without the customer losses it experienced the last time it changed pricing?  MORE
And Casey Johnston reads a letter:
Netflix states...that its service will be coming to cable boxes in Europe. Cable services that user TiVo boxes will get Netflix first, with non-TiVo providers following.

...

Comcast has responded to Netflix claiming that the opinions in the shareholder letter are not based in fact: "Netflix's opposition to our Time Warner Cable transaction is based on inaccurate claims and arguments. [We] are the only ISP in the country that is currently legally bound by the FCC's vacated net neutrality rules."  MORE
We find Janko Roettgers thinking inside the box:
Netflix wants to bring its streaming service to set-top boxes leased by U.S. pay TV operators this quarter. In its [shareholder letter], the company announced that it will first launch on TiVo. ... Netflix also said that it will "try to extend to non-TiVo devices" after rolling out on TiVo boxes.  MORE
Meanwhile, Anthony Ha isn't laughing:
Earlier this year, [Netflix] said it was experimenting with different pricing tiers, adding that it hadn't settled on anything and that there would be "generous grandfathering" for existing members.

...

Netflix infamously hiked up prices for its combined DVD and streaming video plan back in 2011, leading to its abortive Qwikster initiative.  MORE
Computerworld Blogs Newsletter
Subscribe now to the Blogs Newsletter for a daily summary of the most recent and relevant blog posts at Computerworld.