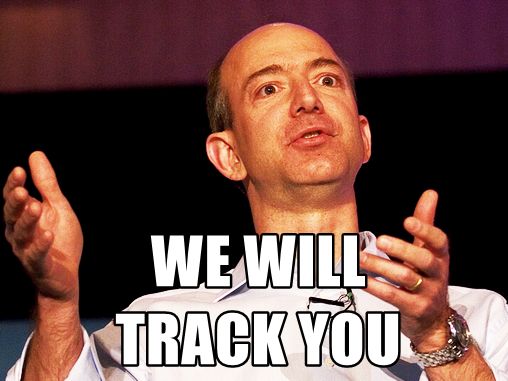 Rumor confirmed! (Or at least, triangulated.)
Amazon (NASDAQ:AMZN) is expected to release its 'Duke' 3D smartphone in the summer. The rumors are rife, reaching us from many sources. All agree there are four tracking cameras that permit a "true" parallax effect, without glasses or the cruddy lenticular nonsense of a Nintendo 3DS.
However, there's some debate whether the "3D" is done by eye-tracking or head-tracking.
In IT Blogwatch, bloggers drop several F-words, including FireOS and Fragmentation.
Your humble blogwatcher curated these bloggy bits for your entertainment.
Here's Zacharye Epstein's breathless "exclusive":
At a distance, Amazon's upcoming flagship phone looks much like any other touchscreen phone on the market. But the company has spent years creating...a custom 3D interface unlike anything we have seen before. ... [We've] spoken with multiple trusted sources and confirmed much of what has been reported. ... We have also exclusively learned many new details [and] obtained exclusive photos of a prototype.

…

Our sources state that the phone's display will measure 4.7 inches diagonally [with] comparatively low pixel density, featuring 720p...includes a total of six cameras. ... To facilitate the software's 3D effects...four cameras, which are situated in each of the four corners on the face of the phone, are low-power infrared cameras. ... used to track the position of the user's face and eyes...altering the perspective of visuals on the screen [for] a 3D experience without the need for 3D glasses or a [lenticular] parallax barrier.

…

We're told the company may be targeting an announcement in the next two to three months and a launch sometime late this summer.  MORE
And Simon Rockman sounds happy to be reporting new features, rather than tweaks:
Now THAT'S what we call a proper new feature. ... Mobile phones (and devices like the Nintendo 3DS) that use lenticular 3D have been around for the best part of 20 years. ... They work by having a lens [that] matches up with the vertical pixels of the screen and sends images for the left and right eye out at slightly different angles. ... This gives the viewer the experience of realistic 3D, but the viewing angle is very restricted.

…

Toshiba spent around $100m to develop a technology which tracks the position of the eyes. ... The project was abandoned [but] a few Tosh engineers who had worked on the project formed a company called Liquid 3D. ... The effect is spectacularly good. ... If the new Amazon phone does indeed use the same technology, it could be a spectacular differentiator for the mobe-maker.  MORE
But Matt Burns says all this "eye tracking" reportage is pure bunkum:
Amazon's upcoming flagship smartphone, running a forked version of Android, will have head-tracking. ... According to our source, the flagship device, Duke, is powered by a heavily modified version of Android...with extreme 3D parallax effects, similar to those found on iOS but greatly exaggerated.

…

Contrary to previous reports, this is done through head tracking alone and does not use eye tracking at all. Amazon never worked on eye tracking. [It's] developed by a team within Amazon — likely at Amazon's Lab126 development skunkworks.  MORE
Errm, not so much "3D" as "hologram-like" then? William White is welcoming, while wondering:
It will include hologram-like effects. ... While news of a 3-D Amazon smartphone is welcome, little is known about some of the finer details [like] the operating system, wireless carriers, design and pricing.

…

Rumors that Amazon has been developing a smartphone have been around since 2010.  MORE
Meanwhile, MG Siegler ain't buying it (literally):
While I'm hesitant to say so definitely before seeing it, this reeks of pure novelty. Just as it was with every other "3D" phone before it.

…

Does such a feature make for a truly better user experience? Or is it just a novelty? ... Or worse, does it actually make the device harder to use?  MORE
Computerworld Blogs Newsletter
Subscribe now to the Blogs Newsletter for a daily summary of the most recent and relevant blog posts at Computerworld.