Microsoft's Office for iPad (Word, Excel and PowerPoint) apps are available now on the App Store. This short guide introduces you to some of its best features and limitations.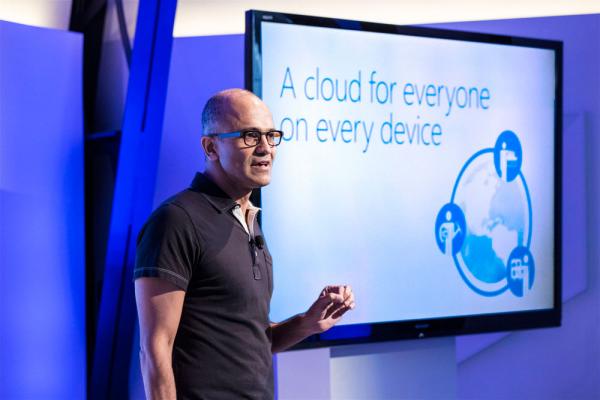 [ABOVE: Microsoft CEO, Satya Nadella introduces Office for iPad.] 
First point: Office for iPad is a great tablet rendition of Microsoft's productivity suite articulated through a well-designed interface and destined for wide use by enterprise professionals.
Office for iPad fully exploits iOS, so you get copy & paste between apps, basic image manipulation and more. You may need to delete some content from your iPad to use the suite -- the three apps are large (up to 259MB each), while documents also occupy considerable space.
Top features
Siri dictation
You can dictate new reports directly into your iPad using Word and Siri voice dictation.
AirPlay
Apple TV becomes an enterprise product thanks to Microsoft's inclusion of AirPlay support in Office. Beam Office documents to your projector or video wall using this.
Point and show
Office for iPad includes a built-in virtual laser pointer, so you can point out details by tapping or sliding to them, when a small red dot will follow your finger.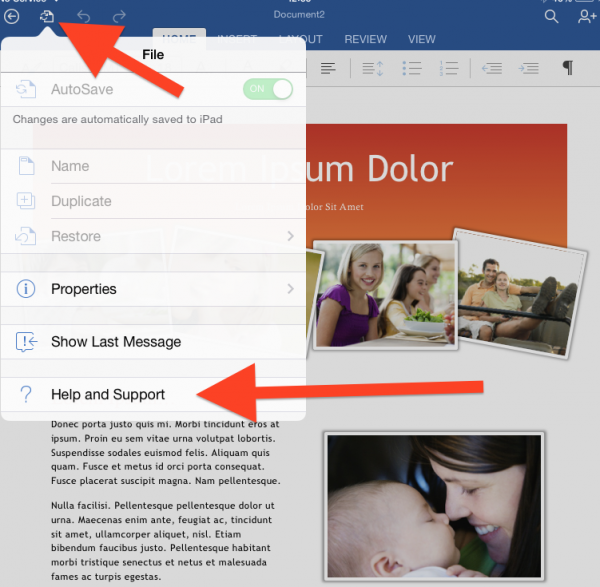 [ABOVE: Stuck? You can access Office for iPad help and support resources within the AutoSave menu as shown above.]
Stable formatting
Formatting in the new apps remains stable: save a document and open it on another platform and formatting should remain as you left it.
 Collaboration
Office for iPad allows you to view and edit documents with others. Collaborative documents worked on offline will sync across the group next time you are online.
Pictures and transitions
Office for iPad lets you use any image saved in your device's Camera Roll or Photo Stream, so you can edit these eleswhere for use in your document, or use Office for iPad's built-in style, transition, shadow or reflection tools.
Review tools
Select Show Markup in the Review menu and you'll be able to track comments, insertions, deletions and other editing changes in your document.
Help
If you get stuck you may find some answers in the Office for iPad guide, which you'll find in the menu invoked by tapping the Autosave button.
Advanced users
If you use Publisher or Microsoft Access or even some of the more advanced features in Office you may find them missing within the iPad app. If that's you then explore Parallels Access, which allows you to use the version of Office already installed on your Mac or PC, so long as you are online.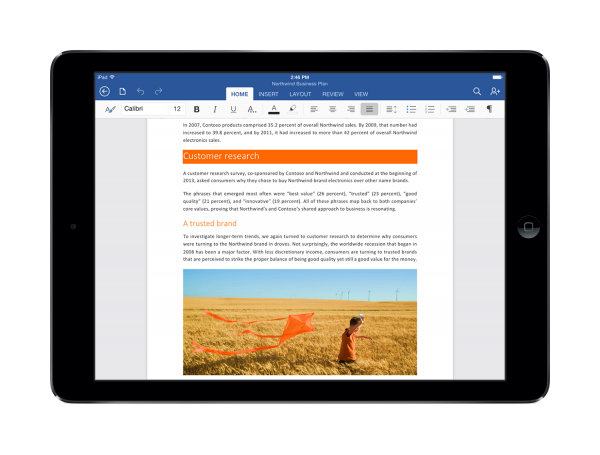 Criticisms
I applaud Microsoft's new approach to platform-agnosticism, but there's still plenty of room for improvement. Absent features I'd like to see in future include:
Print support (it's on the way, says Microsoft)
Sharing: Microsoft does not let users share files via email or as a link in the free version -- that's terribly frustrating and illogical given email support is included within iOS. Microsoft cannot hold customer content to ransom in this way without a telling off.
Microsoft's decision to create documents with the Calisto font by default is annoying as this isn't supported by other apps on iOS.
Improved navigation of large spreadsheets
In-app collaborative communication tools
In-app integration with the iPhoto app for in-document image cropping.
Further reduction in document file size.
Evernote, NoteSuite integration
iCloud support so documents will be synced between computers and devices -- while I understand Microsoft wants to boost use of OneDrive and Office 365, iCloud support is appropriate as it is inherent to iOS.
Video placement in documents
Microsoft has promised regular Office for iPad updates, so future features should reflect the increasing capabilities of iPad range, but there's no doubt the company has made a good start to stake a claim in the emerging multi-platform enterprise economy.
Google+? If you use social media and happen to be a Google+ user, why not join AppleHolic's Kool Aid Corner community and join the conversation as we pursue the spirit of the New Model Apple?
Got a story? Drop me a line via Twitter or in comments below and let me know. I'd like it if you chose to follow me on Twitter so I can let you know when fresh items are published here first on Computerworld.