The latest 451 Research ChangeWave Research survey reveals US smartphone customers are more interested in the iPhone 6 than in anything else.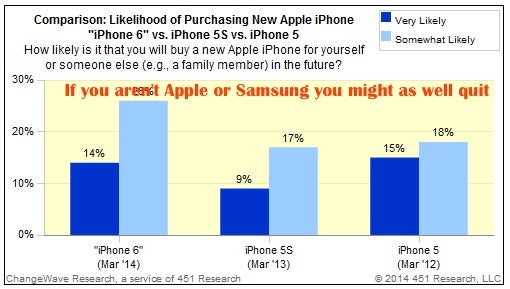 Unprecedented iPhone 6 demand
"This is the highest level of demand for an unannounced Apple model in a ChangeWave survey -- stronger than we've seen in previous years for the iPhone 5S and iPhone 5 models prior to their announcements," said Andy Golub of 451 Research. "Speculation over a larger screen iPhone is clearly striking a chord with consumers," he said.
451 claims smartphone shoppers simply seem interested in a larger screen iPhone, a move that threatens to steal a slice of Samsung's segment of the market.
This is what the researchers asked:
"Some analysts think Apple will release its next generation "iPhone 6" later this year. New features would likely include a larger screen size, gesture control, a faster processor, and an updated iOS operating system. The "iPhone 6" is expected to cost $199 for the 16GB model, $299 for the 32GB model, and $399 for the 64GB model on most of the major carriers."
The results showed huge interest with 40 percent of the survey group saying they would be somewhat or very likely to buy this large display iPhone 6 for themselves or someone else.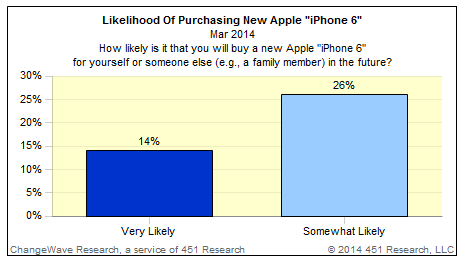 Holding up
Compare the results with previous surveys and it is clear Apple continues to generate huge interest in its products, despite the twisted reporting experienced in recent months and Samsung's record advertising dollars.
Samsung is certainly serious competition: it is also seeing consumers flock to its range, driven by sweet carrier deals, wide product choice and affordability. In fact, it's looking increasingly as if those firms who are not called Apple or Samsung may as well make like BlackBerry and quit the sector.
28 percent of US respondents planning to purchase a smartphone in the next 90-days will grab a Samsung device, up nine points since December. Samsung is at an all time high in terms of purchasing intent.
Apple hasn't lost its edge: 42 percent of US consumers planning to purchase a smartphone in the next 90-days will grab an iPhone.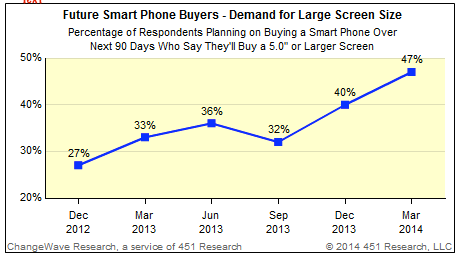 However, smartphones from other manufacturers barely spark a glimmer in terms of future purchase intent.
The threat for Apple is that 47 percent of respondents planning to purchase a smartphone across the next 90-days want a 5-inch or larger display.
"…the percentage of non-Samsung buyers interested in purchasing a phablet has risen sharply over the past two surveys (up 13-pts), from 26% in September to 39% in the current survey -- a clear sign that the appeal of these devices is not fading."
The survey strongly suggests Apple needs to deliver on months of market expectation of a larger iPhone. Should Apple fail to offer such a device, it must expect a backlash, which may blunt purchasing intent around its range. In a sense that's a good problem to have, as HTC, Motorola Mobility, Huawei and others in the smartphone space face the far more depressing reality that existing market dynamics are forcing them to build their smartphone business around low-end "cheap" devices.
What's bad about the Apple/Samsung market duopoly is that lack of competition in the sector inevitably weakens innovation in the space, prompting further market consolidation and ultimately limiting consumer choice.
An open market should be an innovative market, and given Apple continues to fight for the argument that Samsung's market position is driven by imitation, rather than innovation, you have to wonder what great ideas may have emerged in a more competitive environment?
Google+? If you use social media and happen to be a Google+ user, why not join AppleHolic's Kool Aid Corner community and join the conversation as we pursue the spirit of the New Model Apple?
Got a story? Drop me a line via Twitter or in comments below and let me know. I'd like it if you chose to follow me on Twitter so I can let you know when fresh items are published here first on Computerworld.