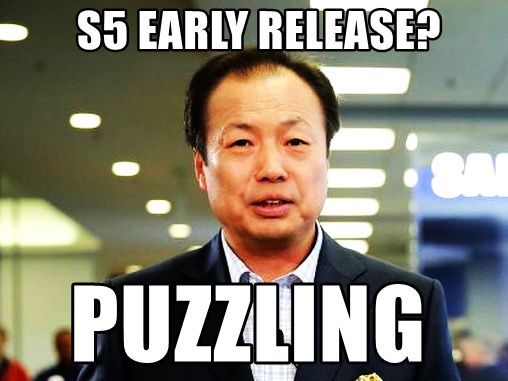 Shin Jong-kyun made to look silly.
Samsung Galaxy S5 release date unexpectedly brought forward—at least, in S. Korea. This just after the company's CEO (pictured) had denied rumors that it would be released early. Oops.
Samsung and the local cellular networks aren't the best of friends this morning, it seems.
In IT Blogwatch, bloggers break out the popcorn.
Your humble blogwatcher curated these bloggy bits for your entertainment.
A breathless Jungah Lee reports from the South-Korean capital:
Samsung Electronics Co. failed to keep its new Galaxy S5 smartphone from going on sale early in South Korea today. [It had] planned to release the phone on April 11. ... Samsung is counting on the marquee device to maintain its lead in a global smartphone market where it competes with Apple.

…

"We are very puzzled," Suwon, South Korea-based Samsung said. ... The Galaxy S5 has a fingerprint reader with a full high definition 5.1-inch display on an...AMOLED, screen. The back of the phone has a leather feel while the device is designed to withstand 30 minutes at the bottom of a...3-foot pond. The...camera has a resolution of 16 megapixels...and the battery will last 20 percent longer.  MORE
And Kim Yoo-chul adds color to the "brouhaha":
Samsung [said] it could possibly reduce shipments of Galaxy S5 smartphones to SK Telecom...to penalize it for its "unauthorized" release of the firm's latest cellphone. [But] SKT is the largest vendor and any reduction in supplies could negatively affect...sales.

…

Samsung's mobile CEO Shin Jong-kyun, who had officially denied reports about an early launch. [His] denial proved to be wrong in less than 24 hours. ... SKT preempted [the launch], prompting KT and LG Uplus to start selling S5s as well. ... Samsung had provided [the carriers] with a limited number of handsets for marketing and pre-sales activities.

…

But some analysts say this "development" is a highly-organized tactic.  MORE
So Clare Hopping cocks a snook:
The Samsung Galaxy S5 has gone on early release...because the country's biggest networks would not have been able to sell the device on the manufacturer's official release date...due to state-imposed suspensions, preventing networks from doing business on that date.

…

The suspensions prevent any networks signing up new customers for 45 days after a new device is released because previously [they] were offering illegal discounts.  MORE
Rik Henderson further explainifies:
[The networks] are each either undergoing or facing suspension of business, as required by an order by the South Korean Ministry of Science, ICT and Future Planning. [They] are charged with offering excessive smartphone subsidies, so they face periods of suspensions between 13 March and 19 May.

…

SK Telecom's ban starts on 5 April, which restricts the sale of handsets to customers, hence its urgency to defy Samsung. ... "We decided to release the product for a wider consumer choice of handsets before our operation suspension begins on 5 April," it explained.  MORE
Meanwhile, Lee Hyeong-soo wonders if it's all just sound and fury, signifying nothing:
Samsung Electronics' [camera] lens production yield is only around 20 – 30%, which can lead to setbacks in the Galaxy S5 production. ... Samsung Electronics' internal production line and also the key suppliers...had originally planned to commence 16 million pixel camera module production last month. However...the lens production yield stays at a low rate.

…

The problem is that, although the number of plastic injection parts increased, the thickness must be kept the same. [So] the camera module thickness must be reduced even further. ... To keep the Galaxy S5 production schedule, Samsung Electronics' purchasing officers are staying in lens suppliers' plants almost full-time, according to sources. ... The product launch [may] have to be delayed in some regions. .  MORE
Computerworld Blogs Newsletter
Subscribe now to the Blogs Newsletter for a daily summary of the most recent and relevant blog posts at Computerworld.