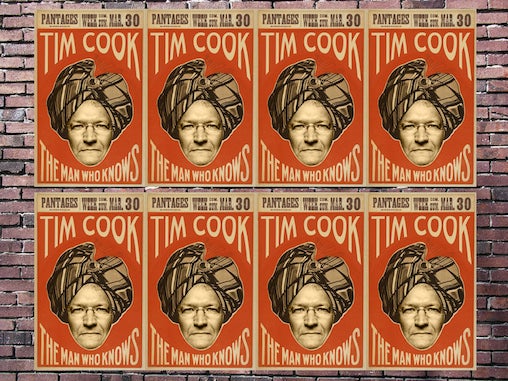 Tim Cook: All show and no tell.
Never content with being ignored, Apple (NASDAQ:AAPL) is back once again in the limelight. A set of rumors about upcoming iOS 8 apps are sowing doubt, confusion, and debate; otherwise known as activities bloggers enjoy. Pirated screenshots from China show new icons that are supposedly the real thing, honest. But some bloggers, doubtful of quality, are certain the images are nothing more than cheap designer knockoffs.
In IT Blogwatch, bloggers follow a road to happiness, paved with uncertainty.
Filling in for our humble blogwatcher Richi Jennings, is a humbler Stephen Glasskeys.
Yoni Heisler is impressed, hypothetically speaking:
It's barely mid-March, and already the iOS 8 rumors are starting to fly in. [Yesterday a purported] screenshot of iOS 8 [was posted] which showcases a number of interesting new apps.

...

If indeed accurate, I gotta say that the Healthbook icon design is pretty sleek with a nice color pattern to boot.  MORE
In reality, Mark Gurman can't keep a secret:
The above screenshot claiming to represent iOS 8...showed up on a Weibo account.

...

Even though the source of the images [is uncertain], I have confirmed with several sources that these shots are legitimate.  MORE
Kelly Hodgkins believes in staying fit:
Healthbook is Apple's rumored fitness app...[the icon] in the screenshot...loosely matches earlier descriptions. ... It may connect to the iWatch and track...health and fitness parameters...and potentially other statistics like hydration and blood glucose levels.  MORE
Likewise, Naina Khedekar consumes a low-sodium diet:
We've already heard about the Healthbook app...while Preview and TextEdit are Mac apps that Apple possibly plans to bring to iOS.

...

[The screenshot] images could be real. However, we'd suggest [you] take it with a pinch of salt for now.  MORE
And Chris Welch nibbles on raw icons:
Earlier, 9to5Mac claimed that [Preview and TextEdit] aren't full-blown mobile versions of their Mac counterparts; instead, they're intended... to Preview and TextEdit files stored in iCloud.

...

The icons appear far from finished, since they're literally the [same] Mac icons...thrown onto solid white and black backgrounds.  MORE
Meanwhile, Shane Cole eats his snacks one-handed:
While the Healthbook app matches up with previous rumors...the addition of Preview and TextEdit apps is strategically suspect.

...

However, well-connected analyst Ming-Chi Kuo [says] Apple will not exceed the 5-inch barrier on the display size for its next-generation iPhone. According to Kuo, Apple executives are committed to the "principle of one-hand use," and anything beyond [that] would require users to use two hands.  MORE
Computerworld Blogs Newsletter
Subscribe now to the Blogs Newsletter for a daily summary of the most recent and relevant blog posts at Computerworld.