There's between 700 to 800 million photos tweeted, posted on Facebook, Instagram, Tumblr or otherwise shared publicly online every day. You might post it and then forget it, but it might still snag the attention of cops and get you busted. Did you know that law enforcement even demands user data from Pinterest? There is one company keeping track of what you wear, eat, drink or do in shared images and how you feel when you're doing it. If a brand is included anywhere in any of those photos online, then prepare for the photo you took or are featured in to be analyzed.
Boston-based Ditto Labs has a different approach to typical social analytics as its visual recognition engine scours the Internet for brands in photos. Fast Company explained, "The system, which runs in Amazon's cloud and has between 200 to 300 servers processing 'a firehose of images' from Facebook, Instagram, tweets, and Tumblr gets funneled into huge queue that continuously tries to look into the pixels to identify about a thousand brands from sports to consumer package goods."
It doesn't matter how the photo was taken, such as a "selfie" snapped via smartphone or if the photo is of a crowd located indoors, outdoors or even with pets. After finding a user-generated photo, Ditto's pattern recognition finds the brand among the chaos, even if the brand logo itself is "blurry, partially occluded, inverted, tiny, or even in a different color scheme."
When explaining how image recognition, aka computer vision, can see a picture and understand it the way a human could, Ditto wrote about facial recognition, optical character recognition (OCR) and pattern recognition. If you've "uploaded a photo in Facebook and been prompted to tag a particular face as a particular friend, you have utilized facial recognition technology. If you have ever deposited a check by taking a picture, your bank has used OCR to read the routing and account numbers on the check so that it can transfer funds from the correct account." Pattern recognition goes beyond face and text recognition and can instead recognize "any pattern of pixels at all." It can even recognize patterns like a Burberry plaid or a Vera Bradley paisley.
After finding a photo that includes a brand logo somewhere within it, Ditto Labs analyzes faces to determine sentiment, or what people in the photo are most likely feeling. Other insights into people that Ditto Labs can data-mine from a photo include: "What are the characteristics of these people? (Segmentation analysis: demographics, psychographics, technographics, PersonicX clusters." If you don't strip out the geo-tagged locational metadata—something wise that you should always do and could stop you from being busted—then the photo location is reported on a geographic heat map. But it's not just that one photo the company analyzes. Photo insights also include: "What photos are taken before and after the photos of my brand?"
If you are thinking that violates your privacy, then think again as most photos posted online are considered public. Photos posted on Tumblr, Pinterest and via public tweets are considered in the public domain. Instagram photos are public unless you change the default settings. The privacy shocker is Facebook as users must opt into the Ditto app before Ditto can hoover up those photos too. But photos appear all over the web from Flickr, to BuzzFeed to Google+; Ditto Labs said, "Two billion photos are posted each week across the major social media platforms."
David Rose, CEO of Ditto Labs, said, "Analytics tools don't collect or save any personal data, just the brand/logo and sentiments generated."
In a slideshow report about Ditto "photo-listening" for Samsung, the Ditto report shows a tab for each of the following:
Photo mentions: How does your product or brand appear today in images people share?
Impressions versus competitors: How many brand-impressions do you garner each week?
Face of the customer: What are the demographics of the people who post photos of your product?
Prominent secondary brands: What other brands appear in these people's photos?
Common Twitter followings: What other celebrities and companies do your fans follow?
Word cloud of interests: What words are used most often with photos of your product?
Influencer leader board: Who are the most influential people who post photos of your brand?
Geographic heat map: Where are photos of your product most often taken?
"Influencers" examples for Samsung showed rank, name, Klout score, rate/week, interests and the ability to follow that influencer via Twitter.
As part of Ditto Labs public Facebook photo albums, the company showed off this example of a brand hack that its "awesome image-recognition engine can identify."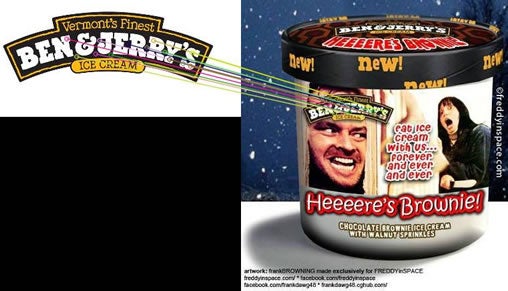 Lastly, brand terrorism is a form of terrorism that hadn't crossed my mind before, but Rose said, "We are on the lookout for a 'something else completely' application like a public health app, removing logos if people wish, brand terrorism, and a global brand trending index." If you think this is cool, then that might be a great idea for you to start on. If you're not really loving this whole concept from a privacy perspective, then picture this possibility: brand terrorism as the next type of most-wanted list as well as "you might be a brand terrorist if" jokes.