Wi-Fi management on an iOS device is relatively pain-free, but some small annoyances can take place from time to time. Here's what you need to know.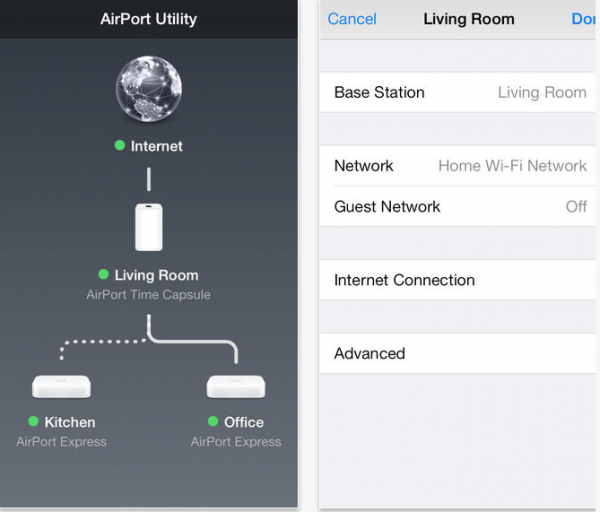 [ABOVE: AirPort Utility available via the App Store lets you use your iOS device to manage your own network.]
This article assumes you already know how to get your iOS device onto a Wi-Fi network, and that you are relatively familiar with choosing which networks to climb aboard. It also assumes the network(s) you are using are working correctly and that the router/AirPort/modem doesn't require a reset. This report is focused on some other common problems:
Wi-Fi control
iOS will always attempt to join the last available Wi-Fi network you used if the network is available to you, however, in the event you are in a location in which there are many available networks the device may keep trying to join a network you may have used once but no longer wish to use.
The solution is simple:
Access Settings>Wi-Fi
Look for the Wi-Fi network name you need to forget and tap the I button.
In the next panel select Forget this Network
You'll be asked to confirm the command in a second panel.
Wi-Fi not active
There are times when some iOS users find their Wi-Fi is not responding properly -- the on/off switch may be greyed out, or the device may appear to connect but no data transfer takes place, or connection speed may be uber-slow. If something like this happens try these suggestions:
Reboot the device

Hold down the Home and Power buttons until an Apple icon appears on the display. Your phone will reboot and the problem may be resolved.

Reset network settings

Network settings include things like Wi-Fi passwords, so be sure you know these before resetting these. To Reset Network Settings access Settings>General> Reset. You must then choose 'Reset Network Settings' and then confirm that command. Find your Wi-Fi network, enter your password, and things should function correctly.

Backup and Restore

Another option to get things working correctly again, Backup and Restore takes a little time. The full details of how to do this are available within this technical support document
I can't connect
By default your iPhone will try to access the Internet using any available Wi-Fi network. Sometimes your phone will continue to attempt to access the Internet via a wireless network it sees, but you are not connected too (this is a particular problem when in a public wireless zone to which you don't have a password). The solution is incredibly simple -- just switch off Wi-Fi using Control Center. With Wi-Fi switched off your device will get online using your network connection.
You may also want to turn on the 'Ask to Join Networks' feature within Wi-Fi Settings, which will stop it automatically connecting to networks at the cost of pop-up messages each time your device is in range of one.
These steps should help you fix most Wi-Fi problems. In the event they do not, then take a look at this Apple support document, which will connect you to additional advice.
I need a hotspot
If you need to find a nearby Wi-Fi hotspot then you can try asking Siri. Just ask it "Where are the closest Wi-Fi Hotspots", and it will find the closest locations to where you are. Alternatively ask it to search by City name and state to find locations in a place you are travelling too.
Google+? If you use social media and happen to be a Google+ user, why not join AppleHolic's Kool Aid Corner community and join the conversation as we pursue the spirit of the New Model Apple?
Got a story? Drop me a line via Twitter or in comments below and let me know. I'd like it if you chose to follow me on Twitter so I can let you know when fresh items are published here first on Computerworld.