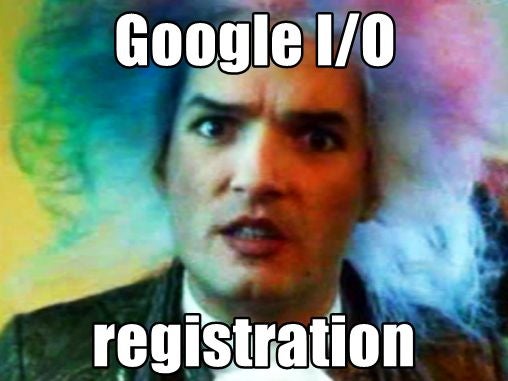 Google I/O is popular. But stop hitting F5.
Google (NASDAQ:GOOG) says registration for its 2014 I/O conflab will be different. The sign-up process will be an "Austrian auction." [Did you invent that, just so you can make stupid Falco puns? -Ed.]
Attendees will be randomly selected, as if in some sort of high-tech Wonka factory.
In IT Blogwatch, bloggers make it common knowledge.
Your humble blogwatcher curated these bloggy bits for your entertainment.
Ron "rock me" Amadeo war ein Punker und er lebte in der großen Stadt:
Sundar Pichai, the head of Chrome and Android...said that registration will be different this year. Normally...tickets sell out in a few minutes. So people who...spam the refresh button get in, and those who don't have to watch from home.

...

He said the new registration system should be less of a scramble.  MORE
And Josh Lowensohn shows signs of feline greatness—er war ein Virtuose:
This year's conference will be held from June 25-26, and will be...again at the Moscone Center in San Francisco.

...

I/O has become immensely popular.

...

Last year's show brought the launch of Google Play Music as well as the Chromebook Pixel. ... Google also used the platform as a chance to show off redesigned versions of Google Maps [and] Google+.  MORE
So Google's Sundar Pichai—er hatte Flair—reaches deep into his nosebag, to tell us more:
You can join us in person in San Francisco or remotely, via a live stream.

...

For those who want to join in person: this year we're making some changes. ... We'll be implementing a new system, where you can submit your interest. ... Successful applicants will then be randomly selected.  MORE
Jede rief! Kellen Barranger sounds disappointed:
That seems, well, kind of unfortunate.

...

You have no control over whether or not you will be able to attend. [The] process may eliminate the complaints after crashing servers and tickets selling out [but] I can imagine people not liking the lottery format and instead complaining over having no control.

...

Let's also not forget that last year Google changed the focus of this event back to developers...and getting back to code.  MORE
Meanwhile, in case you're feeling frustrated, Jordan Kahn rocks us:
Expect more details on registration next month.  MORE
[You're fired -Ed.]
Computerworld Blogs Newsletter
Subscribe now to the Blogs Newsletter for a daily summary of the most recent and relevant blog posts at Computerworld.