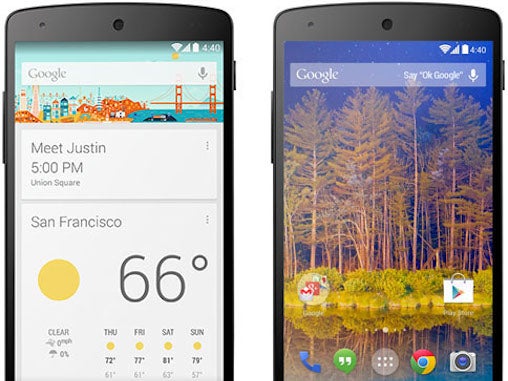 OK, Google: 3... 2... 1... Now.
Google (NASDAQ:GOOG) finally opens up its new Android launcher. Albeit for Nexus and Google Experience devices, for now.
In IT Blogwatch, bloggers start apps slightly differently.
Your humble blogwatcher curated these bloggy bits for your entertainment.
I met Ron Amadeo on a Monday and my heart stood still:
When KitKat launched, Google made the odd decision to make [the] a brand-new launcher, exclusive to the Nexus 5. [It's] actually a merging of the standard home screen with the Google Search app.

...

Today, Google finally released the new launcher on to the Play Store for other devices. Owners of older Nexus devices and any Google Play Edition device can update. ... Will the company soon open this up to other devices? Will Google eventually package it...into the licensing requirements for the Play Store? It'll be interesting to see how this plays out.  MORE
And Darrell Etherington sheds a tear:
It's perhaps a little sad for users outside the "stock" experience pool. ... You'll see a different dock...as well as other slight visual tweaks. But there are some significant changes in the way the OS works...for instance, saying "Ok Google"...on the home screen will initiate a Google search. ... Also, swiping left from your 'main' home screen (the one which used to be your central one) will now open up Google Now.

...

Hopefully, Google sees fit to expand this to other Android handsets in the future, too, if only because...always on voice commands are genuinely pretty useful.  MORE
But Ryan Whitwam sounds frustrated:
Devices running custom ROMs based on KitKat (like CM 11) may also be compatible. A future version might open it up, but we'll have to wait on Google to chime in.

...

Also note the Nexus 10 still doesn't get transparent bars, so stop asking.  MORE
Greg Sterling has been living with it for a few months:
Google Now was initially a novelty [but] I've come to rely on it for certain kinds of information: weather, sports scores, travel information...calendar entries and news content.

...

I suppose the rationale behind expanding distribution of the "launcher" is to pre-empt another party from taking control of the Android home screen. ... I'm thinking specifically about recent Yahoo acquisition Aviate. ... The notion of "intelligent assistant" has become a kind of metaphor for a next-generation "search" experience.  MORE
And statest09 cannot lie: [You're fired -Ed.]
I like...big icons.  MORE
Computerworld Blogs Newsletter
Subscribe now to the Blogs Newsletter for a daily summary of the most recent and relevant blog posts at Computerworld.