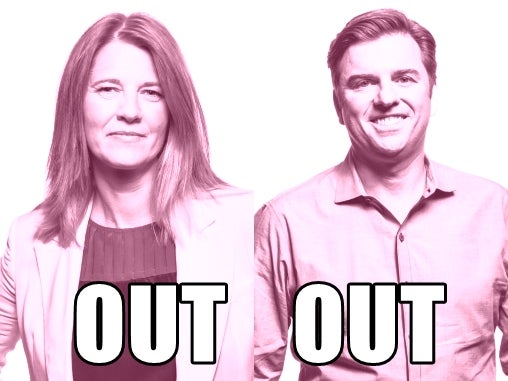 Tami and Tony taken out behind the barn.
Microsoft's (NASDAQ:MSFT) new CEO is doing some spring-cleaning. Looks like Tami Reller's getting the blame for Windows 8, and there's simply no reason to keep Tony Bates hanging around like the metaphorical bad smell.
In other news, Scrooled-meister Mark Penn is getting a promotion. Oh brother.
In IT Blogwatch, bloggers eyeroll until their extraocular muscles scream for mercy. Not to mention: MC Chris crosses the nerdcore streams, in tribute to Harold Ramis...
Your humble blogwatcher curated these bloggy bits for your entertainment.
Kara Swisher klaims a breathless "exclusive":
Two direct reports to new Microsoft CEO Satya Nadella...are leaving the company, according to numerous sources. ... Nadella told top staff of the changes on Friday and the software giant was planning to announce them Tuesday.

...

Reller's departure was not unexpected, given she had been matched by Ballmer in a classic and problematic two-in-a-box face-off with Penn. ... Bates will leave immediately, but his departure is also not a huge surprise...he apparently told Nadella he could not make a long-term commitment to the company [and] he has had several CEO offers in recent months.

...

A Microsoft spokesman declined to comment.  MORE
So Simon Sharwood says something, drawing conclusions:
Skype supremo Tony Bates and head of marketing Tami Reller will leave Microsoft.

...

Mark Penn will soon be confirmed as chief strategy officer. ... Penn is known to be the mastermind behind Microsoft's "Scroogled" anti-Google campaign, so perhaps...Microsoft wants a more aggressive communications style and/or strategy.

...

Reller became Microsoft's point person for Windows 8. ... She often released statistics that showed the operating system was doing great if you squinted at it in just the right way. ... It perhaps signals Microsoft distancing itself further from those who made the world so tepid...about Windows 8.  MORE
But Tom Warren disagrees:
Best news? Mark Penn won't be in charge of advertising at Microsoft anymore. No more ****** Scroogled.  MORE
Yet Ben Thompson waxes contrariwise:
The only thing that would surprise — and disappoint — me more than MSFT hiring Mark Penn would be if Nadella kept him.  MORE
Meanwhile, Adam Lashinsky reads between the lines of Chairman John:
The newly appointed chairman of Microsoft's board [talks] about the company's recent turmoil. ... Thompson, a veteran software executive...spoke about the importance of culture [and the] similarities between Microsoft today and IBM 25 years ago.

...

"One of the things IBM learned was when their monopoly ran out...they needed to have a different rate and pace of change. And Lou Gerstner coming into IBM certainly brought about a sense of urgency. ... Over time, that changed IBM's culture. You don't change a company's culture overnight. ... There are some attributes to Microsoft today that do look vaguely like IBM circa 1990. The Windows monopoly is...under attack, and therefore we're going to have to change."  MORE
Computerworld Blogs Newsletter
Subscribe now to the Blogs Newsletter for a daily summary of the most recent and relevant blog posts at Computerworld.