Apple's latest OS X Mavericks 10.9.2 update is an essential patch for Mac users because it patches the Gotofail security bug, but it also brings something new -- the ability to make and receive audio calls using FaceTime.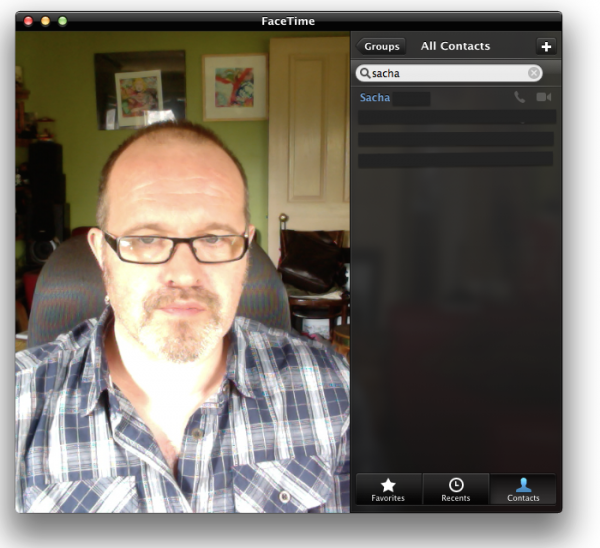 [ABOVE: The FaceTime interface featuring a man trying to look like he hasn't got the sun in his eyes.]
FaceTime is Apple's WhatsApp competitor, because it enables users to indulge in video and audio calls with other FaceTime users for free using the Internet, though unlike WhatsApp both involved in the chat need to use Apple's solution (Advantage: WhatsApp). While it has been possible to make video calls, Mac users haven't been able to make audio calls using FaceTime until the update shipped to enable the feature on the Mac.
Introducing FaceTime
FaceTime's interface is very simple. To the left you see a video feed of yourself, while to the right you see a list of contacts, including contacts groups. The lower left of the interface shows you Favorites, Recents and Contacts buttons. These are self-explanatory.
In order to make a video call all you need do is select a contact (who must also be using FaceTime) and use the FaceTime button to initiate the session. When making a video call the original interface will be replaced video feed of the person you are speaking to, and your feed will become inset in at the lower left of the display.
During a session you can end the call, block audio, flip the video so you become the primary image, or use the opposing diagonal arrows to launch FaceTime in full-screen mode, if you like the person you're talking to that much.
When someone calls you using FaceTime you will be told there's a call coming in, who it is from. You can then accept or decline the call, or set a callback reminder. FaceTime doesn't have to be active on your Mac/device, it just needs to be enabled.
FaceTime audio calls
Making a FaceTime audio call on your Mac is also very simple.
Launch Facetime
Select the contact you wish to speak with
Tap the FaceTime Audio button
FaceTime will attempt to contact that contact using Facetime
If the contact is not using a Mac or iOS device, or does not have Facetime enabled, you'll be unable to make the call, otherwise you'll be able to make contact.
Apple introduced the ability to Block this Caller in the latest update. This is useful if you want to ensure you don't receive nuisance calls via your system from a particular number. The ability to block callers (including fixed- and mobile numbers) is also available within Contacts. I use the latter to block marketing and sales calls. Using the Block this Caller feature is also easy -- simply select the number in your Contacts book (you may need to add the number first) and tap the Block this Caller button.
Apple understands that you might receive multiple FaceTime calls. In order to help you manage this the company has also added call waiting support to the service -- you get the option to use this when a call comes in.
When you don't wish to make or receive a FaceTime call and wish to be unavailable, simply switch FaceTime off using the FaceTime menu item, or using Command-K while the application is active.
Mac FaceTime improvements I would like to see include:
The capacity to share images or other media from within the app;
Support for on-screen sharing and collaboration of Keynote or other iWork projects
Multi-person chats
Video resolution and focus controls
A PhotoBooth-inspired capacity to choose different backgrounds
The ability to make non-FaceTime calls using the app.
Mavericks Tips and Tricks
Google+? If you use social media and happen to be a Google+ user, why not join AppleHolic's Kool Aid Corner community and join the conversation as we pursue the spirit of the New Model Apple?
Got a story? Drop me a line via Twitter or in comments below and let me know. I'd like it if you chose to follow me on Twitter so I can let you know when fresh items are published here first on Computerworld.