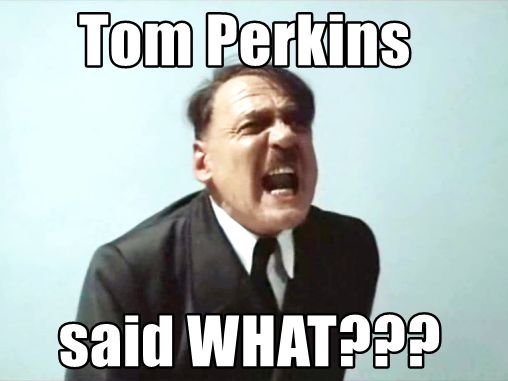 Adolf is not amused.
As you may recall, at the weekend, the 82-year-old ex-VC Tom Perkins added insult to literal injury with his odious "Kristallnacht" reference. Now he's apologizing for it -- but not for his underlying thesis.
Was this really the best way to get people to stop smashing the windows of Google and Apple employee buses?
In IT Blogwatch, bloggers affect Godwin.
Your humble blogwatcher curated these bloggy bits for your entertainment.
Emily Chang holds Tom's feet to the fire. Here's what he said:
I talked to the head of the anti-defamation league this morning...apologizing. There were some terrible words chosen.

...

I deeply apologized [to] anyone who has mistaken my remarks as anti-semitism. This is not the case. ... Then I apologized for using that reference.

...

The Jewish people were only one percent of the german population...my point was that when you start using hatred against the minority, it can get out of control. ... We have to be careful that we do not demonize anybody and that we don't demonize the most creative part.  MORE
Chang's colleagues op'ed this ed:
Perkins, a founder of the venture-capital company Kleiner Perkins Caufield & Byers, has managed to intensify [his] error in a way that almost defies belief. [First he] lamented that progressive anger toward the rich -- as expressed by the Occupy movement and in protests against Google Inc.'s private buses for employees -- was analogous to Nazi persecution of Jews. ... He later stood by his view in an e-mail.

...

Which is a shame, because it's a critical debate to have. ... It's just that the old partisan responses to it...are meant to address the inequalities of a different era. And overheated rhetoric has forestalled any meaningful progress.

...

To the long list of things inhibiting intelligent discussion on the topic, however, add an unhinged rant about Nazis.  MORE
The VC firm that still bears his name attempts maximum possible distancing:
Perkins has not been involved in KPCB in years. We were shocked by his views...and do not agree.  MORE
To which Glen Hellman retorts thuswise:
You should have thrown him under a bulldozer! Bus is too good for him.  MORE
Iain Thomson examines Perkins' form:
He devoted much time, and between $150m and $300m, developing the then–world's largest sailing ship, the Maltese Falcon, and visiting his 16th-century English manor house that once belonged to Led Zeppelin's Jimmy Page.

...

[He] last hit the headlines when he rejoined the HP board in 2005 after...Fiorina was ousted. The following year he resigned...after learning that then-chairwoman Patricia Dunn had authorized a probe into boardroom leaks, which spectacularly backfired. ... Perkins went public with the story after HP declined to mention the reason for his resignation. The resultant criminal investigation forced Dunn to quit.  MORE
Meanwhile, Michael Cohen goes all Buzzfeed on his ***:
A Crazy Old Man With A Poor Grasp Of 20th Century History Goes On TV. You Won't Believe What Happens Next.  MORE
Computerworld Blogs Newsletter
Subscribe now to the Blogs Newsletter for a daily summary of the most recent and relevant blog posts at Computerworld.