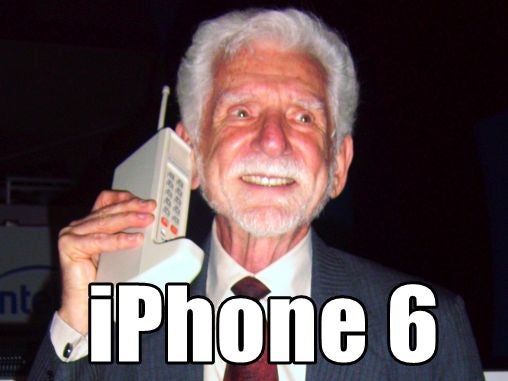 iPhone 5S still too small, supposedly.
Apple (NASDAQ:AAPL) is expected to launch the iPhone 6 later this year. And it's going to be big. Literally.
The deep-throated rumor-mongers are saying that there'll be two models, both with bigger screens than today's units. We're also hearing that Cupertino is ditching the plastic (again).
In IT Blogwatch, bloggers realize that iPhone-release-rumor season is upon up once more.
Your humble blogwatcher curated these bloggy bits for your entertainment.
Why write with one pair of hands, when you can use four? Lorraine Luk, Eva Dou, Daisuke Wakabayashi, and Juro Osawa channel "people familiar with the situation":
[They] said Apple plans an iPhone model with a screen larger than 4½ inches...and a second version with a display bigger than 5 inches. ... Apple [is] expected to scrap the plastic exterior used in the iPhone 5C. ... Apple declined to comment.

...

Apple is losing market share to rivals who offer bigger screens [which] have proved popular as more people use [them] to play games, watch video or surf the Web. ... Bigger screens are particularly popular in China.  MORE
A surprised Alex Colon [offcolor joke Bowlderized -Ed.]:
This rumor isn't anything new. We've been hearing about a bigger iPhone since as early as last summer. What surprises me is just how persistent the rumor continue to be.

...

Apparently Apple is planning to scrap the plastic body used for the iPhone 5c in any upcoming phone designs, which would back up rumors of weaker than expected iPhone 5c sales. ... After bucking the trend for so long, I just can't see Apple venture into full-on "phablet" territory.  MORE
But Jordan Crook has a long memory:
Just like previous rumor seasons, Apple is reported to release two phones later this year. Except this time around, they will have larger screen. 4.5 [and] 5 inches [are] on par with the screen size of the Galaxy S III and Galaxy S4, respectively. ... The iPhone originally launched with a 3.5-inch display, which was bumped to four inches with the iPhone 5. ... Android manufacturers used size to differentiate, slapping five- and six-inch displays onto flagship devices.

In fact, we've seen the phablet market grow to the point where I'm using the term "phablet market" in articles. Over 20 million units were shipped in 2013, and Juniper Research estimates that number growing to 120 million by 2018.

Of course, for now this is all unconfirmed by Apple and thus a rumor. We'll have to wait until Apple announces the next-gen products until anything is for sure. (But remember, history does tend to repeat.)  MORE
Meanwhile, CougarCat gets picky:
I think the iPhone 5C's place in history will be next to the fat iPod Nano and the iPod with the buttons on the top of the click wheel.

As for screen size, I'm not clamoring for it, but as long as the device physically doesn't get any taller, and there's a resolution bump, I'm OK with it. I don't want a device that's harder to hold with a worse PPI and no extra screen real estate.  MORE
And Jonny Evans has a higher cause:
Smartphones are incredibly advanced devices...but in some cases the cost of those materials includes an inconceivable degree of human suffering. ... I'm talking about conflict minerals. ... Various armed groups extract these rare minerals to finance their armies.

...

Some big brands have begun to avoid using conflict minerals. ... Apple is working towards this. ... We should have a little more certainty on the matter from February/March when firms will be required to tell us. ... Smartphone users will have to ask themselves if the convenience of receiving [an] immediate Facebook update justifies the human and environmental cost of their device.  MORE
Computerworld Blogs Newsletter
Subscribe now to the Blogs Newsletter for a daily summary of the most recent and relevant blog posts at Computerworld.