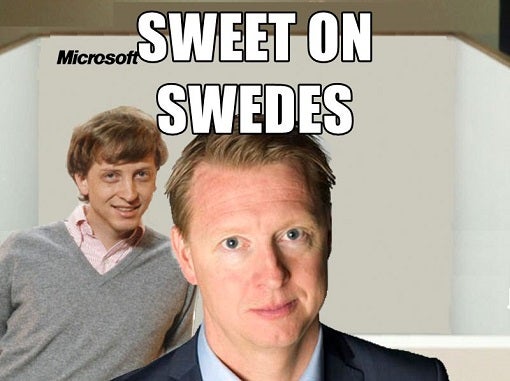 Microsoft woos Hans Vestberg.
It's on-again, off-again for potential CEO candidates at Microsoft (NASDAQ: MSFT). The latest apple of Microsoft's eye is the suave Swedish sophisticate Hans Vestberg, CEO of Ericcson (NASDAQ:ERIC). With a reputation for being able to telecommunicate with his partners, he appears to be a good catch. One big obstacle remains though: Microsoft's other half needs to get a quickie divorce in Las Vegas.
At home and awake until all hours, we find current CEO and jilted-lover Steve Ballmer. As much as he would prefer to part amiably, Microsoft can't let go, afraid to commit to another long-term relationship.
In IT Blogwatch, bloggers believe the good ones are already taken.
Filling in for our humble blogwatcher Richi Jennings, is a humbler Stephen Glasskeys.
Don Juan Carlos Perez believes it's best not to rush things:
CIOs are waiting anxiously for Microsoft to pick a new CEO, but they don't mind that it's taking its time; the way they see it, Microsoft can't afford to make a mistake in the selection process.

...

"The CEO search is incredibly important," said Mike Blake, CIO at Commune Hotels & Resorts in San Francisco, and previously CIO at Hyatt.

...

Blake sees two critical issues the new CEO will have to address. One is Microsoft's notoriously fractured workplace.

...

The other area that needs fixing is Microsoft's licensing...which harms the company competitively, even though "the pipeline of products is still very impressive," Blake said.   MORE
Dina Bass, Jonathan Erlichman, Beth Jinks and Peter Burrows make an odd couple:
Microsoft...is considering Ericsson AB Chief Executive Officer Hans Vestberg as a potential successor to departing leader Steve Ballmer, according to people briefed on the search.

...

Vestberg, 48, is in the running alongside other candidates, said the people, who asked not to be identified because the process is private.

...

Under Vestberg, Ericsson shares have risen about 19 percent, while revenues are up from 206 billion kronor ($32 billion) in 2009 to an estimated 225 billion in 2013, according to analyst estimates compiled by Bloomberg.  MORE
Kara Swisher's weekend was ruined:
On Friday, the latest chatter in the ongoing rumor mill that...the Microsoft CEO search began again, with sudden noise that the new leader would be announced sometime in the next few days.

...

With Ballmer fading away, that leaves the question of what the role of [Bill] Gates...will have going forward.

...

While some investors have dropped hints in the media that he too should head for the exit, according to my sources, he is more likely to remain visible, depending on the new leader, [and] more active within the company.  MORE
And Charles Cooper recommends counseling:
By my back-of-the-envelope guesstimate, there's no dearth of talented executives qualified to answer the above want ad. But six months after Steve Ballmer announced his plans to step down, Microsoft's board still isn't ready with a replacement candidate.

...

Amazing. After all, we're not talking about a scenario where the incoming boss needs to revive a company from a zombie-like trance. For all its missteps and mind- numbing screwups over the years, this remains a great technology business, one flush with money and loaded with smart, hard chargers.

...

Executive recruiters say that when they see CEO searches drag on, it's symptomatic of a succession process gone wrong.  MORE
The pickings are slim, laments Michael Endler:
Citing sources close to Microsoft, Reuters reported Thursday that with Mulally out, the company's board faces a slim list of candidates qualified to take on Microsoft's most pressing challenges...managing its massive scale while also addressing its weak mobile presence.

...

Quoting an unnamed person with knowledge of the matter, Bloomberg stated that Mulally wasn't confident Ballmer and Microsoft chairman Bill Gates would give the next CEO enough flexibility to execute new strategies.

...

Subsequent reports have reiterated that some CEO candidates have been discouraged by the constraints they perceive they'd face at Microsoft.  MORE
Nothing can stop true love, pines Neil Hughes:
Observers say that Vestberg may ultimately be a longshot because of Microsoft's current interest in competing with Apple and Samsung in the consumer electronics space. But Vestberg is said to be on the radar of Microsoft's board of directors, according to Bloomberg.

...

Ballmer abruptly announced his departure last August, pledging to step down from Microsoft within the following 12 months, once his successor has been chosen. Reports immediately claimed that Ballmer's exit was not as planned as Microsoft publicly claimed.

...

Critics contend that Microsoft was flat-footed under Ballmer, unable to adapt in the face of an evolving marketplace being driven by groundbreaking consumer-oriented devices from rival Apple.   MORE
Meanwhile, Gregg Keizer thinks long-term relationships are overrated:
Current Microsoft CEO Steve Ballmer has watched $1.1 billion evaporate from the value of his company stock as the selection process for a successor has dragged on and investors have expressed disappointment in the firm's apparent turn toward an internal candidate.

...

Chairman and co-founder Bill Gates, who owns slightly more shares than Ballmer, "lost" $1.2 billion in his portfolio's value.

...

It's possible that the two will be hit even harder in the days and weeks to come.  MORE
Computerworld Blogs Newsletter
Subscribe now to the Blogs Newsletter for a daily summary of the most recent and relevant blog posts at Computerworld.