Hands on with the LG G Pad 8.3 Google Play Edition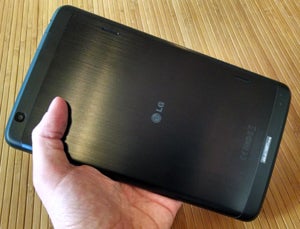 It's a Festivus miracle! Just when we thought things were quieting down for the year, Google surprised us with two new Android device launches -- one of which is a tantalizing new tablet called the LG G Pad 8.3 Google Play Edition.
As a Google Play Edition device, the new G Pad runs pure Google Android software -- no manufacturer modifications -- and is sold directly from Google for $350.
So what's the new G Pad actually like to use? Here are some thoughts based on my time with the tablet so far.
(For a detailed look at the new Google Play Edition phone, the Sony Z Ultra GPE, see my hands-on impressions of that device.)
• First things first, this is one seriously nice device. The G Pad 8.3 GPE -- just like the regular non-GPE G Pad -- has an elegant brushed metal back panel surrounded by a matte plastic perimeter. It looks and feels like a high-end, premium device. The metal part of the back does tend to attract a lot of greasy-looking fingerprint smudges, but that's par for the course with a lot of devices these days.
• Compared to the $229 2013 Nexus 7, the G Pad looks more striking but feels less warm and comfortable to hold. Hey, cold metal instead of soft plastic has its pros and cons. I don't think either approach is inherently better; it really just comes down to what style you prefer.
• The G Pad's size is perhaps its most important distinguishing factor: The tablet measures 8.5 x 5 x 0.33 in. and 0.75 lbs. The current Nexus 7, for comparison, is 7.9 x 4.5 x 0.34 in. and 0.64 lbs.
Those differences are noticeable. The G Pad's extra width makes it rather difficult to hold in one hand, as you naturally tend to do with the Nexus 7; instead, the tablet is more suited to a two-handed grip, even when it's in portrait orientation. I'm finding myself using it more like a 10-in. tablet, even though it's considerably smaller than that.
• What you lose in ergonomics with the G Pad, you gain in screen real estate: The tablet packs a gorgeous 1920-x-1200 8.3-in. IPS LCD display that's meaningfully larger than the Nexus 7's 1920-x-1200 7.02-in. panel. Size aside, the display's resolution causes icons, text, and other on-screen elements to appear larger than they do on the N7.
In terms of quality, the G Pad's display is no slouch: It's bright with crisp detail, vivid colors, and great viewing angles. All in all, the screen looks fantastic; there's not much to complain about there.
• As far as how the G Pad's display stacks up next to the Nexus 7's, in real-world use, it's honestly a pretty close race. The G Pad has fewer pixels per inch than the N7 -- 273 vs. 323 -- but it's not a difference you can really detect (unless you have superhuman vision, in which case kudos).
Despite the fact that they're both LCD panels, the G Pad's screen has deeper blacks and grayer, less pure whites than the N7's display. It's also a little more saturated, which makes its colors look a bit more vivid when you view the tablets side by side.
You really have to be studying the devices together to notice that stuff, though. By themselves, both tablets have excellent-looking displays that'll please even the most discerning pupils.
• The G Pad's performance is top-notch -- but that's pretty much a given, right? With its quad-core 1.7 GHz Snapdragon 600 processor and 2GB of RAM, the device has flown through every task I've thrown its way. I've seen no hiccups or slowdowns during my time with it so far.
I'm sure someone will publish a juicy set of benchmarks soon, if those sorts of numbers matter to you, but in terms of real-world use, here's what counts: The G Pad is on par with the fastest Android devices around. You don't think about performance when you're using it, because it's just fast -- and that's the way it should be.
• Software on the G Pad GPE, as you'd expect, is stock Google Android 4.4 KitKat -- 4.4 proper, not 4.4.1 or 4.4.2 (for this device, that distinction doesn't really matter). There are a couple of subtle changes in the implementation here -- like the fact that the old stock Gallery app is gone and completely replaced by the new cloud-centric Photos application -- but you're basically looking at the same KitKat you know and love.
Let's be honest: The biggest drawback to the non-GPE G Pad was LG's mess of a user interface. Having KitKat on this tablet is a total win; with its virtual buttons, the device is a perfect fit for the Google Play Edition setup. You get the standard Android navigation bar and the whole nine yards. Good stuff all around.
• Like the base model, the G Pad 8.3 GPE has a microSD card slot -- something you won't find on any full-fledged Nexus device. The tablet itself is fairly limited on internal memory, with 16GB (leaving you with around 12GB of actual usable space), but with the memory card support, you can throw your own card in and expand the capacity by as much as 64GB.
• One last note: There's no wireless charging on this bad boy, as I realized when I tried to drop it on a wireless charging pack to give it some extra juice. Woulda been nice to have -- but you win some, you lose some, right? Not the end of the world.
All in all, the new G Pad 8.3 Google Play Edition is a slick device at a reasonable price. I'll talk more about the G Pad GPE vs. Nexus 7 decision soon, but for now, I'll say this: If you're looking for a great Android tablet experience in a larger form and/or with expandable memory, the G Pad GPE is a tempting new contender to consider.
UPDATE: Nexus 7 vs. G Pad 8.3 GPE: Which should you get?
Shop Tech Products at Amazon