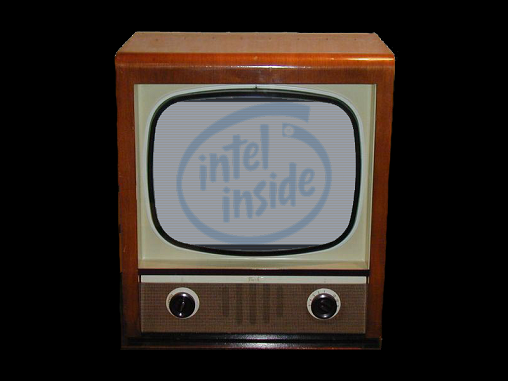 Verizon channels Intel.
As if on cue, Verizon (NYSE, NASDAQ:VZ) and Intel Corporation (NASDAQ:INTC) recently announced a deal for Verizon to purchase Intel's OnCue Cloud TV platform. The platform allows customers to watch streaming video content at any time from all networks. Pouting in the corner we find Comcast, which previously had worked with Verizon on similar technology before the OnCue purchase.
Verizon, not sharing new technology with the other children, taunts its former friend, leading inevitably to a full-on shoving match. Meanwhile, older and wiser bloggers value friendship, but question how much OnCue is worth.
In IT Blogwatch, bloggers are watching too much TV.
Filling in for our humble blogwatcher Richi Jennings, is a humbler Stephen Glasskeys.
Grant Gross watches from his phone:
Verizon Communications posted revenue of $31.1 billion for the fourth quarter of 2013, a 3.4% increase from a year earlier, with the gains driven again by mobile and broadband growth.

...

The past year was "great" for Verizon, said Fran Shammo, Verizon's chief financial officer.

...

As with many recent quarters, growth in Verizon's mobile and broadband segments drove the numbers up.

...

Mobile revenue for the fourth quarter of 2013 was $21.1 billion, up 5.7% from a year earlier. Verizon Wireless added 1.7 million retail customers during the quarter, bringing its retail customer numbers of 102.8 million.  MORE
But Mikael Ricknäs is hogging bandwidth:
Verizon Communications has signed a deal to acquire the assets of Intel Media, developer of the OnCue Cloud TV platform, as it looks to further strengthen its video offering across mobile and fixed networks.

...

Telecommunications operators around the world are looking for new revenue streams as traditional income sources, including voice calls, have come under increasing pressure. The growth of online video [has] caught the imagination of Verizon's executives, as this is the third related acquisition since the middle of November.

...

What Verizon gets is the intellectual property rights and other assets that powered Intel's OnCue Cloud TV platform. ... Verizon's ultimate goal is to let subscribers watch content at any time on any type of device over both fixed and mobile networks. The operator also wants to improve search and discovery features, it said.  MORE
Straight from the horse's streaming mouth:
Lowell McAdam, chairman and CEO of Verizon, said: "The OnCue platform and team will help Verizon bring next-generation video services to audiences who increasingly expect to view content when, where and how they want it. Verizon already has extensive video content relationships, fixed and wireless delivery networks, and customer relationships in both the home and on mobile. This transaction provides us with the capabilities to build a powerful, capitally efficient engine for future growth and innovation. We will have the opportunity to enhance, expand, accelerate and integrate our delivery of video products and services to better serve audiences on a wide array of devices."  MORE
Christina Warren loves online videos:
At a dinner last May, I was part of a small group of reporters [that] met with members of the Intel Media team, including the group's leader Erik Huggers. We got to preview the company's OnCue Cloud TV service.

...

I walked away from the OnCue demo thinking that Intel had just shown off the Apple TV prototype of our dreams.

...

That's why I'm saddened — although not entirely surprised — that the dream, as it existed in May, no longer exists.

...

OnCue was an ambitious project, and many in the industry never expected to see it hit the market. Call me a romantic, but I truly hope that the idea of unifying over-the-top broadcast channels alongside web-only content in one beautiful interface can be a future reality.

...

Still, I have hope that someone — and maybe it will be Verizon — will finally crack the nut of combining regular TV with web content. The vision I saw in May was glorious, and I deeply want it to exist.  MORE
So Janko Roettgers watches cable:
The thing you need to know about Verizon is: TV isn't exactly its strongest suit. ... So in 2012, Verizon decided to team up with with traditional cable operators, many of whom have a much larger footprint, but no wireless business to ... develop new offerings together.

...

At the center of the joint venture was Comcast. ... Together with Verizon, it developed...a top-secret product called Nuon that was supposed to...[tie] broadband, pay TV and mobile together. The plan was to produce...a box that was supposed to compete with Roku and Apple TV, capable of beaming video from both company's mobile apps to the TV — kind of like a Chromecast for TV.

...

So why did Verizon pull the plug on Nuon and its partnership with Comcast? In short, because today's Verizon is very different from the Verizon of 2012.

...

With Intel Media's OnCue service, Verizon is getting a chance to truly compete with Comcast.   MORE
Shara Tibken finds hidden value:
Intel on Tuesday announced an agreement to sell its TV business to Verizon Communications for an undisclosed sum, giving the telecom giant an edge...to deliver live television over the Internet.

...

The companies didn't say how much Verizon paid for the Intel Media assets, but earlier reports pegged the price between $200 million to $500 million. And industry sources estimated the value of Intel's TV business at about $300 million. Bloomberg, meanwhile, said that Verizon paid less than $200 million for the TV service.  MORE
Wanting more, Aaron Souppouris has big data plans:
After publicly announcing and failing to follow through with a big plan to launch a set-top box, Intel is selling the project to Verizon.

...

Intel's plans were largely scuppered by difficulty obtaining the content partnerships necessary for a set-top box. It's hoped that Verizon, which already offers more traditional TV services, will be able to make internet TV work. ... Verizon expects to integrate Intel's internet TV tech with its existing FiOS video services...and there's the possibility of Verizon rolling out internet-based TV services outside of its current reach.  MORE
Meanwhile, Brian Fung cuts off his cable:
[With] Verizon planning to integrate OnCue into its services for FiOS and LTE subscribers, the company is accelerating the race toward an all-streaming, all-the-time future that promises to steal customers away from traditional cable — and convert them into cord cutters once and for all.  MORE
Computerworld Blogs Newsletter
Subscribe now to the Blogs Newsletter for a daily summary of the most recent and relevant blog posts at Computerworld.