Hands on: What the Sony Z Ultra Google Play Edition is actually like to use
Don't adjust your glasses, folks: That giant slab you see me holding is actually a phone.
Yup -- it's the Sony Z Ultra Google Play Edition, the latest smartphone to get the Google Play treatment. For the uninitiated, that means the device has been repurposed to use a stock Google Android interface and is being sold unlocked and off-contract directly from Google. With that setup and the lack of any carrier interference, the phone gains the promise of speedy upgrades to future Android releases.
All of that comes at a cost: With no carrier subsidy in the equation, the Sony Z Ultra GPE will set you back a cool 649 bucks. So what's it actually like to use? Here are some impressions based on my time with the phone so far.
(For a detailed look at the new Google Play Edition tablet, the LG G Pad 8.3 GPE, see my hands-on impressions of that device.)
• Let's just address this right off the bat: The Z Ultra is one enormous phone. Like, almost comically so. At 3.6 x 7 x 0.26 in. and 7.48 oz., the Ultra makes even the gigantic HTC One Max -- which is 3.2 x 6.5 x 0.41 in. and 7.7 oz. -- look petite in comparison. And the plus-sized Note 3? At 3.1 x 6.0 x 0.33 in. and 5.9 oz, it's practically a baby next to this beast.
Not surprisingly, then, the Z Ultra can be pretty awkward to use. The sheer size of the thing makes it difficult to carry around -- even more so than any other plus-sized phone I've used -- and if you actually intend to use the phone as, you know, a phone, you'll be relying on either the speakerphone or a Bluetooth headset. It's just not practical to hold up to your ear for calls.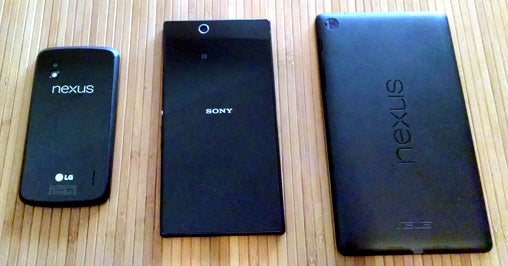 Perspective: The Z Ultra GPE flanked by the Nexus 4 phone and Nexus 7 tablet
That said, if you can cope with the size, man -- this is one slick device. Sony really knows how to make stylish, high-quality hardware. The Z Ultra is all black with a glass back and metal trim. The phone is thin, sleek, and angular, with virtually no bumps or protrusions in the design. It's about as premium as you can get.
• The Z Ultra isn't exactly what you'd call a warm or comfortable phone to hold; glass tends to deliver a more elegant look but less cozy feel. The glass on the back is a major magnet for fingerprints, too, so unless you want the phone to always look like an oily smudge factory, you'll want to carry a cloth and be prepared to buff it constantly.
• While glass is typically a fragile material, Sony says the Z Ultra's glass is tempered and supported by a frame with "superior mechanical strength." Still, I wouldn't want to drop it.
• Something interesting I've noticed is that I feel more like I'm using a tablet than a phone with the Z Ultra. When you think of it as a small tablet and adjust your expectations accordingly, the device is incredibly nice to use -- on the couch at home, for instance, where portability and phone functionality aren't relevant.
The Z Ultra GPE feels so much like a tablet that I keep getting surprised when I remember I can't access Quick Settings from the top-right of the screen, like you can with the Nexus 7 and other tablet-class devices. The Z Ultra's home screen does, curiously enough, rotate into landscape orientation when you turn the phone lengthwise -- something that's typically reserved for tablets in the stock Android world.
• Speaking of the screen, the Z Ultra's display is a beaut. The 6.4-in. 1080p TFT LCD panel packs 342 pixels per inch and looks fantastic. The screen uses special Sony technology called Triluminos, which is developed by the same team behind the company's Bravia TV line and is supposed to deliver especially sharp detail and accurate colors.
Realistically, I can't detect much of a meaningful difference between its quality and that of other comparably high-end displays -- like the screen on the HTC One, for instance -- but honestly, who cares? What matters is that this is an outstanding display that you'll be thrilled to gaze upon, whether you're watching videos, browsing images, or just reading text and surfing the Web.
• Like the regular non-GPE model, the Z Ultra GPE has a special coating that allows it to work with regular ol' pens and pencils for stylus-style input. And work it does: I've scribbled on the screen with both a ballpoint pen and an old-fashioned pencil and have been pleasantly surprised at the results. You'd think you were using an actual stylus.
The input isn't pressure-sensitive, however, so pushing down harder doesn't produce a thicker line -- and it's a little tricky to use, because you can't rest your palm on the screen at the same time -- but if you can figure out the ergonomics, it's quite accurate and responsive. (I used the third-party Markers app to test it, by the way; there is no specialized software on the tablet to handle handwriting recognition or anything like that.)
• Whatever you're doing with the device should be quick 'n' speedy. No complaints whatsoever on performance based on my time with the phone so far.
• One usual element of the Z Ultra is the fact that it's waterproof and dustproof. Even if you don't make a habit of taking your phone in the tub or getting caught in tropical storm-force downpours, the setup means the device has flaps over its various ports and slots -- so you have to lift up a piece of material every time you want to charge. (There is no wireless charging support, though the phone does have a connector for Sony's own proprietary docks.) It's mildly annoying, but hey, it comes with the territory.
And the waterproofing is no joke: I dunked the Z Ultra in a pot of water (while cringing a little -- trust me, that feels like a very strange and taboo thing to do), and I'm happy to say it didn't affect the device in any way. The phone is designed to be able to stay under 5 feet of water for as long as 30 minutes without getting damaged. So, there's that.
Ironically, the device seems to be a magnet for dust and lint around its perimeter and the seam with the screen -- it looks like a mess every time I take it out of my pocket -- but I guess you can rest at ease knowing none of that gunk will get inside.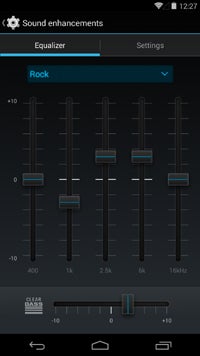 • The Z Ultra GPE's software, as you'd expect, is more or less stock Google Android 4.4 KitKat. The Z Ultra is arguably more well-suited for that sort of treatment than the past Google Play Edition phones; since it already uses virtual on-screen navigation buttons, it works naturally with the stock Android UI and doesn't require any odd usage compromises (like the Galaxy S4 and HTC One, with their nonstandard button configurations, do).
Sony did work in a few of its of own custom settings, like an "X-Reality" mode that's supposed to enhance video display quality and a handful of audio optimization tools, including an expanded equalizer and an option to automatically optimize sound settings when music is playing. The phone's single small speaker isn't good enough to notice the impact of those additions, but with headphones on, their presence is apparent.
• There's one glaring glitch in the Z Ultra GPE's software: Every time I try to go into the Security section of the phone's main settings area, I get a force-close error -- "Unfortunately, Settings has stopped" -- and am booted back to the home screen. This persists even after I've performed a factory reset and gone into the phone with no custom settings or applications in place.
That's a serious problem, to put it mildly. I can only hope it's something Google will fix quickly, because it's not the kind of bug you can forgive or ignore.
[UPDATE [12/17/13]: Google is now beginning to roll out a 4.4.2 update to the phone that appears to fix this issue as well as other software-related glitches.]
That notwithstanding, the Sony Z Ultra GPE is certainly an interesting device. Between its size and its price, it's inevitably going to be a niche product; most folks looking for a large phone will find it too unwieldy, and most users looking for a small tablet would be better off spending a fraction of the price on a Nexus 7 (with or without LTE connectivity).
For those who genuinely want a gigantic phone and are okay with the cost, though, the Z Ultra GPE is an intriguing new option to have. The growing array of stock-UI devices is a testament to the level of diversity Android can provide -- and having both Sony and a new form factor in the mix is a promising step forward.
Shop Tech Products at Amazon