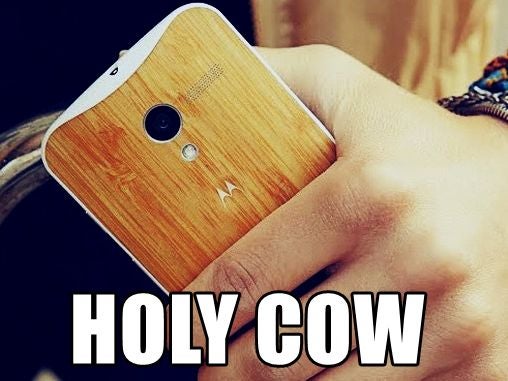 I can still hear you saying you would never break the chain.
Motorola has SLASHED the price of its Moto X smartphone. Not only is the Google (NASDAQ:GOOG) unit offering its flagship Android unit starting at $400 off-contract, but you can also get zero-zero financing for up to 18 months. That'll set the cat among the pigeons.
In IT Blogwatch, bloggers break the silence. Not to mention: Now playing at Blogwatcher Central...
And if you don't love me now, your humble blogwatcher chained together these bloggy bits for your entertainment.
Rolfe Winkler listens to the wind blow:
Motorola Mobility unit [is] continuing its assault on the high margins of its smartphone rivals. [The] Moto X with 16 gigabytes of memory...now cost[s] $399 without a wireless contract for U.S. customers, down from $550.

...

The latest price drop isn't a temporary promotion...will be significantly cheaper than [Samsung's] flagship...Galaxy S4, which costs $600 [or the] iPhone 5S, [which] costs $650.  MORE
And Motorola's Rick Osterloh watches the sun rise:
When we launched Moto X, our goal was to solve real consumer problems and give people refreshing new choices. ... But we're not stopping there. [You] want a new premium smartphone at a reasonable price.

...

[The] everyday starting price of just $399 on any major US carrier...includes customized devices. ... We can even help you finance your purchase [at] $0 down and zero Interest on all purchases [over] 6, 12, or 18 months.

...

Happy new year!.  MORE
So Chris Velazco runs in the shadows:
Let's be real here: there's a decent chance that you picked up a new smartphone at some point during the holidays, so you're off the market for at least a little while longer.

...

Sadly, those of you with a woodgrain fetish will still have to pay a premium for those newly-available bamboo backs — $100 to be precise. ... The Nexus [5] is still my pick for Android device of the year — but it's a little heartening to see a big name manufacturer is working to reduce the...pricing for high-end smartphones. ... Motorola is positioning itself as a player that can deliver new remarkably solid...thoughtful smartphone experiences at prices that can seem outlandishly low.  MORE
But Devindra Hardawar damns his love, damns his lies: [You're fired -Ed.]
While the Nexus has better specs all around, I personally prefer the feel and features of the Moto X. For all of the Nexus 5′s powerful tech, it still can't accept voice commands when it's in standby, one of the Moto X's core (and killer) features.  MORE
Computerworld Blogs Newsletter
Subscribe now to the Blogs Newsletter for a daily summary of the most recent and relevant blog posts at Computerworld.