The Mac Pro shows Apple is listening to its professional customers. The system delivers power and performance while being the most easily upgradable Apple system of 2013. On price it competes with the highest spec Windows systems.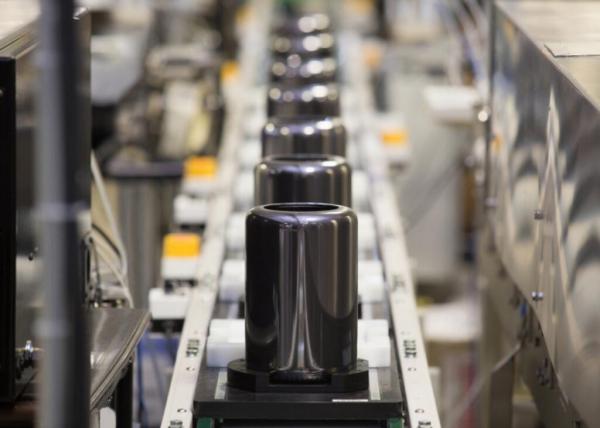 Tearing it down
iFixit has run its usual teardown analysis into the latest Apple product. "Beneath the surface, the Mac Pro's compact, three-sided design is like nothing we've ever seen before -- an example of what engineers can do when they think outside of the box," they say.
"The Mac Pro is both small and repairable. In fact, it's the most repairable Apple product we've seen all year. The hood pops off with the flick of a switch. There's not a proprietary screw in sight and the RAM can be replaced without any tools," iFixit said. "Impressively, the CPU is also user-upgradeable; intrepid fixers should be able to save considerably by upgrading from the base-level processor configuration."
The iFixit team notes:
The SSD could potentially be expanded.
"A CPU upgrade seems entirely possible".
The design is surprisingly modular, using non-proprietary Torx screws.
One snag is the lack of potential for adding more storage -- you need to use Thunderbolt external drives.
Despite that caveat I think it will prove to be important that Apple has chosen to give pros the potential for future upgrades of their systems. I think user-installable GPU upgrades for the Mac Pro will be made available late this year. That's because Apple already recognizes that GPU technology is advancing at a faster rate than processors. The drive to improve graphics performance will inevitably accelerate as 4K support becomes de rigeur.
"We are very proud to offer dual AMD FirePro professional graphics in the new Mac Pro to empower users with the power and performance they need for uncompromising creativity and productivity," said AMD's Matt Skynner.
What Apple Tax?
Then there's the so-called "Apple Tax", or the lack of it.
An Anantech investigation concludes the new Macs are comparable in price to equivalent Windows workstations, though if you're capable (and inclined) to build your own systems from scratch you might save some cash. You would not get a system of comparable design. That's bad aesthetically, but it is perhaps more important that you wouldn't get to easily deploy OS X, and you wouldn't get to run Final Cut.
That's even before you think about the slight architectural tweaks Apple has put in place to ensure you get the best possible performance from system components. That "whole widget" approach offers significant advantages.
"The specs are unheard of for a desktop machine. Measuring at less than 10 inches tall and 6.6 inches in diameter, it's sleek and easy to install anywhere. The device isn't cheap, but for the consumers looking for speed, optimal performance, and advanced editing features the Mac Pro is well worth the price tag," said Karl Volkman of SRV Network.
The only snag is the relative scarcity of the new Macs. At present the only way in which customers can easily get hold of one is via Apple's online stores, and even then there's an extensive wait. What's possibly telling is that the systems ship in quantity in the March/April time frame, around the same time as NAB opens its doors.
Will this be when Apple talks a little more about its plans for 4K?
Also read: Predictions: Apple's 2014 in 8 pictures.
Google+? If you use social media and happen to be a Google+ user, why not join AppleHolic's Kool Aid Corner community and join the conversation as we pursue the spirit of the New Model Apple?
Got a story? Drop me a line via Twitter or in comments below and let me know. I'd like it if you chose to follow me on Twitter so I can let you know when fresh items are published here first on Computerworld.