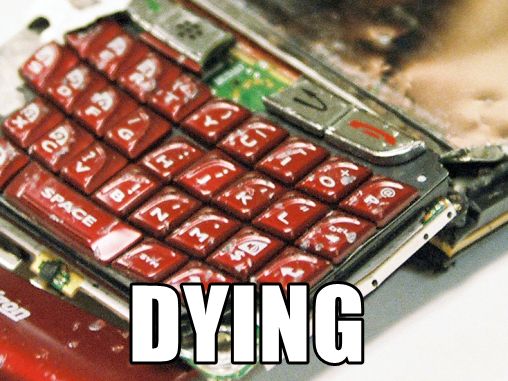 Crikey! Canadian company can't keep this up much longer.
BlackBerry looks set for an ugly, hard landing. It lost almost 20 times the amount analysts were expecting. However, its new CEO sounds optimistic, pointing to green shoots in other businesses. But then, he would say that, wouldn't he? Seriously, how long can QNX and services keep this zombie alive?
In IT Blogwatch, bloggers prepare to say goodbye to Old Yeller.
Your humble blogwatcher curated these bloggy bits for your entertainment.
Euan Rocha, Alastair Sharp, and Allison Martell tag-team the bad news:
BlackBerry Ltd...reported a massive quarterly loss on Friday, as sales of its smartphones shriveled. [It] conceded that its biggest challenge was still in its core handset business.

...

John Chen, who last month was named chief executive officer...said he will not jettison the hardware operation and is counting on strong growth in its service business. [But] the company recognized hardware revenue on 1.9 million devices, down from 3.7 million in the prior quarter.

...

The company reported a third-quarter net loss of $4.4 billion, or $8.37 a share. ... Analysts on average had expected a loss of 44 cents a share.  MORE
Lookyou. Martyn Williams analyzes the reasons for loss. Isn't it? [You're fired -Ed.]
The figures represent a turbulent year for the company, which once ruled the mobile messaging market.

...

Consumer and enterprise users...are increasingly turning to smartphones based on Apple's iOS and Google's Android operating system.  MORE
Meanwhile, a eulogistic Sam Gustin is pinin' for the fjords:
BlackBerry isn't dead. It just lost $4.4 billion [with] revenue of $1.2 billion, down 56% from the same quarter last year. ... The company's stock is down a whopping 90% since February of 2011.

...

It was Canada's most valuable company, with loyal users in corporate and political corridors of power from Wall Street to Capitol Hill to Silicon Valley. [But it] failed to anticipate that consumers — not business customers — would drive the smart phone revolution.

....

BlackBerry failed to learn that smartphones would evolve beyond mere communication devices to become full-fledged mobile entertainment hubs.  MORE
Computerworld Blogs Newsletter
Subscribe now to the Blogs Newsletter for a daily summary of the most recent and relevant blog posts at Computerworld.