During 2013, who most influenced the news for better or for worse? Although Edward Snowden seems like the most obvious choice, Time's Person of Year poll has Miley Cyrus in the top spot because hackers have cracked the online voting system . . . again.
It's certainly not the first time that Time's Person of the Year poll was hacked. In 2012, after using JavaScript to exploit the poll, hackers pushed North Korean leader Kim Jong Un as the people's choice winner. 4chan pushed Christopher "moot" Poole to the top spot in 2009 and although "TIME.com's technical team did detect and extinguish several attempts to hack the vote," the editors did name moot as the World's Most Influential Person.
This year, to avoid the vote being hacked, Time switched the online poll from Polldaddy to Poptip, which requires users to sign in with their Facebook or Twitter accounts in order to vote. However, it only took two programmers, Gains and Marek, about an hour to make a mockery of the voting system. They developed C# and Ruby scripts that allowed them to vote on behalf of any Facebook user without the user's knowledge.
"I guess the biggest lesson I learned today is that even if it looks 'un-riggable' doesn't mean it is," Gains told The Daily Dot's Fernando Alfonso III. "Just in the hour or so that we've been talking, I created a prototype and ultimately 'beat the system.'"
Coding in C# (Gains) and Ruby (Marek), each of them was working on a script, a piece of software that automated the process of casting votes by working around Twitter and Facebook's authentication. By plugging a person's Facebook ID number (which is public) into their scripts, the duo discovered a sizeable loophole in Poptip's service: They could vote on behalf of that person without them knowing. 
The programmers' scripts can cast 10 votes at a time and, as a result, the twerking Miley Cyrus moved from 15th place to currently holding the first place position. It's unclear if Cyrus realizes the vote was hacked as she is encouraging her Twitter fans to vote for her as #TIMEPOY. The programmers had reportedly considered making Boston Marathon bombing brothers Dzhokhar and Tamerlan Tsarnaev the winners, but chose Cyrus as "the perfect mix of controversy and lulz."
This was Time's Person of the Year poll results a few hours ago:
This was Time's Person of the Year poll results before the vote was hacked, according to The Daily Dot: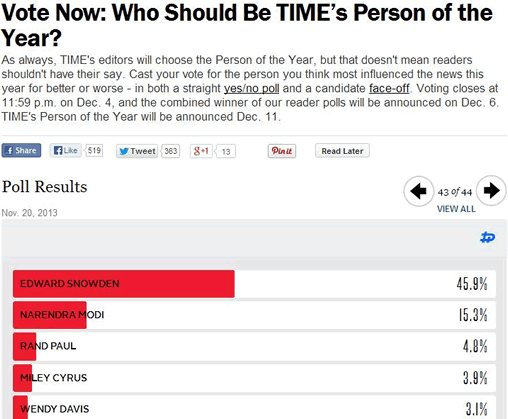 "Vote for Edward Snowden as Time's Person of the Year," tweeted YourAnonNews on Nov. 25. The Daily Dot added that 4chan called on users to develop a script to push Snowden to the top. The reader's choice poll will allow you to vote through 11:59 p.m. on December 4. Time's Person of the Year will be announced on NBC's Today Show on Wednesday, December 11.
Time encouraged users to partake in social media voting via Twitter. 
Users can vote by tweeting their choice with #TIMEPOY or on Time.com, where Poptip's technology is recording, visualizing and analyzing results in real time. Poptip combines direct replies on Twitter, Tweets that include #TIMEPOY and Tweets that mention @TIME so that no matter where or how users cast their vote, their voices will be heard. This partnership also features the debut of Poptip's new "tournament style" voting, which allows for multiple match-ups between possible #TIMEPOY candidates across multiple voting platforms. People who weigh in to any poll on Twitter or Time.com will have their votes pooled together.
Previously, there have been some odd choices for Time's "prestigious" top spot. In 2011, the Person of the Year winner was "The Protester;" in 2006, "You" won.
In the end, Time's editors will select the Person of the Year; in the past, the magazine had no problem with selecting controversial people for that title. For example when Time still called the award "Man of the Year," the editors chose Adolf Hitler and twice named Joseph Stalin as "Man of Year." Despite Time magazine running online polls so people can vote on Person of the Year, and Time saying that controversial figures "can be granted the title for their impacts," the editors chose to snub WikiLeaks' Julian Assange in 2010; they instead named Facebook CEO Mark Zuckerberg as the 2010 winner.
After ranking the most frequently used English words, phrases and names in 2013, Global Language Monitor released its list. The most-used names among 1.83 billion English-speaking people were Pope Francis, ObamaCare, NSA and Ed Snowden. Whether you love Edward Snowden, or hate him, he clearly seems to be the person who has most influenced the news, and world events, in 2013. If he doesn't win Time's Person of the Year, then that's a lot of Fail . . . the second most frequently used word in 2013.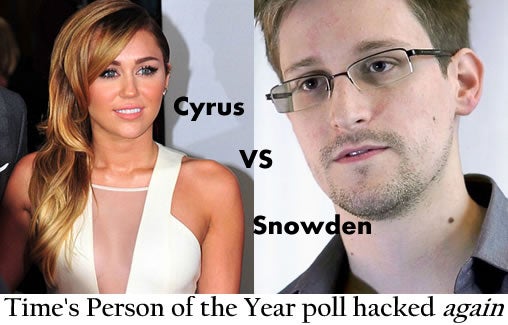 No offense, Miley, but if Cyrus' twerking is more important than global-scale NSA surveillance that we know about courtesy of Snowden, then Time should be ashamed. If Time disregards people's choice, and can't stop the vote from being hacked, then why hold a public election at all for Person of the Year?
Image credit for Miley Cyrus, JJ Duncan; Image for Edward Snowden, Laura Poitras / Praxis Films.