Apple has taken giant steps to connect with Chinese consumers as it approaches the China Mobile iPhone deal. It knows China will become the world's biggest Apple market.
Presence
Apple now has nine Chinese retail stores. These are full-blown stores developed to the same high standard as its US outlets. This commitment is a physical expression of Apple's consideration for Chinese customers.
Prioritization
Apple's iPad Air hit China simultaneously with the US and UK launches, proving that for Apple, China is a first tier country. Tim Cook explained: "Our products in the Chinese market need to obtain prior approval [by regulators]. China hopes to shorten, as much as possible, the time to market. It has also become one my priorities." Cook pays frequent visits to China and recently joined the advisory board of Tsinghua University School of Economics and Management in Beijing.
Internationally local
One of the last actions of Apple's new retail chief Angela Ahrendts while CEO at Burberry was to make a deal to open stores in China. That's a big clue that Apple will continue its attempt to woo consumers there.
Locally international
Apple now offers Traditional and Simplified Chinese language support across OS X and iOS 7. iOS 7 introduced a Chinese-English bilingual dictionary; handwriting recognition for multiple Chinese characters; and support for Chinese microblogging service Tencent Weibo. More recently, Apple opened Chinese languageSupport forums.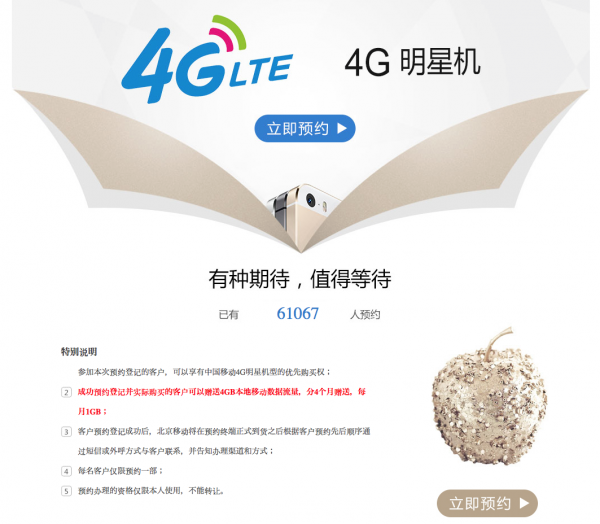 [ABOVE: Here's the China Mobile LTE page, complete with a golden Apple.]
Participation
Apple in April donated $8 million in to help those affected by the huge earthquake that struck the city of Ya'an in Sichuan. The company's arch-nemesis, Samsung, promised $9.63 million and took the PR initiative when it did, but Apple is taking an active involvement in China.
Employment
Life in the Apple factories remains imperfect, though it seems to be improving. In context, Apple manufacturing jobs are better paid in comparison to other manufacturing jobs in China. Apple's commitment to improving working conditions means workers in China will apply for jobs in its supply chain in preference to elsewhere.
Advancement
While Apple's been slammed for working conditions, other firms have failed to match its response. Truth will out. It's inevitable Chinese workers will discuss those improvements that actually do appear in Apple's factories-- and they'll know if these are matched by competitors. That's bound to impact the popularity of the employer, and the brand.
Potential
Western brands face fierce competition from lower-priced locally made Chinese marques, prompting some to argue Apple faces problems maintaining market position. Perhaps one should consider that before the China Mobile deal, Apple in October became the third biggest Chinese smartphone brand. China Mobile is aggressively touting iPhones across its own retail stores.
Relevance
Apple's gold iPhone 5S is sure to be a hit this Chinese New Year. That's because many Chinese see the exchange of gold gifts as a blessing of wealth and prosperity for the year ahead.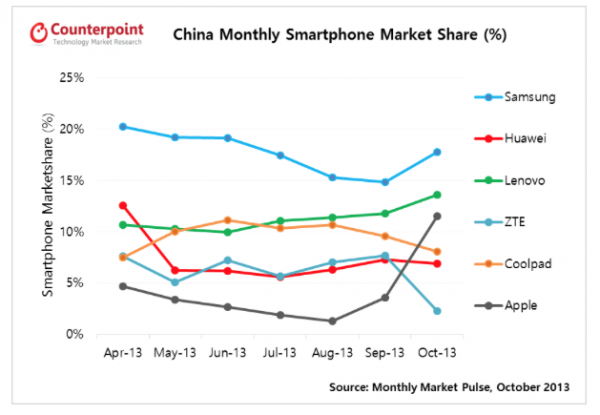 Popularity
The burgeoning Chinese grey market means we've already seen riots outside Apple stores when new iPhones go on sale and the phenomenon of Chinese nationals queuing for the devices at Apple retail stores worldwide to "send them home to family". China Mobile already supports millions of imported iPhones on its network.
Summing up
Apple is not stupid. It recognizes that it must work to win customers. It's an incomplete analysis to characterize its efforts in China as solely dependent on the China Mobile deal because Apple is actively engaged in creating tight engagement with customers in China at many levels of its business. It is already working hard to win customers there.
Google+? If you use social media and happen to be a Google+ user, why not join AppleHolic's Kool Aid Corner community and join the conversation as we pursue the spirit of the New Model Apple?
Got a story? Drop me a line via Twitter or in comments below and let me know. I'd like it if you chose to follow me on Twitter so I can let you know when fresh items are published here first on Computerworld.