Hands on: Meet Mugenizer N11, the wireless-charging power pack for Android
Portable power packs for phones are nothing new. Neither are Qi-based wireless chargers. Marrying the two concepts together, though, is something you don't see every day -- and that's exactly what Mugen has done with its Mugenizer N11 Portable Wireless Charger Power Bank.
I've been playing around the with Mugenizer N11 for a few days now. It's not often I get excited about something like a charging accessory, but let me tell you: This thing's pretty impressive.
The N11, available now for about $70, looks almost like a phone itself: The device is 3 x 5.4 x 0.55 in. and 8.11 oz.; its exterior is encased in smooth white plastic with rounded edges at every corner. There's a circle of gray-colored rubberized material on its top upon which you can set any Qi-compatible device.
The power pack can function as a regular desktop wireless charger: Leave it plugged into the wall -- it connects via a standard micro-USB port (an A/C adapter is included but any ol' one should work) -- and it's an unobtrusive white pad you can set on your desk and drop your phone atop anytime. When the N11 is plugged in, it'll start charging any Qi-compatible device immediately as soon as the device comes close to the pad.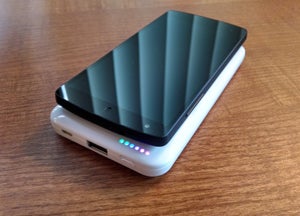 The portability potential, of course, is what makes the N11 special: When you're heading out, you just unplug the pad and toss it in your bag. When your phone's running low on juice, take the N11 out, set it on any surface, and plop your phone on top. Tap the small button at the top edge of the charger, and boom: You've got power flowing, no wires required.
Here's where the N11 gets particularly cool: The power pack can also handle devices that don't support wireless charging; you just plug any regular USB-to-micro-USB cable into the pack's top edge and can then hook anything up the old-fashioned way. In fact, you can even charge two devices from the pack simultaneously if you put one on the wireless charging pad and plug the other in via USB.
The Mugenizer N11 rocks a 4800mAh battery, which is enough to charge most any phone and still have plenty of power left to spare. Heck, it's enough to charge most standard-sized phones twice and still have gas in the tank.
In my tests, the N11 has charged devices quickly, too, which is always something you worry about with a wireless charger. Its official output capacity is rated as 5V/1000mA.
My only real gripe with the N11 -- and it's a minor one -- is that anytime you start charging a device, the power pack emits a high-pitched beep. Generally speaking, it's more of a minor annoyance than a big deal, but if you wanted to keep the pad plugged in on your nightstand to charge your phone overnight, it could potentially be an issue.
The pack has a series of six LEDs on its top surface; they light up anytime the pack itself is plugged in to let you know how full its battery is and also light up anytime the pack is being used to charge a phone or tablet. The six-light system is a bit confusing at first, but you learn to decipher it after a while. And as far as nighttime concerns, you can just position your phone to sit on top of the LEDs to cover up any light they're emitting.
All in all, the Mugenizer N11 is a pretty sweet package. It's a nice-looking wireless charging pad for your desk. It's a large-capacity power pack for your travel. And it doubles as a wireless charger and regular USB charger, whether you're using it at home or out in the world.
The setup just makes sense -- and at 70 bucks, it's within the same general range as what you'd pay for most standalone power packs or standalone wireless chargers. The N11 is a rare product that puts the best of both worlds together into a single multipurpose device.
Once you have it in your hands, you wonder why every other charger doesn't do the same.
Shop Tech Products at Amazon