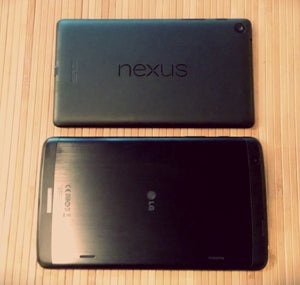 Decisions, decisions, decisions. With the launch of the new LG G Pad 8.3 Google Play Edition, Google has made the act of picking out a pure Android tablet trickier than ever.
Do you go with the tried-and-true 2013 Nexus 7 -- $229 for 16GB, $269 for 32GB, and $349 for 32GB with LTE connectivity? Or do you branch out into new territory and spend $350 for the slightly larger G Pad GPE?
It's a tough call: Both devices run stock Google Android software. Both should get future upgrades quickly; the Asus-made Nexus 7 will likely have a slight advantage, given its Nexus status, but as a Google Play Edition device, the G Pad shouldn't be far behind. And both devices are a pleasure to use, with beautiful displays, impressive performance, and untouched Android 4.4 KitKat user interfaces.
So which one's right for you? Based on the time I've spent with both tablets, I put together a quick 'n' simple guide to help you figure it out: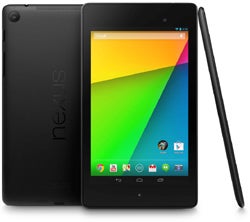 If you have no specific preferences and are just looking for a great all-around Android tablet experience...
Get the Nexus 7. Unless there's anything specific about the G Pad GPE that calls out to you, you might as well stick with the less expensive and more ergonomic device. The Nexus 7 is it.
If you prefer a larger screen...
Go for the G Pad. Its 8.3-in. display offers a meaningful amount of extra real estate compared to the N7's 7.02-in. panel. If you like a larger screen, it's a no-brainer.
If you prefer a device that's comfortable to hold in one hand...
Get the Nexus 7. At 8.5 x 5 x 0.33 in. and 0.75 lbs., the G Pad is really more suited to a two-handed grip -- almost like what you'd use with a 10-in. tablet.
The Nexus 7, on the other hand, is 7.9 x 4.5 x 0.34 in. and 0.64 lbs. and fits naturally in a single hand.
If you want a tablet with a more premium-looking design...
The G Pad is the tablet for you. The device has an elegant brushed-metal back panel that gives off a very premium vibe. The Nexus 7 doesn't look cheap, by any means, but it's definitely less striking in comparison.
If you want a tablet with a warmer feel...
You're a Nexus 7 kind of person. The N7's soft rubberized plastic back may be less distinctive than the G Pad's metal casing, but it's also far more warm and comfortable to hold.
If you need a lot of local storage...
Get the G Pad -- no question about it. The Nexus 7 gives you only 16 or 32GB of internal space and has no microSD slot. The G Pad GPE has just 16GB of internal storage but allows you to slap in a memory card and effectively add up to 64GB of space.
If wireless charging is important to you...
You want the Nexus 7. It's compatible with all Qi wireless chargers; the G Pad has no such functionality.
If you want a tablet with built-in LTE connectivity...
The Nexus 7's the one for you -- specifically, the $349 LTE model. It'll work with a SIM card from any compatible GSM network (meaning you can use it with AT&T, T-Mobile, or any of the prepaid providers that utilize those networks in the U.S.). As of now, the G Pad GPE offers no such option.
If price is a significant factor for you...
This one's easy: Go Nexus 7. You won't find a better user experience in the $200 price range.
All in all, we're comparing two fantastic and generally well-matched tablets. And that's the good news: After living with the 2013 Nexus 7 since this summer and spending the past several days getting to know the G Pad GPE, I honestly don't think you could go wrong either way. It just boils down to what you're looking for and what factors are most important to you.
For a more detailed look at what each tablet is like to use in the real world, check out my hands-on coverage:
• Hands on with the LG G Pad 8.3 Google Play Edition
• What Google's new Nexus 7 is actually like to use
• The new Nexus 7 revisited: 3 weeks with Google's latest tablet