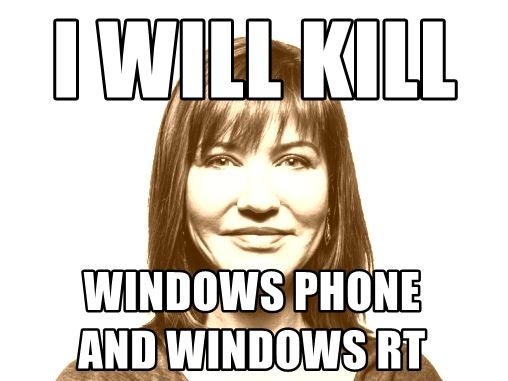 JLG trails the hatchet.
Microsoft (NASDAQ:MSFT) Executive VP Julie Larson-Green acknowledges that mistakes were made with the Windows strategy. But not by her, obviously. Now that the market has told us Windows RT is an epic fail, there's going to be a new strategy—and it looks like it doesn't involve Windows Phone as a separate entity, either.
In IT Blogwatch, bloggers see through a glass, darkly.
Your humble blogwatcher curated these bloggy bits for your entertainment.
Speaking to investors, Microsoft EVP Julie Larson-Green drops a bombshell:
Windows RT, was our first go at creating [a] more closed, turnkey experience, [without] all the flexibility of Windows, but [with] the power of Office and then all the new style applications. ... The goal was to deliver two kinds of experiences...the full power of your Windows PC, and the simplicity of a tablet. [But] I think we didn't explain that super-well.

...

We have the Windows Phone OS. We have Windows RT and we have full Windows. We're not going to have three. We do think there's a world where there is a more mobile operating system that doesn't have the risks to battery life, or...security. ... We believe in that vision and that direction and we're continuing down that path.  MORE
Tom Warren parses JLG's Microspeke:
Julie Larson-Green, hinted strongly that the software giant is finally working to merge its core operating systems. ... The comments follow a similar message delivered by Windows chief Terry Myerson, who sees phones as the future of Windows RT.

...

The two operating systems' applications are separated by two differing stores, and Microsoft started taking the first steps to unify them recently. ... Other improvements are expected in the coming months as Microsoft continues to tweak Windows 8.1 and ship its upcoming Windows Phone 8.1 update.  MORE
Preston Gralla goes out on a limb with his interpretation:
Windows RT will die. ... There's no doubt now that it's in the cards.

...

Most likely, there will be one Windows to rule them all. ... And that means based on full-blown Windows, not half-baked Windows RT. ... There's a chance that Microsoft could reduce the number of Windows operating systems to two. ... But in that case as well Windows RT is the odd man out.

...

Windows RT will be missed by no one...the market has already voted.  MORE
How far we've come in three short years, thinks Ryan Faas:
Five different OS releases from Microsoft -- Windows 8, Windows RT, Windows Phone 8, Windows 8.1 (for Intel and ARM devices).

...

The consumerization of IT has never really been about the technology. It's about the relationship between workers and their jobs and the tasks they need to accomplish. [It's] driven by user experience and the culture that develops around well-designed and easy to use anywhere/anytime devices, services, and apps. ... It's important to look at these challenges as people problems not technology problems. ... The very idea that users can get around most restrictions without IT...is a hard pill to swallow.  MORE
Meanwhile, Simon Bisson channels Max Headroom:
There's an old line attributed to Marc Andreesen...in which he compares Windows to a loose collection of "poorly debugged device drivers." In a devices and services world, that's actually not far from the truth.

...

In Microsoft's cloud-centric future the devices we use are ubiquitous computing end points - where the hardware we use is far less important than the services we consume. [So] look to Microsoft's current developer tools to see [the] future. ... With the latest versions of the WinRT SDK, Windows Store applications get access to many of the features used by desktop applications. ... The same goes for Windows Phone. [The] WinPRT development model is much closer to WinRT. ... It's not the smooth transition that developers want, but it is a big step forward.

...

One Microsoft has one Windows...one kernel that compiles and runs on x86 or to ARM, on the cloud, on PCs, on tablets, on phones [and] one development model.  MORE
Computerworld Blogs Newsletter
Subscribe now to the Blogs Newsletter for a daily summary of the most recent and relevant blog posts at Computerworld.