Apple will set the video industry ablaze when it introduces the Mac Pro in the next few weeks. Here are three reasons why these most discerning PC users will be stoked: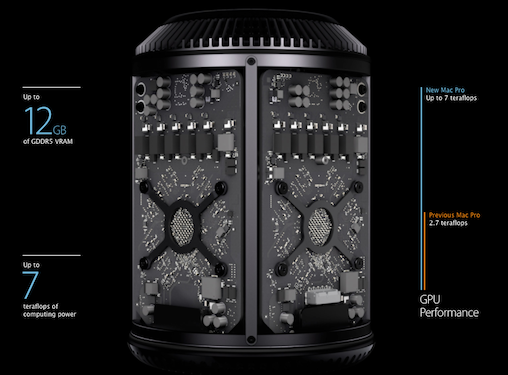 Mac Pro speed will blow your mind
Mac Pro speed isn't just about the quad- or 6-core Xeon E5 processor, it's also about the industrial-grade workstation GPUs inside the system. These best-in-class systems work seamlessly (thanks in part to Mavericks technologies such as Open CL) to deliver huge advances in graphics performance from a machine that's quiet and small enough to fit onto your desk.
GPUs have evolved to a point at which they can quite happily handle some of the jobs your PC used to do. Not only this, but GPUs are improving at a much faster rate than processors to these days: to the extent that some industry insiders are saying GPUs are seeing 200 percent improvement in performance each year -- way faster than processor evolution.
While the Mac Pro hasn't been announced as being user upgradeable, it really won't surprise me when Apple offers up the GPU (and SSD) technologies it is using in these Macs as a new industry standard. The implications of this may not be too obvious, but will inevitably impact camera manufactures, display makers and software and third party hardware developers.
Thunderbolt really strikes in 2014
Let's be honest, there's not so many native Thunderbolt peripherals out there, with the exception of storage. Why? Because for the most part computers (even Macs) that support Thunderbolt are aimed at consumer markets. To convince third party firms to introduce Thunderbolt peripherals they need a strong market for their wares: product development isn't cheap.
You could argue the standard has failed already, but you'd be saying something over-simplistic and wrong. Thunderbolt 2 devices are coming -- and they're coming in quantity.
The biggest European video industry trade show, IBC, took place in summer and saw a huge array of Thunderbolt 2 devices put through their paces by vendors including: Promise, AJA, Black Magic, Indigo, Sonnet, mLogic. LaCie and CalDigit's focus on Final Cut X supported their promise to deliver Thunderbolt systems as soon as they can. Signs are that NAB 2014 will see a flurry of supporting devices on show, and all at their best when used with a Mac Pro. Don't neglect that Apple helped developed the standard (originally called LightPeak) with Intel. The Mac Pro should support all the Thunderbolt I/O devices you want right down to the structure of the motherboard. This fast system will run fast systems fast.
4K is coming
Don't be too surprised Apple's shelved its Apple television plans for a year or so. As I've said before, the move to deliver 4K support within the Mac Pro is on trend with industry direction, but you're still going to have to wait a little while until there's enough available 4K content to underscore the Apple TV/iTunes UltraHD video rentals service that's going to be the central push of the new toys. The Mac Pro will within 18 months be seen as a big step up toward this because it delivers more than enough horsepower to crunch the data 4K needs. No one's been able to guarantee this much GPU power in a machine of this size and at this price before.
Other thoughts? Mac users will eventually see the technologies held inside the Mac Pro reach lower-specced Macs. It's also likely we'll see lessons learned here applied within Apple's iOS products in future.
Google+? If you're one of those who likes to use social media and also happen to be a Google+ user, why not join AppleHolic's Kool Aid Corner community and join the conversation as we pursue the spirit of the New Model Apple?
Got a story? Drop me a line via Twitter or in comments below and let me know. I'd like it if you chose to follow me on Twitter so I can let you know when these items are published here first on Computerworld.