iPhones are the most popular cameras in the Flickr community, so here's some tips iPhonographers can use to take better pictures.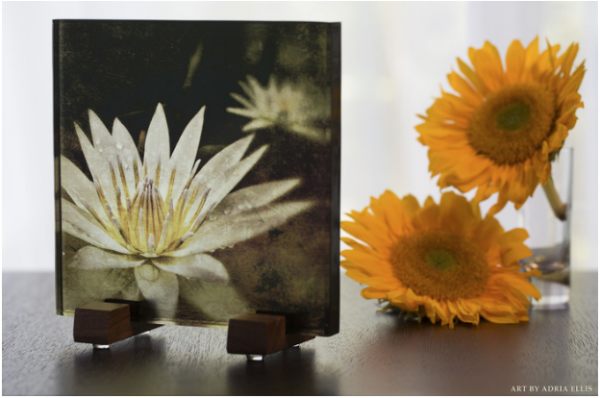 [ABOVE: iPhoneArt.com, the people behind the LA Mobile Arts Festival have a Kickstarter project to print your iPhone images onto objects using daguerreotype and ambrotype print processes.]
Tap to focus
I've watched many people taking pictures at live events who seem unaware of the best camera feature: tap to focus.
To focus on an object, all you need to do is tap the screen where you want to focus. When you tap the screen the camera doesn't just focus on the object, it also applies exposure to that area of the photo so your photos should look much better.
There's another handy tool: AE/AF Lock (auto exposure/auto focus lock). You access this by tapping the display on the spot you want to focus on, then holding your finger down on the screen until the box bounces twice. When enabled a small AE/AF LOCK sticker in orange appears at the top of the Camera App screen. It means the camera retains the focus/exposure settings you applied when you locked this feature, even if you move it.
As an example, AE/AF Lock helps when photographing someone with the sun behind them: if you don't tap the screen they'll come out dark, while if you tap and lock the area of the display they are seen in the focus will deliver a much better picture, even if you move around a little. You switch it off by tapping the sticker at the top of the screen.
These two tips (tap to focus and lock) should help deliver a better picture.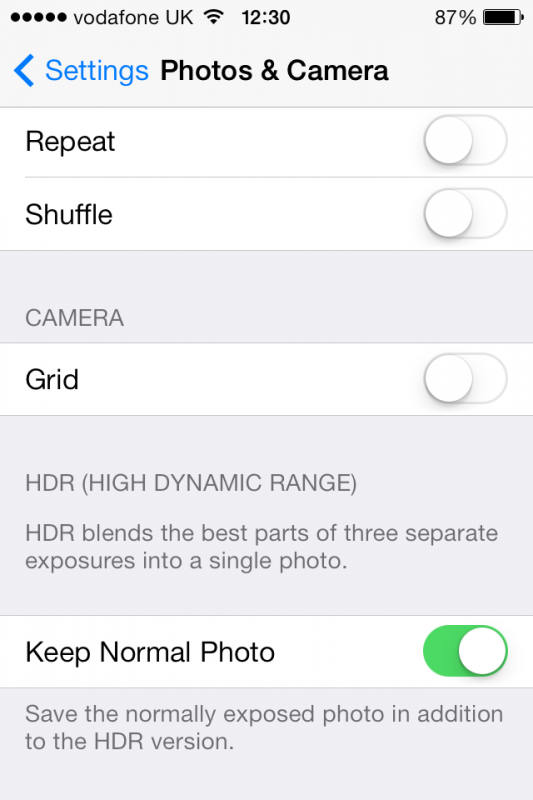 HDR explained
Apple has included HDR (High-dynamic range) imaging within iOS since version 4.1.
What it does is combine exposure data from three different images in order to deliver a better-lit image. When you take an image with HDR enabled you will in fact be taking three images in rapid succession in order to get a better picture -- but you must make sure you don't move until the process (denoted by a spinning activity wheel in the red image capture button) is complete. If you do move you'll get a blurry image.
You may want to keep the original pictures along with the HDR image the software creates. If you do then navigate to Settings>Photos & Camera>Keep Normal Photo and toggle the switch to On (green).
It's likely many more iPhone users will take HDR images when iOS 7.1 ships in a few weeks. This is because Apple is testing an Auto HDR Mode in the latest beta, so the process will take place automatically. The feature can be enabled/disabled in Photos & Camera Settings.
Stay cool
The iPhone includes some nifty image stabilization algorithms, but you'll always get a better picture if you stay as still as possible and hold the phone with both hands.
There's a tip that may help with this: Everyone knows you take your picture by tapping the red button in Cameras app, but some may not have noticed that you can also capture an image by depressing either volume control on the side of you iPhone. This means you can use both hands to keep your camera steady, rather than jogging the device when you try to tap the big red button using your thumb.
The need to keep still is particularly important when capturing Panoramic shots. Many users physically move in an arc to capture these. You get much better results if you stand still and don't shift the iPhone as you grab the image -- instead turn it gently around an axis, spinning the iPhone itself without moving it up, down or sideways. This should improve the quality of your shots.
If you want to see some beautiful iPhone images, cast your eyes at the Google+ iPhone Photography community.
Google+? If you're one of those who likes to use social media and also happen to be a Google+ user, why not join AppleHolic's Kool Aid Corner community and join the conversation as we pursue the spirit of the New Model Apple?
Got a story? Drop me a line via Twitter or in comments below and let me know. I'd like it if you chose to follow me on Twitter so I can let you know when these items are published here first on Computerworld.