Apple [AAPL] remains the world's most valuable brand, but Tim Cook's people will likely be infuriated at the rise of arch-nemesis, Samsung, which has gained 51 percent in brand value across the last year while Google continues to threaten Cupertino's leadership.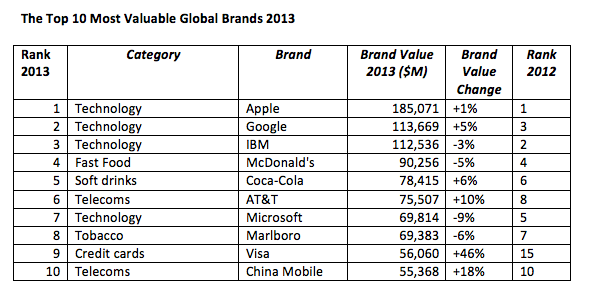 [ABOVE: The top ten most valuable global brands are...]
Samsung's rising star
Samsung now sits in thirtieth place in the BrandZ top 100 Ranking. The value of that brand has grown 51 percent, giving the Korean firm a brand value of $21 billion on strength of the invasion of its Galaxy.
This surge in brand value is clear evidence that Samsung's rush into the smartphone sector and its attempt to leverage litigation against it in order to shroud itself within the story line of being the "anti-Apple" makes business sense, albeit at the cost of lost relationships and courtroom questions concerning its business ethics.
Apple retains a brand value of $185 billion but is clearly feeling the heat: driven by its slumping share prices Apple's brand value grew just 1 percent in the last year leaving it susceptible to the growing threat posed by another former ally, Google.
Google benefited from the market dominance of Android and the ubiquity of Gmail. Google is now a serious challenger to Apple, BrandZ said. Google is now the world's second biggest brand, its value of $11 billion grew by 5 percent in the last year.
"Vying for leadership in the smartphone market, Samsung fuelled its huge increase in brand value by balancing a remarkable period of innovation with growing market share – it spent $1.6 billion more on advertising in the last year," said Nick Cooper, Managing Director of Millward Brown Optimor in a press release.

"Despite a more competitive marketplace and other challengers nipping at its heels, Apple's ability to maintain its no.1 position demonstrates the value that having a strong brand brings to business. People still love the brand regardless of its stock price."
[ABOVE: A little Elvis Presley track that that pretty much describes how things might be between Apple, Google and Samsung.]
Still way on top
That's not to say its curtains for Cupertino. The company brand is still worth eight Samsung's or one-and-a-half Google's.
Robin Headlee, Vice President of Millward Brown Optimor, observes:
"Apple is still worth eight times more than Samsung, and maintains its No.1 position in spite of negative investors' sentiment and a slip in the stock price because of the strength of its brand.

"Brand is Apple's secret weapon -- its ability to innovate and remain relevant to consumer challenges in an increasingly fast-changing and competitive market. Despite a more competitive marketplace, Apple's ability to maintain its number one position demonstrates the value that having a strong brand brings to businesses.

"People still love Apple regardless of its stock price. It remains a relevant, innovative, trusted and recommended brand to the people that purchase."
It's quiet, too quiet
Samsung and Google's continued rise across the last year can at least be partially explained by Apple's recent lack of activity. The company has surprised us all with its empty product release schedule in recent months.
Apple is a company that is defined by the products it offers, and in the absence of anything new (and definite) to discuss, it's no surprise that consumer interest erodes and shiny toys from other firms begin to attract attention.
Sure, the rumors are exciting: iPhone mini, iWatch, Apple television, the iPhone 5S and new iPads; the Apple television, even the company's plans for streaming music services are all attracting attention. However, rumors are never as effective as actual shipping product when driving the message home to customers. Perhaps this will change at WWDC.
There's a pent-up frustration to all this that Apple surely hopes to translate into actual product purchases once its six-month new product furlough ends. Take the iWatch, for example, in the event the company successfully introduces something like that it is arguable the company will quickly see stock -- and brand value -- rise.
Samsung and Google may be in the ascendant today, but Apple's silence suggests it is working on a response with which to regain leadership -- but will the late summer start of its planned product salvo be strong enough for the firm to regain its place in global mindshare?
Got a story? Drop me a line via Twitter or in comments below and let me know. I'd like it if you chose to follow me on Twitter so I can let you know when these items are published here first on Computerworld.