The Apple [AAPL] iWatch is perhaps the world's worst kept secret, so it's becoming increasingly clear the new device will be one of the most advanced gadgets around, bringing new materials and production processes to the mass market.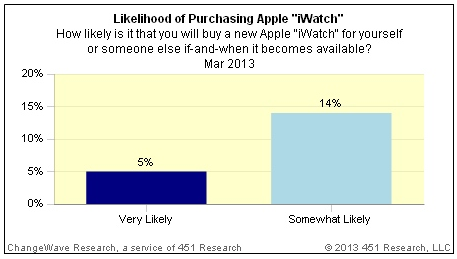 [ABOVE: Recent Changewave survey confirms strong consumer demand for Apple iWatch.]
Really?
Really.
This week Apple is alleged to have contracted RiTdisplay (a firm previously spun off from RITEK) to assemble the 1.5-inch display the company hopes to use in the device. December also saw claims RiTdisplay would manufacture the displays for Apple's wrist piece.
Foxconn is already rolling a small number of the things off of its production lines, manufacturing the first 1,000 pre-release samples of the device.
This is likely to mean that product and process testing has begun, but it's unlikely we will see one of these things left on the table in some Californian bar, though it is interesting to note that Apple designer Jony Ive was previously reported to be leading a team of 1,000 people in the design of this device.
RiTdisplay's parent firm, RITEK, established the world's first fully automated mass production line and has a particular specialism in OLED displays -- ideal for use in a smaller device as they don't require a backlight and can be "extremely thin".
If you stop to think about this, it seems pretty clear we're looking at an extremely advanced device from Apple. The extensive delay in the company's usually busier product release schedule in conjunction with a major project to improve the iOS (also under the command of Ive) suggests the company is extremely focused on this, and other new devices as it seeks to reclaim its position as industry innovator.
Hard enough?
The use of 1.5-inch OLED display technology is just part of Apple's plans. These displays will need to be sufficiently flexible for the bangs and bumps that afflict any wristwatch. They must be flexible enough to curve around one's wrist.
It seems probable the body of these things will be made usin LiquidMetal. Apple has been recruiting staff to work with the substance, which can be cast like plastic but which retains all the qualities of metal.
Battery life is all important for a device of this kind. Google Glass users will soon find that a limited battery life reduces the value of a product: who wants to carry a device that only works for a few hours a day?
Recently published Apple patents (also here) suggest the company has been thinking about this. These describe "curved battery cells for portable electronic devices" and "non-rectangular batteries for portable electronic devices".
"In some embodiments, the curve is formed to facilitate efficient use of space inside a portable electronic device. For example, the curve may be formed at one or more ends of the battery cell to allow the battery cell to occupy a curved and/or rounded space within the enclosure of a laptop computer, tablet computer, mobile phone, personal digital assistant (PDA), digital camera, portable media player, and/or other type of battery-powered electronic device." (Spotted by AppleInsider).
Might this mean the battery could be tucked away inside the watchstrap?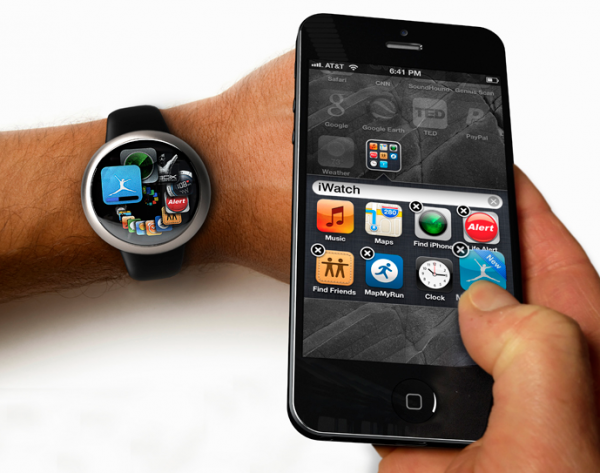 [ABOVE: This Apple iWatch product visualization comes from the desk of Nickolay Lamm and MyVoucherCodes.]
Make or break
Don't underestimate the importance of this release to Apple. It knows its innovation is being called into question on a daily basis. It also knows it faces competitors who are completely shameless when it comes to borrowing the best of its ideas (this was never about rounded corners, no matter what the phandroid's feel).
It has become critical that the company strikes back against this malaise with something good. There's so much expectation -- a recent Changewave survey suggested as many as one-in-four US consumers would purchase an iWatch, as, when and if it ever appears.
In response to consumer anticipation at least as high as that which greeted the introduction of the iPad, the "innovators" at Samsung, Google and others have all promised their own smart watches.
Apple has clearly got people worried.
Speaking at the Baselworld watch fair earlier this year, an unnamed Casio exec told T3 that the company isn't so worried about Apple's move into the watch market: "Competitiveness pushes design and that's for the benefit for the consumer. All competition is good and improves products. Better products with better user interfaces or new things and that can only help us develop. We don't worry about it to be honest. It inspires us to make better products."
In a previous episode, we learned:
Apple's design guru, Jony Ive, is a close friend of award-winning designer, Marc Newsom, who has won awards for his Ikepod range of watches, one of which has been seen clasped tightly around Ive's wrist.
Apple has been in a long-term relationship with Nike. Not only does Apple CEO, Tim Cook, sit on Nike's board, but Apple studied Nike's sports watches across the last decade, learning lessons concerning design process and materials science.
"They definitely drew upon watch industry techniques and manufacturing in their products since the first iPhone," said former Nike creative director, Scott Wilson.
We also this year learned that Apple has also been studying watches from Switzerland's Swatch brand.
"Swatch has had contact with Apple over many years about materials for products and so-called energy harvesting technology that would generate energy from physical movement," explained Swatch Group CEO, Nick Hayek, during that company's financial results call this morning.
What's also interesting about the Swatch connection is that the Swiss firm, like Apple, has licensed metal alloy technologies from LiquidMetal for use in its products -- clearly there's a lot of interest in that new metal alloy, which can be cast into shapes like plastic but retains the same qualities as metal.
Got a story? Drop me a line via Twitter or in comments below and let me know. I'd like it if you chose to follow me on Twitter so I can let you know when these items are published here first on Computerworld.