Whether you're a twice-a-day commuter or a rufty-tufty mountain biker, you probably carry your smartphone when you ride. With this in mind here's the Appleholic's essential gift selection for the cyclist or bikers in your life.
[ABOVE: That yellow dot could save a life.]
Totally recommended
Accidents happen even to careful people so I'm impressed with the ICEdot Crash Sensor system. This consists of a small sensor that pairs with your iPhone using Bluetooth. Once paired the system detects motion, changes in force and impact: if you take a tumble the sensor lets your iPhone know, and the app automatically texts up to ten contacts letting them know you might be in trouble and where you are!  I think this will save lives. ($149).
Power up
The BioLogic ReeCharge (from $110) turns your pedal power into electrical energy to recharge your iPhone, iPad or iPod while you pedal. The system includes a 1,600mAh Lithium battery that can also be recharged at home using USB and should work with most bikes.
Eyes on the road
So long as you're not the kind of cyclist who likes to overtake drivers on their blind side then you might want to take a look at the iOS-compatible GoPro video cameras These have built in Wi-Fi and can be mounted on most bikes (or riders). Bike drivers use them to document aggressive drivers and as evidence in case of accident. From around $230.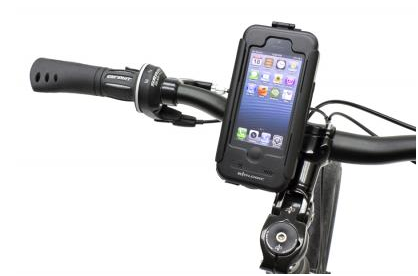 Mount up
Keep your iPhone safe with a cycle mount. There's a huge host of these to choose from, one to take a look at might be the Bike Mount Plus, a hard-shell, weatherproof case for the iPhone 5 that lets you mount your iPhone 5 to your bike. The case has built-in SoundPipe technology that redirects audio to the front of the case (or use speakers). The case also includes a stand for use when you're off your bike. ($55).
Hear it all
Don't use headphones. You won't hear what's happening around you. A better choice might be a bike-mounted speaker system, such as ThinkBiologic's CycleTunes Speakers. These connect to your device via the headphone jack and include PowerBoost audio technology to make the music a little more audible. This way you can hear the music and hear the road. (Best used with a cycle mount). ($49).
Dress up
If you carry a lot of technology but don't like carrying a bag then AyeGear's 22 Jacket may be just what you need. The well-designed UK product includes plenty (22) of secure water resistant pockets for all your devices, including an iPad pocket. The jacket has been specially designed not to look too bulky when you tote your eGear. (Around $150).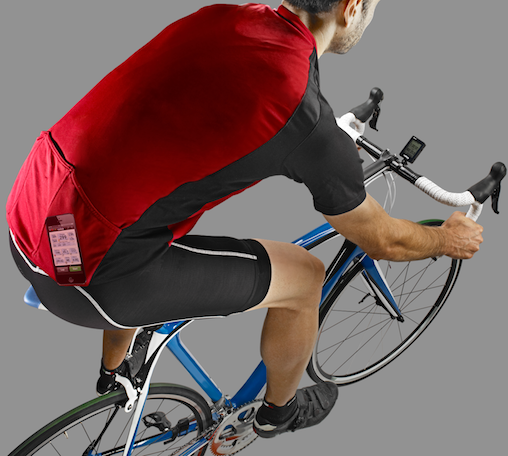 What you do
The Wahoo RFLKT is an iPhone-powered weatherproof bike computer. The system consists of a bike-mounted display that connects to the accompanying iPhone app to present you with GPS, heart rate, distance, and other information while also enabling music playback and control. (Around $129).
An app for that
The Bike Doctor 2 app is like your very own manual in your phone. It offers step-by-step instructions on almost everything you'll need to know when it comes to bike repair, maintenance and more. (It even includes advice on tuning your bike and a bike safety check). Get it here ($4.99).
MapMyRide
This online community now has an app. Join the first and download the second and you'll be connected to a fantastic way to share your favourite rides, track your calories and discover new routes and destinations. (Free).
I hope you found something you or a loved one might need. These solutions were selected as items that should enhance a cyclist's experience. With safety in mind I tried to avoid solutions that might distract cyclist's wending their weary way along their particular road to somewhere -- which is why headphones aren't included in this round-up.
Also read: 12 great Christmas gifts for Apple's iPad, iPhone.
Google+? If you're one of those who likes to use social media and also happen to be a Google+ user, why not join AppleHolic's Kool Aid Corner community and join the conversation as we pursue the spirit of the New Model Apple?
Got a story? Drop me a line via Twitter or in comments below and let me know. I'd like it if you chose to follow me on Twitter so I can let you know when these items are published here first on Computerworld.