Apple [AAPL] has a problem: the iPhone has been beaten out of first place by Samsung's devices. Yet the company also has one big advantage -- it makes software.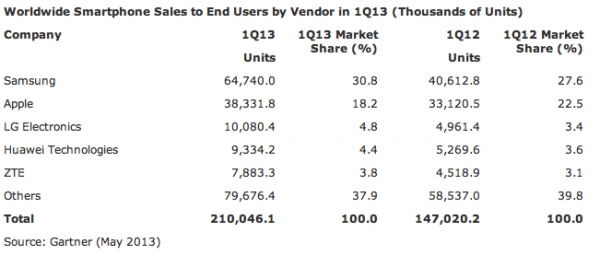 Dominance is done
Derek Brown offers us a fairly good assessment of the current situation, and while I disagree with some of what he says, I do agree with parts of his analysis. I'll summarise those points:
Android is becoming ubiquitous
This ubiquity will tempt developers
Apple will continue to play a prominent role, but will no longer dominate
Apple's cloud services proposition needs development (he actually claims it's at "Ground Zero," it's not, though I do agree iCloud will need to expand its offering.).
Brown's first point concerning ubiquity makes sense in light of Gartner claims handsets running Android outsold those running iOS by a factor of four to one in the first quarter.
It will eventually also makes sense in terms of the number of developers working with the platform, though they will continue to face challenges educating that audience into the habit of paying for the apps they want.  
The notion that Apple will continue to play a prominent role, but will no longer dominate makes sense in the event Apple fails to fight back with something distinctive, exciting and new. (Unlikely.)
Flaws in the victory
There's no guarantee the tide won't turn.
Ubiquity has its price.
Speaking to real people I've encountered numerous folk who now own some form of Galaxy device, mainly because they are "cheaper." Most people aren't too interested in the platform, and just want what they perceive to be a smartphone. However, I don't know anyone -- anyone -- who claims to "love" their Galaxy, though this could simply be because they know I write about Apple. Ignoring the anecdotal evidence there is research-based evidence that it is indeed true, that people prefer to use an iPhone.
Again anecdotally, I know a few people who've had to return their Galaxy because it gets broken or breaks down within the first few weeks. The most frequent anecdotally related problem concerning recent Galaxy devices is that of patchy call quality. I have no proof of the latter, but there is evidence that these things are prone to breakage.
Low customer satisfaction and complaints of product durability haven't stopped the company cleaning up in the smartphone market. Consumers are cash-strapped and cost conscious. All the same, I believe many Galaxy users would rather have an iPhone, which is reflected in the number of people who switch to iOS from Android relative to those who migrate in the other direction.
It will be interesting what effect a lower priced iPhone (rather than the availability of a now cheap but older model) will have on consumer purchasing -- will they begin buying iPhones more if prices fall?
In a way it doesn't matter. There's another problem.
Natural selection
Smartphone sales are booming, but the industry is heading toward its absolute limit when it comes to balance. As I predicted some time ago, component supply is not keeping up with the demand for these devices.
This is driving Apple and Samsung to compete in yet another way -- they are now competing to secure supply of the components they need to deliver their devices, a struggle that's likely to put even more pressure on all the other players on the smartphone stage.
Apple's challenges include:
Apple has been in position to deliver massive orders to its component suppliers, but its reputation for agreeing tough deals and its insistence on high quality makes it a tough customer for some suppliers to work with.
Apple component suppliers are also under pressure to comply with the company's stated (and proved) commitment to improving working conditions for staff. That's an extra cost when doing business with Apple, one that also has the effect of putting the supplier's working conditions under public scrutiny.
Samsung's advantages include:
Samsung makes most of its components in-house.
The company is under no significant public/media pressure to improve working practices. Criticism of working conditions in its factories exists, but as a non-US firm with strong ties to its own government, the company is under zero pressure to improve. This means neither it nor its component suppliers are being tasked with delivering better working conditions.
This helps Samsung keep its products cheap -- albeit at a hidden (though unproven) cost of suffering you won't see detailed in its product marketing videos. The company's massive market share means Samsung can deliver enormous orders to component suppliers, but with 80 percent of these being made in-house, it can afford to be a little more generous (than Apple) in its external deals.
"The next round of the post-patent battle for them will be over component supplies," Lee Sun-tae, an analyst at NH Investment & Securities told Reuters. "Who wins access to the best performing components in class in large quantity - that's the key ... and explains why Samsung is shopping for components more than ever."
Of course, those companies Samsung does choose to shop with will be a little cautious, as they know they are doing business with a firm that competes with them in component supply in their value chain. Apple may be able to exploit this by illustrating the competitive behavior of its former partner in the courts. It's hard to do business when your integrity is on trial. Though that particular sword cuts both ways.
Apple is a software company
Apple does have one significant advantage in comparison to all its Android rivals (with the possible exception of Motorola Mobility, now owned by Google): software.
It has been developing operating systems since its inception. It has been developing software applications across its history. Its hardware acts as the perfect equipment on which to run its software. This approach helps Apple deliver operating systems micro-managed to run the software at maximum efficiency.
Software is everything. It is the user experience. It is the way in which a user handles and relates to their device. It is things working in a clear and logical way, and not working at all. It's the glue that makes a product good, or bad, to use. The next big test for Apple in this will be public reception to iOS7 when it is demonstrated at WWDC next month.
Brown also observes that in comparison with Google, Apple is a comparative minnow in services. That's true, but it dismisses those services Apple does offer, which include iCloud, Siri, iTunes and more. These are pretty popular, but the jury is out pending the presentation of new evidence as to how well Apple's services ecosystem will mature. Apple needs a killer app to match Gmail, Google Maps or Google Search.
It is perhaps to create compelling Web-based services that Apple is in talks with Yahoo! Maybe something will come of these, maybe they won't, but the fact remains that the company must somehow find a way to twin its software skills with future services.
However, Brown's argument that the battle for smartphone ascendancy is over is unrealistic. There's multiple tangents in which Apple -- or, indeed, another firm, can fight back. 
Got a story? Drop me a line via Twitter or in comments below and let me know. I'd like it if you chose to follow me on Twitter so I can let you know when these items are published here first on Computerworld.