The deification of Steve Jobs continues. The Apple co-founder was inducted into the Bay Area Business Hall of Fame last week during an event that focused on the warm and cuddly side of the tech impresario.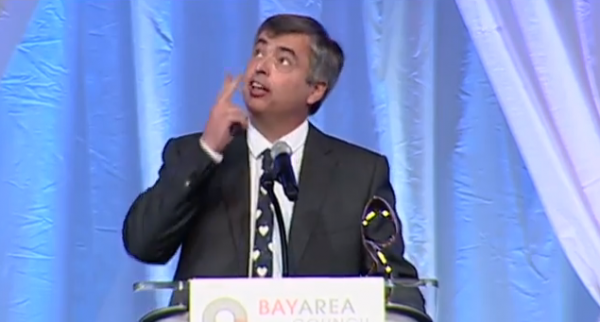 [ABOVE: "Thank you and I love you Steve," says Apple's Eddy Cue, accepting Steve Jobs' induction into the Bay Area Business Hall of Fame.]
The human being
The irony is that even while being posthumously awarded for his achievements in business, his friends and champions focused on Jobs' human qualities. "What he wanted to do in his life was to create tools that help people work at a higher level, and I think he did that," said his wife, Laurene Powell speaking in a video released for the event.
Oracle CEO and close chum of Jobs, Larry Ellison, points out that Jobs' admonition that a person should love what they do could be the maxim for modern business:
"Apple became the most valuable company on earth and it wasn't even one of Steve's goals. He wasn't trying to be rich, he wasn't trying to be famous, he wasn't trying to be colorful. He was obsessed with the creative process and building something that was beautiful."
"His focus was on making technology accessible. The accessibility of technology today is what he did, what he stood for, and what he made everyone else emulate," said Apple board member, Bill Campbell. "He had courage in everything he did."
"Those of you who hear about the irascible side of him, those of us who were his friends knew exactly how warm and caring he was as a person. What I will always remember about Steve Jobs is his friendship," Campbell added.
There's a similar selection of heart-warming stories of Jobs' basic humanity hosted on Quora in which numerous people have written about their own brief meetings with the man.
The human side was also focused upon by Apple's head of Internet stuff, Eddy Cue, who collected the award: "He was a colleague, but most important, he was my friend," he said.
"We talked every day, we talked about everything. Even in my darkest days, he was there for me. When my wife had cancer, he was there for us. He helped me with the doctors and the treatments, he told me a lot about what he was going through, and her. And in many ways, she's here tonight because of him, so thank you, Steve."
Would Jobs have cared about the award? Perhaps a little, because his local Bay area meant so much to him, but Cue makes it clear personal recognition wasn't the whole enchilada to the man. "Let's be honest, he doesn't care about awards, suits, steak, but this one would have been special, he grew up here," said Cue. "He loved the Bay area."
The induction follows the designation of Jobs' childhood Los Altos home as an historic site last month.
"Steve Jobs is considered a genius who blended technology and creativity to invent and market a product which dramatically changed six industries -- personal computers, animated movies, music, phones, tablet computing and digital publishing," said the Los Altos Historical Commission.
Quite clearly, Jobs did well for a little orphan boy.
Google+? If you're one of those who likes to use social media and also happen to be a Google+ user, why not join AppleHolic's Kool Aid Corner community and join the conversation as we pursue the spirit of the New Model Apple?
Got a story? Drop me a line via Twitter or in comments below and let me know. I'd like it if you chose to follow me on Twitter so I can let you know when these items are published here first on Computerworld.