Google's Android 4.4 KitKat release packs plenty of significant changes -- a lighter all-around look, more prominent Google Now integration, and a slew of fresh features and functionality -- but in addition to the big stuff, the software includes quite a few subtle enhancements. Bits of polish, you might say -- seemingly small details that add up to enhance the user experience.
Here are some of the small but meaningful refinements I've noticed while using KitKat over the past several days:
[SEE ALSO: Android 4.4 upgrade list: Is your device getting KitKat?]
A new search bar experience
Tapping the home screen search bar in KitKat causes a slick new transitional animation to appear, taking you to a newly translucent search box that appears over your home screen. (Previously, the same action loaded a full-screen search app with a solid white background.)
New on-screen shortcuts and pull-to-refresh in Google Now
The refreshed Google Now in Android 4.4 -- the one present on the Nexus 5, at least -- has a few nice new touches. The bottom of the screen now holds dedicated shortcuts for setting a reminder or viewing existing reminders as well as for customizing the types of information Now delivers.
You can also pull to refresh the Google Now panel; there's even a spiffy new color-bar animation that appears at the top of the screen when you do.
A condensed Roboto font on the home screen and app drawer
The font used on the KitKat home screen and app drawer is thinner and crisper than what we've seen in past Android releases. Readability aside, the change allows for most apps' full names to be displayed instead of being cut off or awkwardly wrapped onto a second line, as had previously occurred.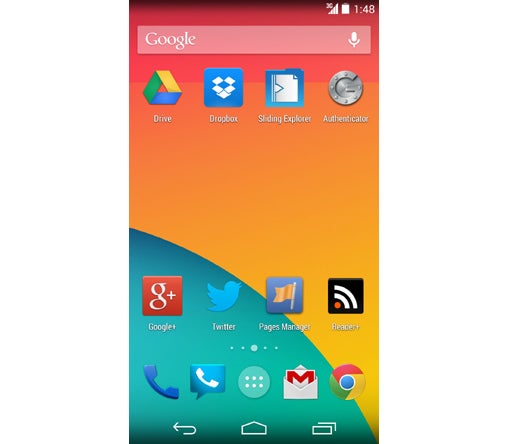 A new style for toast messages
Toast messages -- the quick messages that apps pop up to let you know an email is being sent, a draft is being saved, and so forth -- have a sleek new style in Android 4.4. The toast message now appears in a more rounded and slightly transparent area instead of the solid gray rectangle that had previously been used; it also utilizes an updated font to match the rest of the system.
(Android 4.4 at left, Android 4.3 at right)
A new system settings icon
The somewhat ambiguous stacked-sliders icon for the system settings is now gone and replaced with a more traditional gear image. The change is present both in the Quick Settings pulldown and throughout the entire system settings section.
A new default shortcut icon for the home screen
When you add a shortcut to something on your home screen -- a link to a specific folder within Google Drive, for instance -- Android used to give you a tiny and rather ugly-looking gray folder icon to represent it. KitKat changes that: The default icon is now a more standard-sized icon with a white border and shortcut arrow surrounding the folder.
A combined wallpaper picker
Gone are the days of having separate sections for system wallpapers, live wallpapers, and custom image wallpapers: The new KitKat wallpaper picker puts 'em all into one place, with a sliding bottom-of-screen bar holding every option available on the device. If you want to use your own custom image, there's a "Pick image" option at the far left of the list.
New icons on the lock screen
The KitKat lock screen has an added arrow icon at its bottom, directing you to swipe up for easy access to Google Now, as well as a new camera icon in its lower-right corner. The camera icon basically just serves to show you that you can get to the camera by swiping to the left; touching it causes the camera panel to slide in briefly as a hint.
Lock screen widgets are also now disabled by default and have to be enabled manually within the system settings in order to be utilized.
A refreshed system share dialog
When you share content anywhere in KitKat, the pop-up that appears has a refreshed look with thin horizontal boxes instead of the old 2x2 large-icon list of yore. It definitely makes it easier to find the service you need.
A new -- and more intelligent -- "Open with" dialog
Similar to the share dialog, the pop-up that appears when you tap a link or file has a new thinned-out appearance. It also has a touch of extra intelligence: If you double-tap an app in the list (thus sending the link or file to that app -- a little shortcut to using the "Just once" option), the next time you encounter the pop-up, the app you selected will be highlighted and accessible with a single tap.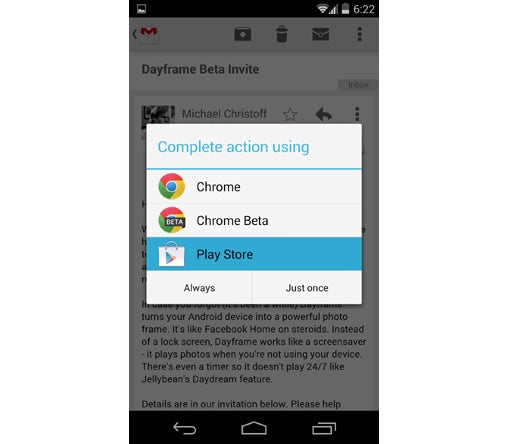 A new radial time selector in the Clock app
Among its more obvious changes, the stock KitKat Clock app now utilizes a (curiously red-accented) radial-style selector -- similar to what was introduced in the Calendar app earlier this year -- when you go to set an alarm.
A more useful pending alarm notification
When you set an alarm with the KitKat clock, you now get an action-oriented notification that lets you see the alarm time and touch to dismiss it right then and there. That's a pretty useful improvement over the old setup, which just put an icon on the right side of the status bar and didn't let you interact with it.
A new file-picker interface
Accompanying the added cloud storage integration in KitKat is a brand new file-picker interface. When you go to attach a file in an app like Gmail, you get a list of available locations -- both local and remote -- from which you can select a file as well as the option to scroll through recently viewed or updated files to select from there.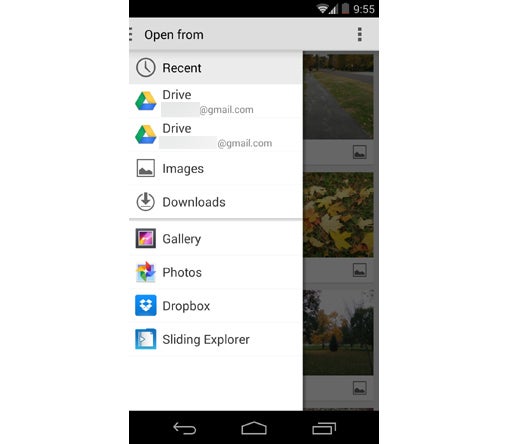 A new Downloads app
Sure, most of us probably use a more advanced third-party file manager, but it's still nice to see the oft-overlooked Downloads app getting a fresh coat of paint.
That's the poise and the polish; for a look at the more sweeping changes in KitKat both in form and functionality, head over to my full Android 4.4 FAQ -- and stay tuned for my in-depth Nexus 5/KitKat review, which will be wrapped up and online very soon.
UPDATE: Nexus 5 deep-dive review: Does Google's new flagship phone deliver?