One of the biggest updates announced at this year's Google I/O developers conference was a whole new version of Google Music -- and that means a whole new Android app as well.
The new Google Play Music app packs in plenty of fresh functionality and design. From the big stuff to the smaller details, here are six cool things worth checking out once you upgrade.
1. Google Play Music All Access
You've heard about this by now, right? Google launched a Spotify-like option for its Play Music service that gives you unlimited on-demand streaming from any device -- and your Android phone or tablet is no exception.
If you don't see the prompt the first time you open the new Play Music app, head into its settings menu and click on the "Try All Access for free" option to get started. You'll get a month of free streaming and can then decide if you want to cancel or keep subscribing. The service normally runs 10 bucks a month; if you sign up for a trial before June 30th, your monthly rate will start at $8.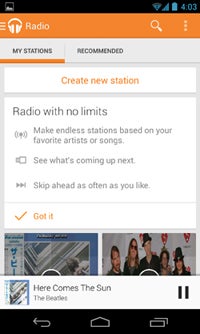 2. Custom radio stations
The new Play Music All Access service includes a custom radio station feature reminiscent of Pandora: With a couple quick taps, you can create a station based on any artist, album, or song you're streaming. Just tap the Menu icon (the three vertical dots) alongside any content to find the "Start radio" option -- or head into the main Play Music menu and select "Radio" to find a search-ready "Create new station" command.
Once you've started a station, you can skip as many songs as you want and can look ahead at upcoming tracks (the same applies if you're using the app from the Play Music desktop website).
One thing the feature seems to lack as of now is an option for fine-tuned diversity: While Pandora lets you add multiple songs or artists in order to further customize a station, the Google Play version currently offers stations based only on a single song, artist, or album.
3. Listen Now
Feel like listening to some tunes but not sure where to start? Check out the new Google Play Music app's Listen Now feature, found within the program's main menu. Listen Now gives you on-the-spot suggestions based on what you've listened to recently and what types of songs you've liked over time. If you're subscribed to All Access, you'll get a far broader range of suggestions, including ready-to-play radio station recommendations.
4. A new user interface
The new Google Play Music app UI delivers a welcome dose of modern Android design. It's clean, minimalistic, and easy to use -- and it fits right in with the card-based aesthetic seen in Google Now and increasingly working its way throughout the OS.
Basic visuals aside, some of the nicer functional touches worth noting include:
The new top-left Android navigation drawer style officially introduced at Google I/O. Just touch the icon at the top-left of the screen and watch the full menu of options slide right in.
A sleek new album/playlist view.
A visually consistent bar at the bottom of the app that shows your currently-playing track along with playback commands.
Lots of swipe gestures throughout the interface. Swipe up on the aforementioned bar to jump to the full album/playlist view, for instance, or swipe left or right on it to move back or forward in the track list.  You can swipe left or right on the album/playlist view to change tracks as well.
5. A built-in equalizer
Finally, right? From the Play Music app, tap the overflow Menu key (the three vertical dots) at the top-right of the screen -- or, if you're on a phone with old-style physical buttons, press your phone's physical Menu button -- and select Settings. Then tap Equalizer and toggle the on-off switch appropriately. Ta-da!
Within the Equalizer, you'll find customizable sliders as well as a list of preconfigured EQ settings (Normal, Classical, Dance, Jazz, Rock, and so on). Play around with 'em and see what best suits your sounds. To my ears, the settings make a noticeable difference.
(Update: The equalizer was actually present in the previous version of the app but was somewhat hidden and appeared as an option only in limited contexts. The new app makes it easier to find and use.)
6. A kid-friendly control
This last item may not be quite as exciting as the rest, but for anyone who uses a device with kids or in a professional environment (e.g. for playing music in an office, where customers or clients might hear it), it could very much come in handy.
In the Play Music app's main settings menu, you'll see a new option called "Block explicit songs in radio." It does just what you'd think: It keeps songs with profane lyrics from popping up in your radio stations while you're using the All Access radio feature.
Don't worry: Nicki Minaj and Zack de la Rocha will never know.