Apple [AAPL] appears likely to introduce its thinner and lighter fifth-generation iPad and iPad mini 2 in mid-summer as partners prepare to begin trial production of the new devices. Volume production begins in July.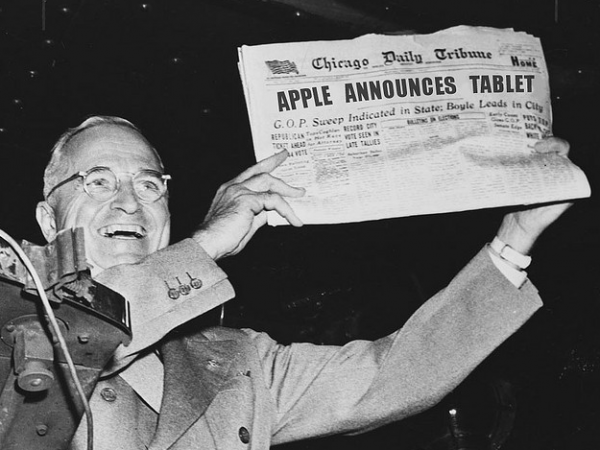 [ABOVE: Reports that new iPads would ship earlier this year have proved to be exagerrated. Image c/o: Mike McAffrey and Flickr.]
Late comers
While I can already hear the customary critics claim Digitimes to be an unreliable source of information, given that we've seen product release schedules speculated for in every month this year -- and seen nothing much -- it seems clear the credibility of most Apple claims is currently stretched.
It is worth noting Digitimes was the only source to correctly predict last year's surprise introduction of the fourth generation iPad alongside that of the iPad mini. Like a stopped clock, I suppose, it might be seen as being correct twice a day.
So, what's this report saying? Pretty much what we already expect, with a little added zest:
The new iPad will possess a 0.2mm thinner glass substrate
The bezel will be narrower than the existing model
The fifth-generation iPad should be 25-33% lighter than the current model.
Thinner, lighter, faster?
If Digitimes is right -- and what it's claiming appears in tune with previous claims concerning Apple's future iPad plans -- the Retina Display will employ a different process.
"The touch panel solution for 5th-generation iPad is GF2 (1 layer of glass and two layers of ITO film) instead of G/G bonding used in 4th-generation iPad, the sources added.

"The new iPad will use one LED light bar for backlighting, compared to two LED light bars used in 4th-generation iPad, the sources noted."
There's a small surprise within the listed roster of display manufacturers. LG and Sharp had been expected to join the chain, and now have done so, however the list also includes Apple's arch-nemesis, Samsung. This suggests attempts to evict that company from the iDevice bloc party haven't yet been completely successful, perhaps hinting that display production has been more challenging than hoped.
Investors may want to check some of Digitimes' other claims: Taiwan Surface Mounting Technology will create SMT for the LED light bar; Radiant Opto-Electronics and Coretronic will manufactuer backlight units and TPK Holding will product the "touch panel bonding," according to the report.
Thinner, lighter and -- by virtue of the single light bar -- more power efficient than the existing model, the new iPad will also likely be among the first Apple devices to utilize the new A-series chip.
iPad mini, iOS 7
It will also be interesting to see how well these devices perform once the initial run are upgraded to iOS 7, the future Apple mobile operating system expected to show its face at WWDC next month and to ship later in the year.
Apple is also expected to introduce a new iPad mini equipped with a Retina Display along with the new iPad. Apple CEO, Tim Cook, has previously warned that the company's fleet of new products aren't likely to appear until autumn.
This suggests Apple will stockpile a few million of the things, starting in July, set for a late August, early September release, potentially in conjunction with the introduction of the fabled 'iRadio' service, though the latter is subject to delay as the company continues fraught negotiations with major labels.
Got a story? Drop me a line via Twitter or in comments below and let me know. I'd like it if you chose to follow me on Twitter so I can let you know when these items are published here first on Computerworld.