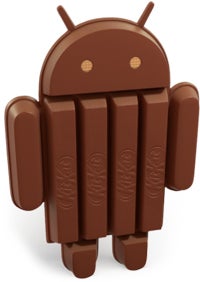 Google's new Android 4.4 KitKat release brings some fresh changes to the Android home screen -- but it also comes with a couple of caveats.
First, if you have a Nexus 5, KitKat gives you a permanent Google Now panel at the far left of your home screen, which can get a little annoying with certain workflows.
Second, if you have a phone other than the Nexus 5, you'll be getting a version of KitKat that's lacking some of its new visual touches. (And, of course, most phones don't have KitKat at all yet.)
Regardless of what situation you're in, if you find yourself wishing you could have the new KitKat home screen elements without the Google Now integration, there's an easy way to make it happen -- whether your phone actually has KitKat or not.
The key is using a custom Android launcher called Nova. Nova's developer is in the midst of updating the launcher to reflect KitKat's design, but you don't have to wait to get in on the action.
Stock KitKat home screen with Google Now, left, and recreated without Google Now, right
Here's what you need to do to get the latest Nova build and make it look like Google's stock KitKat setup:
1. Join the Nova Launcher Beta community on Google+. Once you've joined, opt in to the beta program and follow the link to download the latest beta version of the app from the Google Play Store. [UPDATE: The regular Nova app is now up-to-date with all the relevant additions -- so feel free to skip the beta stuff and just snap the normal Nova app from the Play Store if you want.]
2. Once Nova's downloaded on your phone, press your phone's Home button, select Nova, and check the option to always use it as the default app for that process.
3. Head into Nova Settings (you should see a link to it on the Nova home screen when you first open the program); we'll need to tweak a few things there to get the full KitKat effect. First, tap "Look and feel," select "Icon theme," and select "Google KitKat."
4. While you're in the "Look and feel" menu, tap "Icon font" and make sure it's set to "Condensed."
5. While still in the "Look and feel" menu, tap "Icon size." KitKat uses large icons, so you'll want to increase the size past the regular 100% mark. The appropriate level will vary based on the size and resolution of your particular device, so you may need to play around with it a bit to figure out what looks best. On the Nexus 5, I've found 120% to be about right.
(Note: This setting requires you to purchase and install a $4 Nova Prime upgrade. The Prime upgrade unlocks a lot of other useful settings, too, but you might want to wait to see if you like the launcher before making the purchase. You can always leave the icons smaller for now and come back to tweak them later if you decide to take the leap.)
6. While still in the "Look and feel" menu, tap "Color theme." Select the white-colored box and tap "OK."
7. While still in "Look and feel," scroll all the way to the bottom and see if you can check the box next to "Transparent notification bar." This is a system-level setting, so depending on your device, it may or may not be available.
8. Go back to the main Nova Settings screen and select "Desktop." Tap "Scroll effect" and change it to "None."
9. While you're in the "Desktop" menu, tap "Scroll indicator" and make sure it's set to the option that looks like five dots.
10. Finally, while still in the "Desktop" menu, tap "Persistent search bar." If you want the Google search bar to automatically appear at the top of every home screen panel, as it does in stock Google Android, change that setting to "Always."
(This is one instance where deviating from the stock setup may be desirable; instead of having the search bar always present, you can opt to leave it off and just manually place a search widget where you want it -- or even use Nova to set a custom gesture to open Voice Search on demand without having it take up any screen space.)
11. Go back to the main Nova Settings screen and select "Drawer." Use your finger to move the slider under "Background transparency" about 75 percent of the way to the right.
12. While you're in the "Drawer" menu, check the option labeled "Small tabs." Then tap "Menu action" and change it to "None."
13. Go back to the main Nova Settings screen and select "Folders." Make sure "Folder background" is set to "Circle," the box next to "Light background" is checked, and the slider beneath "Background transparency" is all the way to the left.
That's it! Now just head back to your home screen and you should have a KitKat look -- only without the permanent Google Now panel. (Activating Google Now or Android Voice Search with this setup will cause those services to open as standalone apps, even on the Nexus 5.)
Nova has plenty of other options you might want to look into, ranging from the basics -- expanding or reducing your total number of home screen panels and changing which one is the default -- to more advanced stuff like gestures and tweaks to animation styles and scroll effects.
These steps, though, should give you a good starting point for a bare bones KitKat-like home screen. The rest, my friends, is up to you.
SEE ALSO:
• Android 4.4, KitKat: The complete FAQ
• Nexus 5 vs. Moto X: A real-world comparison
• Nexus 5 vs. Nexus 4: Worth the upgrade?
• Android 4.4 upgrade list: Is your device getting KitKat?