Apple [AAPL] shipped its new iPads worldwide just last Friday and there's already a series of strong signals saying company CEO, Tim Cook's predicted 'iPad Christmas' will be a reality.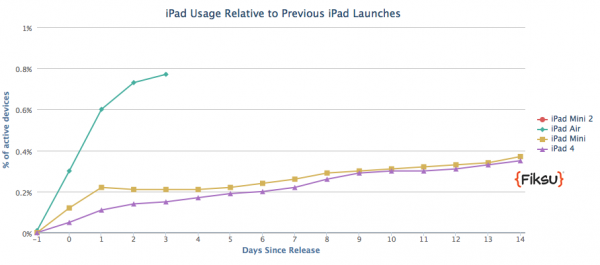 [ABOVE: Data shows iPad Air is biggest selling iPad ever. This also means it's the biggest selling tablet ever to hit the stores.]
Fiksu statistics
App marketing service, Fiksu, has been tracking adoption of Apple's products. It's most recent data shows the iPad Air's share of overall iPad activity is already five times that of the iPad 4 and three times that of the iPad mini following their launches last year. The company also believes 71.2 percent of total iOS devices are already running iOS 7.
Google Trends
Google Trends (which shows how often a particular search-term is entered relative to total search volume across various regions of the world) confirms that US search traffic seeking information about iPads has spiked in the last few days, with November heading to setting a new record for interest in the product.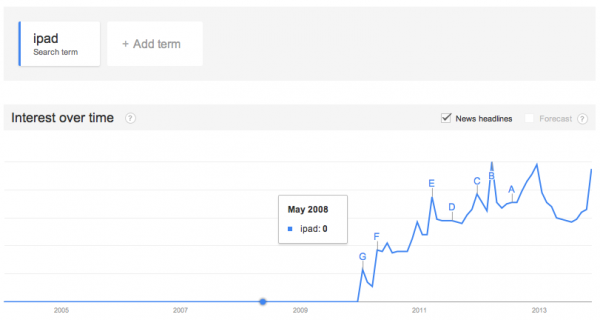 Critical acclaim
You don't have to search very hard for good reviews:
Hands on: At just 1 pound, the iPad Air is worth the weight (Computerworld)
Speed and Power Packed Into a Thin iPad Air (WSJ)
iPad Air review: The top tablet -- at least until the new Mini arrives (NBC News)
Consumer interest
Changewave reported in August that among consumers who intend to purchase tablets within 90 days, 55 per cent indicated they would purchase iPads "more than four times the rate of the next most popular alternative".
"And of those who already own iPads, the survey measured a 99% customer satisfaction rate. The momentum of iOS devices in enterprise also remains incredibly strong." (Apple COO, Peter Oppenheimer via Seeking Alpha).
Vibrant consumer interest is proven by weekend signs that supply is already constrained (but see below).
Analyst reports
Piper Jaffray's Gene Munster estimates Apple could set a new record for opening weekend sales for its tablets. The company set this record last year when it sold 3 million units of the iPad and iPad mini. Munster anticipates 2.5-3.5 million iPad sales.
It's open to question whether the immediate worldwide availability of the product (it wasn't globally available last year on launch) should be tempered by reports claiming constrained display supplies have limited availability (above).
This analysis on Seeking Alpha is also interesting.
It's the best
There's a lot been made of JD Power's fuzzy logic when it came to "overall satisfaction" for the iPad Air. Apparently Samsung was more satisfying -- but only when it came to price.
When it came to actually using the product Apple's beat Samsung in Performance Ease of Use, Physical Design and Tablet Features. Ignoring cost, Apple's tablet is the best available tablet. Samsung's aren't the best, but are cheaper.
The inherent message is clear: Give a Samsung tablet this Christmas and the recipient will know you're cheap. Give an iPad, and they'll know they got the best.
One more thing
It has to be a good thing that you can use an iPad Air to act as the longest running mobile hotspot ever made: you'll use up your data allowance before you use up your power. See also: 5 good reasons the iPad Air is great for the enterprise.
Google+?> If you're one of those who likes to use social media and also happen to be a Google+ user, why not join AppleHolic's Kool Aid Corner community and join the conversation as we pursue the spirit of the New Model Apple?
Got a story? Drop me a line via Twitter or in comments below and let me know. I'd like it if you chose to follow me on Twitter so I can let you know when these items are published here first on Computerworld.