Innovation is a good thing -- unless it is innovation for its own sake. Acer's new Aspire R7 touchscreen laptop may fall into that latter category.
When he introduced Acer's new line of systems today, the company's chairman and CEO J.T. Wang started by talking about duality -- the use of both touch and type in a single device. I can't disagree with him -- when I spent some time with Microsoft's Surface with Windows RT a little while back, I found myself using the touch screen a lot more often than I thought I would.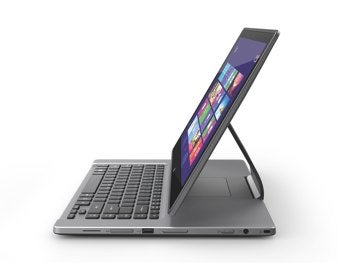 The Aspire R7 is no Surface. It's a full-fledged laptop with a 15.6-in. IPS 1920 x 1080 display that offers 10-finger touch with four stereo speakers and a variety of configurations, including an Intel Core i5 or i7 chipset, up to a 1TB hard drive or 256GB SSD and up to 12GB of RAM. AT 5.29 lb., this is no ultrabook.
But the big selling point is the hinged display, using what Acer calls an Ezel hinge. It is highly flexible, and moves the display to a variety of angles, including slightly slanted over the keyboard to offer easy touch access, nearly (but not completely) flat over the keyboard to work as a tablet, or turned 180 degrees around so it faces away from the keyboard -- presumably so that the person sitting opposite you can see what you're typing. (You won't be able to see it, however.)
In order to provide room for the bottom of the display to touch down just above the keyboard, Acer has made an interesting -- indeed, rather puzzling -- decision: To put the touchpad above, rather than below, the keyboard. I played with the Aspire R7 at the press event this morning, and at first glance, I'm not sure how any typist is going to be able to work comfortably on this machine. We have become used to either reaching out for a mouse, or using our thumbs to manipulate the cursor; having to reach above the keyboard in order to use the touchpad makes it nearly useless.
I suspect that Acer has included the touchpad simply because the designers were nervous about leaving it out altogether. If you ignore its presence completely -- as most of us would be forced to, given its location -- then one could say the Aspire R7 is one of the first heavy-duty laptops to completely rely on its touch screen.
It will be interesting to see how it fares in that regard.