Apple [AAPL] introduced the Mavericks OS as a free upgrade Tuesday. 11 percent of Mac users have already installed the OS, but there have been some reported installation problems. This is what to do: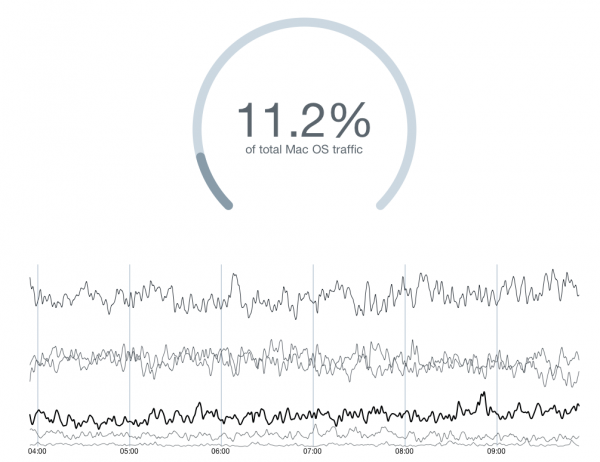 [ABOVE: Apple's Mavericks OS is already installed on around 11 percent of active Macs, claims GoSquared.]
Don't Panic!
Before you upgrade do prepare your Mac for the process following these steps. Most users who follow these steps enjoy stress-free Mavericks upgrades. 
If you won't follow those steps installation problems can be minimized by running Disk Utility to Verify and Repair your Disk beforehand. Please backup your data first. Let me stress that one more time: Please back up your data before you upgrade your system. Honestly -- it is tedious and time consuming but it makes absolute sense.
If you've succesfully installed Mavericks, but think performance may be less than you expect, please take a look at this report: How to improve Mac performance: OS X Mavericks edition.
If you are having problems, three words: "Don't Panic".
Now read on…
Three main known problems:
Stuck Downloads
Hard disk errors
Hung installation
The solutions
Stuck Download
If your Mac App Store download stops progressing quit the Store, restart your system and try to download Mavericks again. An estimated 11 per cent of Mac users have already installed the OS, so lots of people are downloading the software simultaneously. Try again a little later to avoid the crowd.
Hard disk errors
Some Mac users receive an error message warning the OS X Installer thinks their disk may be damaged when they begin installation.
Reboot your Mac
Hold down Command-R immediately after hearing the boot chime on startup
Recovery partition loads
Open Disk Utility in this partition
Run Disk Repair
Reboot normally and try the installation again -- it should work.
Hung installation
You're installer runs fine but progress has halted. Don't interrupt the process immediately -- installation can take a while and in many cases any slight flaws will be automatically repaired by the installer, so give it an hour before moving to the next step.
If the installer hasn't yet restarted your Mac to install Mavericks (ie. Your original OS X system is running) then reboot:
Attempt to quit Mavericks installer
If this fails Force Quit the installer
Reboot the system
Repeat the installation (you'll either find it in the Applications folder or you can re-download it from the Mac App Store).
If the installer has restarted your Mac to install Mavericks then things may be a little more troublesome:
Force Restart your system by holding down the power button.
Hopefully the system will restart in your previous OS X version
Run Disk Utility to Repair permissions and Disk.
Run any general maintenance software you may own (eg. Onyx)
Download and reinstall the most recent Combo update for your OS (available here)
Repeat the installation (you'll either find the installer in the Applications folder or you can re-download it).
If the system does not restart in your previous OS X version then you must reinstall the OS.
Reboot with Command R keys depressed
Restore your system from backup or use the OS X installation tool to reinstall (NB: Hopefully your data will remain safe)
Try to install Mavericks.
Should any of these steps fail, please look to Apple Support. If you encounter other problems with your Mavericks installation then please let us know in comments below.
Google+? If you're one of those who likes to use social media and also happen to be a Google+ user, why not join AppleHolic's Kool Aid Corner community and join the conversation as we pursue the spirit of the New Model Apple?
Got a story? Drop me a line via Twitter or in comments below and let me know. I'd like it if you chose to follow me on Twitter so I can let you know when these items are published here first on Computerworld.