Apple [AAPL] has set itself a leadership position within the video and broadcast industry, and the strength of that position will come clear in December when the Mac Pro ships -- kick-starting the 4K content creation industry when it does.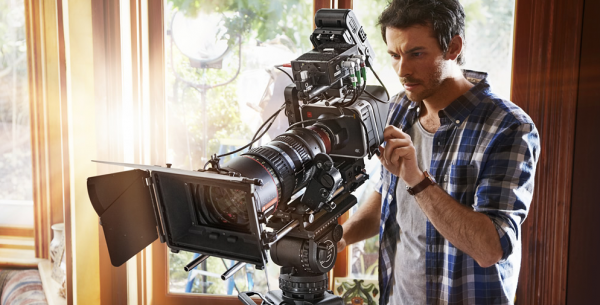 [ABOVE: Blackmagic's recently introduced 4K studio camera hints at what's coming for content creation.]
Mac Pro + Sharp displays
Mac Pro will ship in December. It is likely Apple will offer 4K displays made by Sharp for sale through its stores when the Mac goes on sale.
Essential kit
All the talk about 4K content but it's meaningless noise until creatives get the tools they need to create that content. The Mac Pro in conjunction with the next edition of Final Cut (to be upgraded later this year) will deliver these tools.
Developers, developers
Annual European video industry trade show, IBC, was awash with 4K solutions this year. Hardware developers such as Blackmagic, Panasonic, Supermicro and software developers including Adobe and Autodesk are working hard to deliver 4K support.
Broadcasters
The BBC's R&D arm attended IBC to talk about what it has learned about 4K, which it expects will demand higher frame rates from broadcasters. Netflix and Sony are expected to deliver 4K content (well, UltraHD) through their online services, starting later this Fall.
Content creation
Mac Pro, Final Cut and other 4K-compatible software tools in conjunction with the emerging Thunderbolt 2 class peripheral products that should surface in 2014 mean pro content creators will soon be in position to affordably create 4K content. The interest shown in the standard by broadcasters and online video services means there's also an emerging distribution system for such content.
Consumers
Cash-strapped consumers remain to be convinced to invest in 4K-compatible equipment. The move to HD remains relatively recent, while the failure of 3D TV, in conjunction with continued economic distress means consumers won't rush to upgrade their existing sets. After all, why would they when 4K content isn't yet easily available?
The industry response is seen in the fact that 4K TV sets that cost around $20,000 one year ago are now available for around $5,000, and while it remains unlikely consumers can be convinced at that price, it seems a no-brainer the cost of sets will continue to decline.
Emerging ecosystem
This changes once big brands get behind development of an ecosystem to develop and distribute such content. Apple has taken significant steps to boost that ecosystem with the Mac Pro and Final Cut. This in turn is driving software and hardware partners to deliver 4K support.
What's missing is distribution. Existing cable and satellite networks will need to upgrade their technologies for 4K in some cases: however, online services (Netflix, even iTunes) may be able to deliver UltraHD content (not as big as 4K, but still more detailed then HD) to consumers sooner, rather than later.
Place a bet on 4K
Following this logic, it remains clear 4K is an essential element to Apple's pro hardware plans; it also seems inevitable these plans will extend to UltraHD services via iTunes. All we need are affordable 4K TVs.
Might this be part of what Apple CEO, Tim Cook, was referring to yesterday when he said:
"…if you look at the skills that Apple has from hardware, software and services and that incredible app ecosystems, these set of things are very, very unique. I think no one has a set of skills like us and we obviously believe that we can use our skills in building other great products that are in categories that represent areas where we do not participate today."
I believe it is.
Google+? If you're one of those who likes to use social media and also happen to be a Google+ user, why not join AppleHolic's Kool Aid Corner community and join the conversation as we pursue the spirit of the New Model Apple?
Got a story? Drop me a line via Twitter or in comments below and let me know. I'd like it if you chose to follow me on Twitter so I can let you know when these items are published here first on Computerworld.