Apple [AAPL] users are allegedly upset because iWork is now free, some complain of missing features. They needn't worry. Here's why: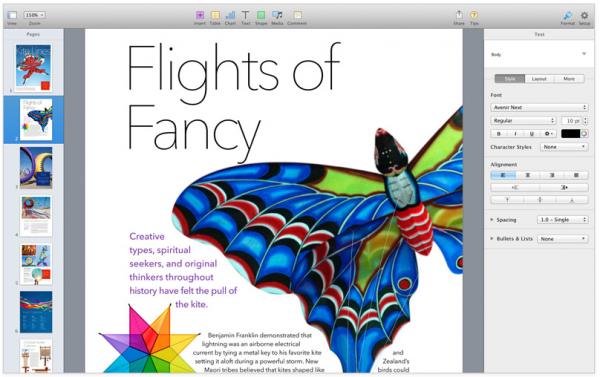 Final Cut
Some may recall the criticisms that met Final Cut X on release. Some felt the software had lost features they relied on, or said they relied on. Things change: a series of incremental updates since mean many of these (and other) features have been replaced or reintroduced.
Final Cut was a root and branch rewrite of the application software. Apple had to start somewhere, and that's exactly what's happening with these new apps.
These are not upgrades to existing apps, but completely new editions in which the company has worked to deliver the most used tools.
The main portion of its effort in this release has been to modernize the underlying code with the obvious aim of ensuring some sense of parity between iOS and OS X versions of the software, and enabling a migration to 64-bit across its product range.
That task is now complete. And Apple now has a solid foundation for future development of its multi-platform productivity solution.
Completely redesigned
With this in mind, the company might argue that one has to start somewhere with such an overhaul. Apple's initial focus (other than a complete rewrite of the applications) has been to deliver the features 80 per cent of most actual users actually make use of.
Apple won't discuss future products, but it seems to me that to understand Apple's future plans here it's probably instructional to look to the evolution of Final Cut Pro X (a new edition of which will ship alongside the new Mac Pro in December). That evolution saw steady, rapid introduction of new features to answer real world user need.
The implication is that this is how things will evolve for iWork and iLife.
That the company has pages on its support website populated by those complaining about what they believe is missing is a positive, as it means the company has customers to listen to.
Watch it grow
This is a starting point for a much larger future vision of cross device computing. I think it is reasonable to expect steady improvements in the interface, capabilities and collaborative tools within the applications.
The user interface is critical. A user of iWork on an iPhone will be able to use a Mac without figuring out how. Apple seems proud to have reduced the number of controls on iMovie from around 26 to around 11, while still retaining the most used features that made the software useful in the first place.
These features will be expanded -- however, unlike Microsoft's Office user interface, Apple wants to ensure users on any of its platforms don't need to take night classes to find the tools they need within its free solutions.
Perhaps there are features you feel to be missing. If so, why not say why they are useful in comments below? I'm certain someone from the company will take note of those requests as it schedules future development of its 64-bit cross-device productivity suite.
Google+? If you're one of those who likes to use social media and also happen to be a Google+ user, why not join AppleHolic's Kool Aid Corner community and join the conversation as we pursue the spirit of the New Model Apple?
Got a story? Drop me a line via Twitter or in comments below and let me know. I'd like it if you chose to follow me on Twitter so I can let you know when these items are published here first on Computerworld