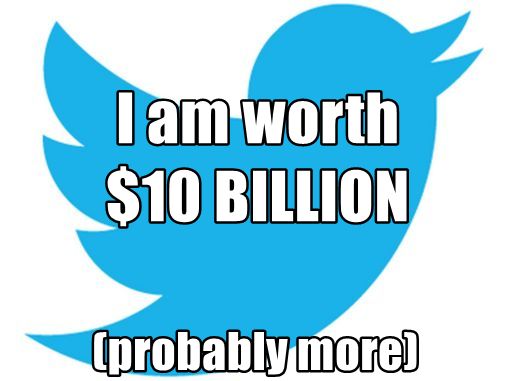 Values company around $10 billion.
Twitter (NYSE:TWTR) announces more IPO details. The shares will be priced around $18.50, but that may increase after the investor roadshow. Already pundits are saying that's a conservative valuation.
In IT Blogwatch, bloggers #followthemoney.
Your humble blogwatcher curated these bloggy bits for your entertainment.
Zach Miners summarizes the news:
Twitter plans to price its IPO shares between $17 and $20. [At] the midpoint of the range...the net proceeds from the sale of shares of common stock will be roughly $1.25 billion.

...

Last week, the company said it would list its shares...on the New York Stock Exchange, representing a big win for the market over rival Nasdaq. ... One report suggested Nov. 15 could be the day.  MORE
Peter Kafka's prose is far from his famous namesake's:
If the company sells at the top end of its range, it would raise $1.6 billion...and value the company at around $11 billion. [It's] less than the $20.62...assigned to its shares on August 5, the last time the company went through a valuation.

...

A reasonable conclusion to draw from this is that Twitter is trying to be extra conservative. ... Twitter is about to start a formal "road show"...and it may well end up bumping up that price based on the signals it gets during that process. ... The worst-case scenario would be a repeat of last year's Facebook IPO, where shares ended up trading below the initial price.  MORE
And Matthew Panzarino hopes it won't tank: [You're fired -Ed.]
$11 billion [is] lower than the close to $15 billion that had been rumored. This could set the stock up for a springy landing.

...

Chairman Jack Dorsey is selling roughly .6 percent of the company and will own 4.3 percent after the offering. ... Co-founder Evan Williams is selling 1.6 percent of the company and will own 10.4 percent.  MORE
But his ex-colleague Michael Arrington thinks Google should step in:
A few years ago Google had the opportunity to buy Twitter but passed on the opportunity because they were developing Google+. ... No one I know uses Google+. ... I just don't see it making any kind of mark on our culture. ... Twitter, on the other hand, is the only really massive social network where the network effect has really kicked in.

...

$11 billion [is] just pocket change to Google...it would be a hedge against Facebook if Google+ fails (which I think it has) [and] Twitter's data alone would be worth tens of billions of dollars to Google's search team. ... I've thought for years now that Google is crazy for not doing anything it could to buy Twitter.  MORE
Meanwhile, Howard Lindzon calls it the "anti-froth IPO":
I despise Goldman and bankers. ZERO value add. ... AngelList can raise money in an organized way for start-ups [so] two monkeys with a Twitter account could...run the Twitter IPO.

...

They just spent $350 million on a company doing $6 million in revenue. I could do that. ... My gut is that the stock would print north of $30 if they traded tomorrow on this pricing.  MORE
Computerworld Blogs Newsletter
Subscribe now to the Blogs Newsletter for a daily summary of the most recent and relevant blog posts at Computerworld.